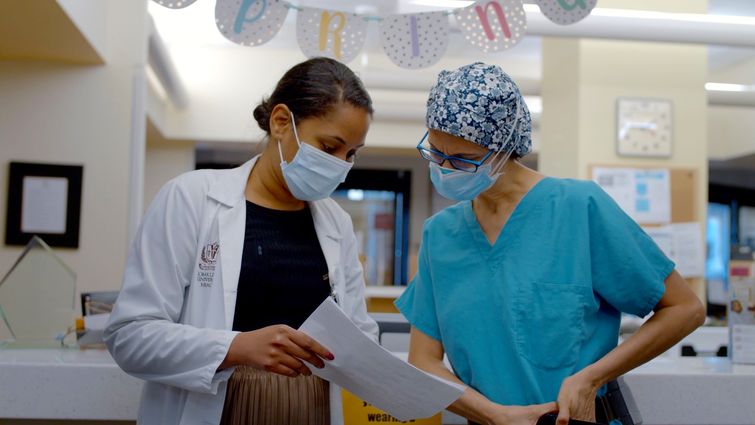 Updated on November 19, 2020
Loma Linda University Health is committed to providing patients with exceptional care for any of their healthcare needs, especially as we navigate this challenging time together.
While many healthcare visits may be managed through telehealth or video visits, we want to assure the community that we have implemented appropriate infection prevention policies and procedures that aim to minimize the spread of COVID-19 for our patients and staff so patients can feel safe in our care.
We have implemented the following measures to ensure we are providing our patients with the safe, quality care they deserve.
Screening and Safety
Loma Linda University Health has integrated CDC guidelines and San Bernardino County Department of Public Health recommendations for patients and employees. We have implemented the following:
·      Temperature checks and screening questionnaires are being administered at the entry points into all of our facilities.
·      We are limiting visitors in our hospitals and clinics.
·      All visitors and staff are required to wear masks.
·      Appropriate cleaning procedures in our facilities.
·      Our providers are prepared with the necessary personal protective equipment that is recommended for the delivery of care.
·      Social distancing and limited capacity in our waiting rooms.
·      COVID-19 testing for patients upon admission and prior to surgery.
·      Separate units for COVID-19 patients and strict care plans in an effort to avoid nosocomial spread.
Updated hospital visitor restrictions
Based on the latest guidance from Governor Newsom and the California Department of Public Health, we will no longer be allowing visitors in any of our adult hospitals effective Monday, Nov, 23.
The following humanitarian guidelines apply:
Humanitarian exception requests will be routed through clinical leadership. Only one visitor may be present at bedside. Conflicts may be escalated to the Chief of Staff or her designee. 
End of Life: one visitor be allowed to be present with the patient.
For patients with physical, intellectual, and/or developmental disabilities, or cognitive impairments one support person will be allowed to be present with the patient when medically necessary and may remain at the bedside.
Although the decision to limit visitors is difficult, the safety of our employees and patients remains our top priority. We will make every effort to connect patients with their family/caregiver virtually when possible.
Children's Hospital Visitor Restrictions
We continue to monitor prevalence of COVID-19 cases in our community and will implement a system to modify visitation based on prevalence and incidence of COVID-19 as well as the volume of positive patients admitted to LLUCH.
The following guidelines remain in place:
Visitation is restricted to two designated parents/legal guardians for the duration of the admission.
Maternity Services and NICU will continue to implement visitation guidelines based on the specific needs of these patient populations.
Visitation in LLUCH pediatric perioperative areas including PACU and OSC will mirror this guideline.
Exceptions for compassionate visits will continue to be managed using the current process and according to the parameters that have already been established.
Visitor screening will be conducted upon arrival to the hospital and respective unit.
Visitation for COVID-19 positive patients will continue to be more restrictive.
Visitors are required to wear a mask at all times.
Urgent Care
Loma Linda University Health's Advanced Urgent Care service, located at East Campus, reopened on June 15. The Advanced Urgent Care has been closed as part of the organization's response to COVID-19. 
Business hours are 6 a.m. to midnight seven days a week and will expand as patient volume grows.
Staff will perform COVID-19 screening procedures on patients and visitors. However, please note that testing for COVID-19 will not be available at this location.
The Redlands Blvd. Urgent Care center continues to serve patients. Hours of operation are Monday through Friday from 8 a.m. to 7 p.m., and weekends from 8 a.m. to 3 p.m.
Virtual Care Options
In order to continue to provide access to our primary care providers and specialists, we have enhanced virtual care strategies across our campus. We are currently utilizing telephone and video visits that patients can schedule directly through the MyChart application or by calling their provider. For more information on MyChart and our virtual care options, please visit lluh.org/mychart.
We have learned a lot during this time, and we are continuing to adjust as needed. We are committed more than ever to meet the healthcare needs of our community and appreciate the continued support and patience as we navigate this ever-evolving situation.
Clinics
All clinics are open and ready to serve patients. We are encouraging video visits through MyChart; however, we know and understand that some conditions require an in-person appointment. The clinics are available for in-person visits based upon the condition and needs of each individual patient, and will decide how many in-person visits they can accommodate to maintain social distancing.
Emergency Department
If a member of the community is experiencing something that needs to be addressed urgently, we are here and can provide safe care during these unprecedented times. It is vital for community members to remember not to be complacent in their health or hold back during the COVID-19 era.
The Medical Center and Children's Hospital Emergency Departments remain open and ready to take care of patients.
For more information on what Loma Linda University Health is doing to recover from these unprecedented times, visit lluh.org/coronavirus.