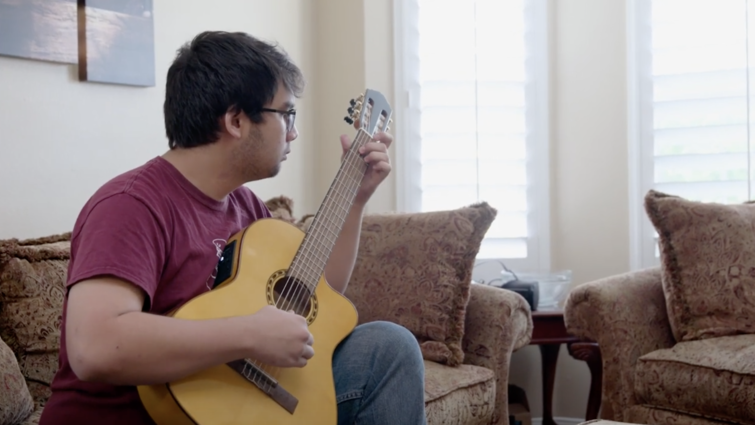 Tyler Rojanaroj had a good home life and positive family relationships with strong musical influences. But beginning in elementary school, rampant bullying from both students and teachers consistently accompanied him through high school. This caused him anxiety in high school beyond normal worries and brought him two years ago to the brink of wanting to hurt himself.
Now, with help from Loma Linda University Behavioral Health experts, Rojanaroj is enjoying meeting new friends and pursuing his passion in college. While some days are a challenge, he's enjoying classes, meeting like-minded friends, and creating meaningful music.
Calling himself a black sheep, Rojanaroj frequently changed schools as a child to get away from racist remarks, comments about his weight, and from teachers who always seemed to make an example out of him. The fear of being labeled further caused Rojanaroj to shy away from the exploration of what anxiety and depression is. He instead turned to music. His songwriting mimicked his intrusive thoughts and self-deprecating language.
In the summer of 2020, Rojanaroj graduated high school without a proper graduation due to the COVID-19 pandemic. The plans he created for his future collapsed, causing anxiety, depression, and exhaustion at the end of each day. Rojanaroj remembers feeling extreme numbness and the weight of each emotion and disappointment. This flooding paradox is when he found himself with complete intent to self-harm or even take his life.
"I stood in the bathroom with a razor contemplating how I wanted to do this," Rojanaroj said. "It could have been minutes; it could have been hours. I still don't really know how long I was in there for."
A moment of clarity rushed over him as he dropped the razor and told his mother what had happened. Rojanaroj was soon admitted to Loma Linda University Behavioral Medicine Center.
Now an outpatient, he has a great relationship with his therapist, Michael DeSena, PsyD. MSM, whom he has seen for almost two years and calls "an incredible man."
"Tyler represents the spirit of Loma Linda, 'to make man whole,'" DeSena said. "It has been a true honor to provide therapy for him. He has a desire for recovery and is a prime example of successful mental health treatment."
Currently working on an album, Rojanaroj is now actively involved in the music scene in Redlands and hopes to pursue a career in the music industry as an audio engineer. He attends college classes in person and has met people who have the same interests and career goals as him.
"I thought I wouldn't be here. Sheer disbelief takes over sometimes when I realize I'm in college and some days are hard," Rojanaroj said. "But overall, I'm doing OK."
If self-injurious behavior is causing suffering in your life, or the life of someone you care about, visit the behavioral health services website and learn more about how we can help. Request information on a diagnosis or treatment, or any behavioral health concerns, and an intake coordinator will contact you.
A message from Tyler
Mental health is a topic that I'm no stranger to. I've lost a few friends to suicide, and I only wish that I could talk to them for one final time to tell them how much of an impact they had on me. I've also had a good chunk of friends tell me about their mental struggles and have always been that one friend to talk to when people had a rough day. On my own, however, I wished I had that kind of person on my side, and I'm thankful that I was that person for many people who were close to me.
I want to share with you a few things I've learned over the many years of therapy, self-reflection, and self-discovery because I know what it's like to feel that the whole world is collapsing in on you. 
One of the most important things that I have learned, and am still learning, is that it's not a sign of weakness or defeat if you need help. Asking for help is one of the strongest things to do when you're in a dark moment of your life, because we're all human. Tackling your mental health is such a big task, and you'll need all the help you can muster up.
It's really easy to get lost in a sea of depressive and anxiety-charged thoughts, but an easy thing to think about is all the little things that make your day. Not having terrible nightmares, noticing that the grass is a little greener outside, relishing in the fact that you're breathing, having people close to you that you can consider family, and doing what you love to do are some of the things that I've held onto when I'm in those dark spaces.
The last thing I wanted to leave off on is that recovery isn't an easy process. This was probably one of the hardest lessons that I've learned over the years. Recovery at a glance looks like a simple process, one that just relies on time, but that can't be further from the truth. Recovery is a slow and patient process, one that relies on your strength and wanting to break free from everything that you've been feeling. Someone told me that they likened recovery to crawling, and I couldn't agree more.
Crawling, as hard and as painful as it is, is so worth it. I still can't believe where I am today, but I would pick where I am now rather than where I was several years ago.
Keep crawling.
Tyler Rojanaroj