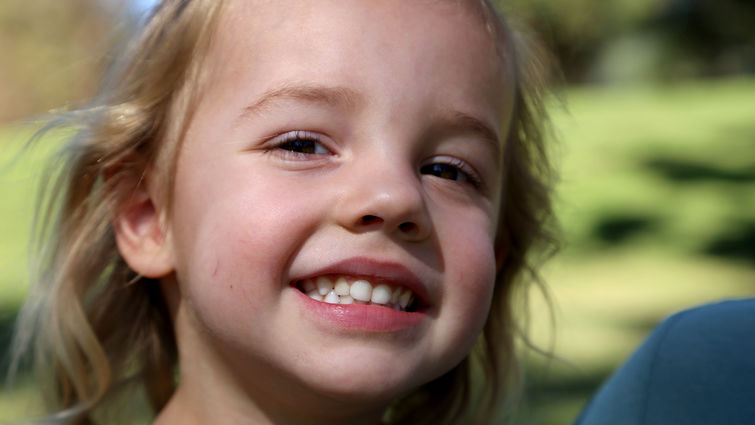 Two-year-old Vivian Burton may look like the picture of health, but a couple of weeks after her first birthday, she almost died from a dangerous heart condition no one even knew she had.
The condition, myocarditis, is often triggered by a virus that causes the heart wall to grow stiff and inflamed. It can also result from autoimmune disorders, environmental factors or a reaction to chemicals, radiation or medication. Mild cases of the disease often go unnoticed, but Vivian did not have a mild case.
Her parents, Heather and Dave Burton, didn't realize Vivian was sick until she stopped urinating one morning. A few hours later, she started throwing up. Since vomiting is fairly common in childhood, they thought it was only the stomach flu, even when it continued all night.
But when Vivian's lips turned blue the following evening, Heather realized something was wrong. She told Dave she would probably be home in the morning, anticipating an overnight stay in the crowded emergency room of a nearby hospital.
When they got to the hospital, however, Vivian was taken immediately into an evaluation room where doctors inserted a central line into her veins. They weren't certain of the diagnosis, but told Heather it appeared that something was wrong with Vivian's heart. "Before long, she had a million tubes in her," Heather says.
At that point, Heather called Dave and explained what was going on. Dave wasted no time hopping in his car and hurrying to the hospital to join his wife and daughter. Whatever happened, the family would face this crisis together.
Doctors monitored Vivian's condition overnight, but when she continued getting progressively worse, they transferred her to Loma Linda University Children's Hospital the following afternoon so an expert team of pediatric cardiologists and critical care specialists could assess and treat her condition.
Vivian had scarcely arrived at Children's Hospital when doctors took Heather and Dave aside to explain that their daughter was in imminent danger. "Basically, we were told she might not make it," Heather recalls.
The warning stunned Heather and Dave, making it hard for them to think of anything else. Nevertheless, they listened carefully as doctors explained that Vivian urgently needed a procedure called extracorporeal membrane oxygenation, or ECMO, to save her life.
The team sprang into action drawing blood, taking vital signs and stabilizing the tiny child. Other members of the team accelerated the process of prepping the ECMO machine, which acts as an external heart/lung bypass to circulate oxygen-rich blood through the body of a patient who has trouble producing it on her own. In addition to myocarditis, ECMO is used to treat other diseases that interfere with breathing, such as severe pneumonia, congenital diaphragmatic hernia, meconium aspiration syndrome and related conditions.
Within an hour after Vivian's arrival at Children's Hospital, doctors hooked her up to the ECMO machine. The process usually takes longer, but Vivian was fading fast. As Dave explains, "They didn't have time to wait!"
Heather and Dave, meanwhile, took two proactive steps to give their daughter every possible advantage. First, they prayed earnestly for God to guide the care team and save Vivian's life. Second, they started the process of getting Vivian's name on the heart-transplant list.
When the tests came back, they revealed that Vivian had a virus sometimes associated with myocarditis. The diagnosis wasn't definitive, but it was all the care team had to go on. Whatever the cause, Vivian had reached the point where she couldn't fight any longer.
Fortunately, however, Vivian had powerful help in her battle to survive. Not only were her family and friends, doctors and nurses praying for her, but powerful medicines were fighting to strengthen her immunity and maximize her ability to bounce back.
Heather and Dave took turns staying with her around the clock. When family friend Dixie Watkins, co-founder of the Big Hearts for Little Hearts Loma Linda Guild, learned they were at Children's Hospital, she arranged for a special sleeping chair to be brought to Vivian's bedside for the tired couple. "It was personal for her because of our relationship," Heather says.
Imperceptibly, yet surely, against tremendous odds, little Vivian slowly began to improve. It didn't happen overnight, but day after day she grew stronger until one day, it became obvious that she had turned the corner.
Heather and Dave had been warned it could take much longer, but their little girl recovered to the point where doctors were able to take her off the ECMO machine in just seven days. "It happened so quickly!" Heather says. "On numerous occasions they called it a miracle."
Although doctors insisted she remain in the hospital another two weeks, little Vivian had beaten the odds. Three weeks after she arrived, the day finally came when doctors said she was well enough to go home. They said she would probably need to be on medication for several years, perhaps even the rest of her life. But once again, Vivian surprised everyone. "She was weaned off all her meds just one year after we left the hospital," Heather says.
Looking back on their terrifying ordeal, Heather and Dave are grateful beyond words for the care their daughter received at Children's Hospital. They have nothing but praise for Jim H. Eguchi, MD, Matthew J. Bock, MD, Farrukh Mirza, MD, and the team of dedicated, caring nurses who worked round-the-clock to help their daughter live.
"They were all so knowledgeable and willing to answer our questions," Heather says. "We trusted them explicitly and they came through for us. We believe 100 percent that we were meant to come to Loma Linda University Children's Hospital!"
Today, Vivian is thriving. Although she returns to her doctor for regular check-ups, she feels great, has plenty of energy, and lives each day to the max. She is much too busy thinking about the future to worry about the past.
In fact, she has decided what she wants to be when she grows up. "Big," she says. "Like Mommy and Daddy and Bubba and AJ, the dog."
Vivian wants to do lots more of the things she loves. Things like painting, coloring, going camping with her family, playing tea party, and singing and dancing. Most of all, she loves to dress up and play princess with mommy. Last Halloween, they dressed like cats.
"Me and mommy were kitties," she reveals. "Meow!"