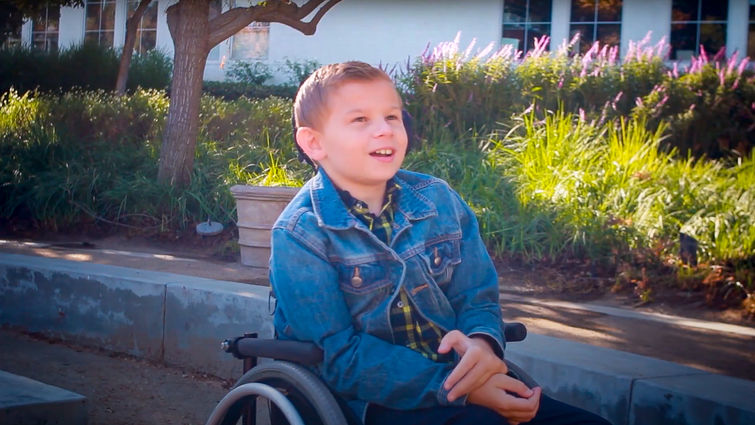 Davis Galluzzo, 12, a cancer survivor and player on the PossAbilities wheelchair basketball team, is a powerful example of perseverance and positivity despite immense challenges. In 2010, Davis was only two years old when he was diagnosed with cancer — one of the nearly 16,000 children in the U.S. to be diagnosed with cancer each year, according to the American Childhood Cancer Organization.
His diagnosis was T-cell acute lymphoblastic leukemia, a type of cancer of a person's bone marrow and blood that affects white blood cells and is the most common type of childhood cancer. This rare cancer is known to be more aggressive. Davis began his treatment at Loma Linda University Children's Hospital immediately. Doctors told Davis' mom, Darcy, that if his cancer hadn't been discovered, he could've died in a matter of weeks.
"It was a whirlwind," Darcy said. "He went from having a fever to being diagnosed with leukemia — we were in shock. There was no time to digest the news or even sit and cry. We had to make huge, life-saving decisions for Davis right away."
Davis was placed on chemotherapy, with his treatment plan mapping out the next three and a half years to completely eradicate the cancer. However, after only 30 days of treatment, Davis seemed to show no signs of cancer. His chemo treatments continued as scheduled in efforts to decrease chances of the leukemia reappearing.
Two years and seven months after his first treatment, the unthinkable happened. Davis collapsed, unable to walk. He hasn't walked without assistance since. He was diagnosed with drug-induced paraplegia.
"It was beyond tragic and heartbreaking," Darcy said. 
Davis has been cancer-free for 10 years. Darcy said, despite frustration and disappointment, Davis continues to persevere and doesn't lose hope.
"It's been very hard, but Davis has had an amazing attitude," she said. "He doesn't feel sorry for himself. It's been one gigantic trial that has not ended but having the comfort from Jesus to get through sustains us."
Now in seventh grade, Davis said he loves playing video games and sports. He recently received a grant from PossAbilities — a free, non-profit, community outreach program operated by Loma Linda University Health — that provides support and resources for those with physical disabilities, allowing them to stay active and healthy. The grant funded a basketball wheelchair for Davis. He plays regularly on the Rolling Cubs wheelchair junior basketball team.
"For so many years he had to watch his siblings play sports and wasn't able to," Darcy said. "Now he absolutely loves playing basketball — it's one of the bright spots in his life. He gets to play on the team with kids of all ages. He has the light of Jesus, and, despite everything, he continues to overcome."