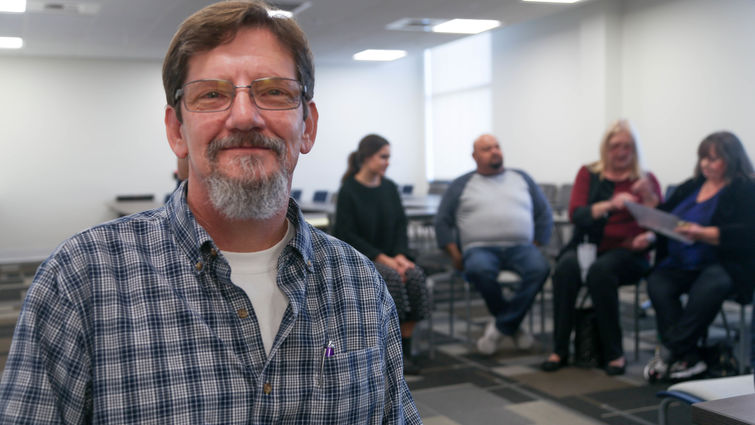 There are currently 113,000 people waiting for organ donations, and 82% of those are waiting for kidneys, according to Donate Life America.
The journey of a transplant patient is so unique that the only way some survive it is through the support of those in the same situation combined with a team of medical professionals.
This is exactly what Paul Brinkmann was looking for in 2009 when at 40 years old he received the news that he would need not only a kidney but a new pancreas. Little did he know that he would have to wait nine years before he received both. While he waited, the first plan of action for him was to join the Loma Linda University Transplant Institute kidney and pancreas transplant support group.  
"When you are going to go through something as life-altering as an organ transplant, you can't just ask anybody for advice or confide in just anyone," Brinkmann says. "I knew I was going to experience so many changes that only those in my situation could understand, and that is what I wanted from a support group. Not to mention, I wanted to learn all I could about what I was getting myself into so that I was prepared."
In addition to the confidentiality and comfort that patients experience confiding in one another, physicians and dietitians also attend some meetings to make themselves available for questions.
Support group leader, Emily Gobel, MSW, says the guest speakers really provide an extra layer of care patients are looking for. Gobel says patients may have questions they don't ask during appointments or family members may be curious about certain aspects of the journey. Having a dietitian or physician there to answer those questions really provides the ultimate care package, she says.
"The organ transplant experience is not easy on the patient or the family members. At Loma Linda University Transplant Institute, we understand that and offer this group resource to serve as a beacon of hope, support, education and advocacy," Gobel says. "The impact is tremendous and it is apparent just after a few sessions."
Brinkmann said he leaned on this resource for nine years until he finally received both transplants on the same day in April of 2018. Although his wait has ended, he says he still attends the group because the members have become a family that truly understands one another.
"The group is a closed environment to share experiences no matter how embarrassing," Brinkmann says. "The process you go through, from care to whatever it is you need, the group is a support for the entire journey. At the group you get more information and suggestions on what to do. I had a lot of side effects after the transplant and relied on this group to cope."
The support group meets every second Tuesday of the month from 1:30 to 3 p.m. at the new Transplant Institute location at 197 E. Caroline Street San Bernardino, Suite 1400, California 92408. If you would like to attend, feel free to call Emily Gobel, MSW, at 909-558-3636 extension 36789.