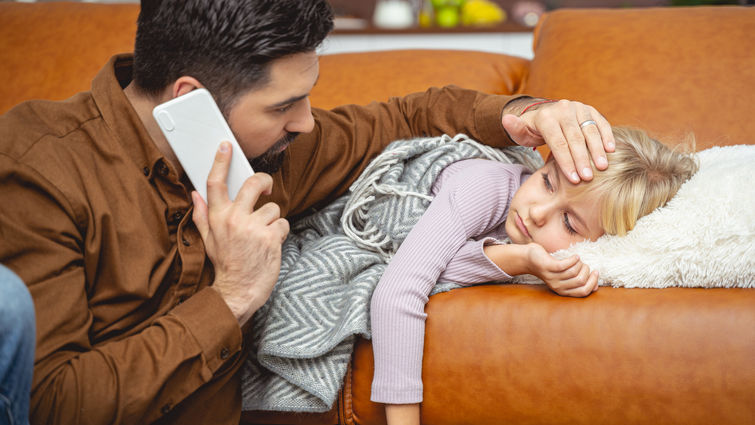 At Loma Linda University Children's Health, we're doing everything we can to keep your child healing, healthy and happy. And especially during these confusing and unsettling times, we know parents are too.
Kids still have routine healthcare needs apart from any care related to the pandemic. They may require vaccinations, catch a common cold, suffer asthma attacks or break bones. We remain open and ready to serve you whether in-person or via video visit. As always, your health and safety continues to be our number one priority. We have implemented safety measures for all staff and patients to ensure that when your child needs access to in-person care, they will be safe.
It can be stressful and overwhelming when your child is sick — especially during this pandemic. We hope the following tips will clarify where to take your child for care:
Call your child's pediatrician
Your pediatrician is the best resource to provide care for check-ups, sick visits, vaccinations and symptoms such as headaches, coughing, sore throat, fever, skin infections, sniffling and runny nose, ear pain, or stomach pain. 
Your pediatrician can see your child safely, either in-person or via video visits.
Contact your child's specialty care services provider
Your pediatric care specialists are the best resource to provide care for follow-up visits and medications, worsening symptoms and COVID-19 precautions.
Your pediatric sub-specialist can see your child safely, either in-person or via video visits.
Visit our Pediatric Express Care clinic
If you are concerned that your child's symptoms or health issues are more urgent but not emergent, and you don't have a regular pediatrician, our Pediatric Express Care clinic is staffed with experts who can evaluate your child's condition and refer you to a specialist. If the health issue seems serious, they can also offer you guidance on how to proceed. The clinic is open Monday-Friday, 4 p.m. to 8 p.m. and Sunday, 8:30 a.m. to 3 p.m.
Go to the emergency department
Visiting an emergency department may seem overwhelming and unsafe during the ongoing pandemic, but it is still the best place for emergent, life-threatening health issues, which could include trauma with loss of consciousness or vomiting, head trauma, motor vehicle accidents, rapid breathing, dehydration, severe abdominal pain, or a prolonged high fever and other symptoms of Multisystem Inflammatory Syndrome.
Children's Hospital and its outpatient clinics are going above and beyond to keep our facility, including the emergency department, safe. We have implemented appropriate cleaning procedures outlined by the CDC. We are conducting temperature checks and screening questionnaires at all facility entry points. Our providers are prepared with the necessary personal protective equipment recommended for your care, and more.
Through all the ups and downs of keeping your child healthy, we are here to support you.
Call 800-825-KIDS to make an appointment or schedule online.