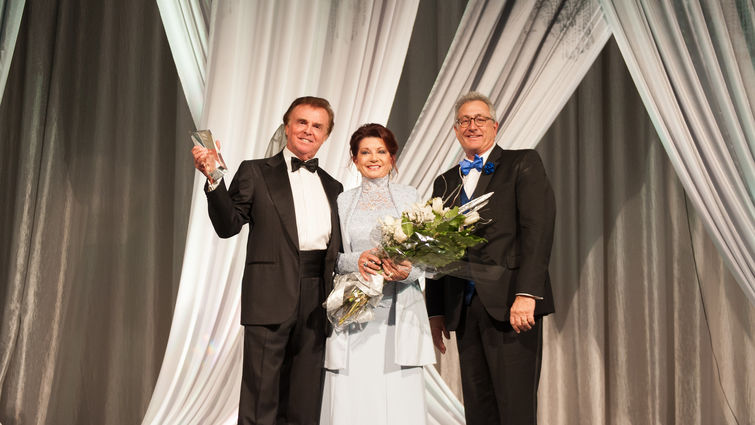 Redlands philanthropists Tim and Carol Rochford were recently honored at the 25th Anniversary Reflection Gala, presented by Walter's Automotive Group, receiving the Discover Lifetime Achievement Award for their outstanding dedication and tireless service to children.
High school sweethearts, the Rochfords graduated from Redlands High School in 1965 and married two years later. Redlands and the surrounding community is their home. They have an immeasurable love for children, including their two children, two grandchildren and two great-grandchildren — but they still have more to give.
"We both have a heart for children and always have," Mr. Rochford says. "We always envisioned that at some point in our lives we could do something to outreach."
"I love little kids," says Mrs. Rochford. "They're so vulnerable and they have no one else but us to take care of them."
Mrs. Rochford has been involved with Loma Linda University Children's Hospital for over 20 years, ever since she went to her first Big Hearts for Little Hearts Guild event.
She recalls the teddy bears on all the tables and learned about all the ways the Guild gives back to pediatric patients. "I knew then that I wanted to be a part of it and have ever since. I go to every function I possibly can."
Mr. Rochford attributes his affinity for helping children to the gift he received in the fifth grade: a one-year membership to the YMCA. "A whole new world opened up to me," he says, "and I want all children to be able to experience new opportunities like I did and know they are worthy and that someone cares about them."
Mr. Rochford founded and developed multiple successful NYSE-listed oil and natural gas companies. He was founding CEO and president of Arena Resources, which was named to the list of "Top-Ten Growing Companies" for three consecutive years. He is currently chairman of the board and co-founder of Texas-based RING Energy, Inc., an NYSE-listed company.
He has purchased and restored several historic buildings in downtown Redlands, including the Burrage Mansion.
In late 2007, Mr. Rochford learned the property would likely be put on the market, and he knew he wanted to preserve the beautiful, historic treasure. As he walked the grounds, he imagined the sound of children laughing and playing. He realized at that moment he could combine two things dear to his heart: contributing to his beloved city of Redlands and helping children in need.
With the encouragement and participation of many individuals, the Rochford's turned their vision into a reality by creating the Rochford Foundation. They restored the grounds, replanted orange groves, and added a playfield, trails for biking and hiking, a dance studio, an art room, golf course — transforming the Burrage Mansion into a space just for kids.
The Rochford Foundation surrounds and encompasses children, with a focus on kids ages 6 to 12, underprivileged kids and kids at risk.
"It warms our hearts to know we can warm theirs, and it's certainly something we hope to be doing for years to come," Mr. Rochford says.
Mrs. Rochford says she loves to hear the laughter of children. "It's so innocent and precious."
The Rochfords envision their foundation as something that will continue to increase in size and scope. "We hope to serve thousands more children through different organizations, and we hope we are in a position that will allow us to do that well into the future."