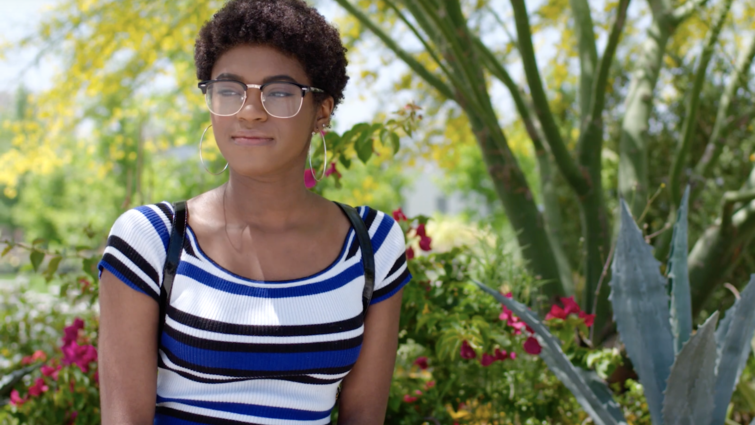 Fourteen-year-old Aabrielle Spear is on the road to recovery from self-harm after successfully completing Loma Linda University Health's SHIELD program, which offers group help to struggling youth and their families.
For three hours a day for two months, Spear participated in group therapy led by trained counselors to address personal and family dynamics, giving her skills to work through the impulse to self-harm.
Her mother, determined to fight for her daughter's life, brought her to the program at Loma Linda University Behavioral Medicine Center after she had attempted suicide. Now, Spear is influencing her peers and offering hope to those who are self-harming or having suicidal thoughts.
"Now I have tools to help myself and the confidence to tell my story," Spear says. "Even though the struggles didn't go away, I know I have a system of support to help me through."
The numbness began to settle in when Spear was eight years old. Her parents were going through their divorce, and she had been the victim of harassment and bullying at school.
"Kids would spit at me, curse at me, grab and push me," she said. "They would tell me my skin was too dark and that I was ugly. I didn't believe it at first, but the longer it went on, the more it seemed to be true."
Spear came home from school one day and went up to her room to be alone. She dropped a picture frame, and using the broken shards of glass, she began to self-harm.
"I don't know how I thought of it," she said. "It just felt like something I needed to do to feel something."
Things got worse before they got better. The kids at school grew more vicious. Spear's mother, Myrna Overstreet Spear, tried to protect her from the bullying and went to intervene when she found out about the bullying. "I went to the school talked with the principal and the parents of the children, but even after some bullying stopped, there was damage done," Myrna said.
Myrna tried to offer support, hoping her daughter would open up to her and let her carry some of the burden, but her daughter retreated further away. Her cutting got worse, and with it, the lengths she went to hide it. At age 13, Spear tried to end her life.
She survived the attempt, but couldn't stop the cutting. Eventually, Myrna discovered the scars on her arms.
Aabrielle fought her mother, but eventually was brought to the youth partial hospital program SHIELD at Loma Linda University Behavioral Medicine Center.
Aabrielle's story is not uncommon. "Suicide is the second leading cause of death for teens, and it's a problem that's getting worse — not better," says Glenn Scott, LCSW, director of the Youth Partial Hospital Program. "More teenagers and young people die from suicide than from cancer, heart disease, strokes and lung disease combined. It's a true epidemic."
The SHIELD is unique in the way it brings families together through the healing process, Scott says. "Parents are encouraged to attend their children's sessions where they will also learn skills and develop strategies," he says.
The program is 8 to 12 weeks long, three days a week, three hours a day. The first half is dedicated to treating the patients in a group setting, and the second half brings in their family members to learn and heal alongside the patients, says Scott.
"Myrna attended every one of her daughter's sessions," he says. "Parents who participate are the reason the program is so successful." More than 85% of participants in the SHIELD program see a reduction in self-harm and suicidal thoughts.
Now a graduate of the program, Spear is telling her story in the hopes that other young women who are struggling will feel less alone.
"This program showed me that there are other people out there struggling with the same things," she says. "Healing came, but it didn't come quick. The treatment didn't work until I let it."