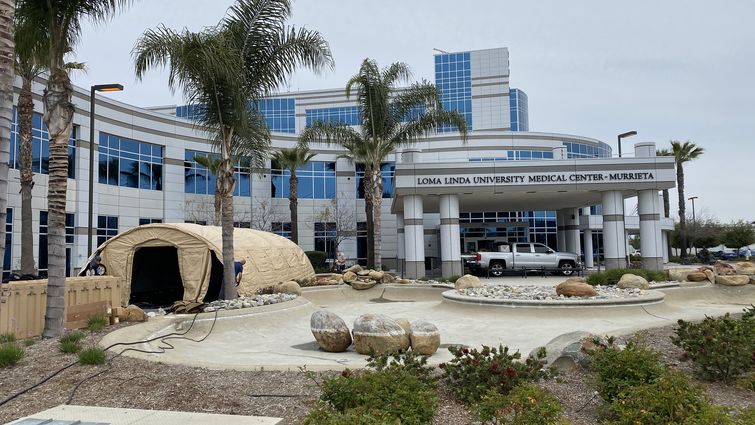 When COVID-19 struck the world, Loma Linda University Medical Center – Murrieta leaders knew they needed to find a way to provide a higher level of care for even more people in their community. Within a matter of days, the 111-bed hospital began making changes and a plan for executing those changes in the fight against COVID-19.
Linda Soubirous, chief nursing officer at LLUMC – Murrieta, said she was astonished to see the hospital's quick transition to handle the additional needs — Facilities Services set up booths in the parking lot for employees to screen patients, tents in the parking lot to triage patients as they arrived at the hospital, a second Emergency Department (ED) was constructed in the hospital's lobby to house COVID-19-positive patients, and a large collection of personal protective equipment had been procured to protect employees and patients. In addition, a negative pressure system was created specifically for the COVID-19-positive patient ED and for the 15-bed COVID-19 inpatient unit.
In November 2020, the hospital experienced a surge of patients arriving at their doors like they had never experienced before. Patients occupied beds in the outdoor tents and on every floor of the hospital. Never did they imagine, come December, they would use nearly their maximum designated capacity to house and care for COVID-19 patients. At one point, every floor of the hospital, except the fourth floor, was used to treat COVID-19 patients.
Kristin Butler, director of Emergency Services, responded to the surge.
"Based on our commitment to our organization's mission, and our deep-rooted faith, we knew we could handle it."  Butler's teams relied on each other's clinical strengths and their faith in one another, which helped them through each shift. Most shifts began with a huddle where the team would pray together.
"Without each other, hope and positivity, we would not have made it through the day," Butler said. 
Determined to win this battle, teams came together from all different areas of the hospital, with different backgrounds and specialties to improve processes and fill in when needed. "We used our strengths to support each other," Butler said.
Even though many staff members felt like they were in survival mode, staff from the fourth and fifth floors made encouraging signs and T-shirts in support of one another. As each day came and went, every shift brought new challenges.
Sarah Winder, director of the Med-Surg, said the team rose to the challenge. "We experienced trauma together and came out the other side stronger," she said. Staff learned to survive together, focusing on the immediate needs of their patients and taking it one day at a time.
With teamwork, determination and faith, the employees of LLUMC – Murrieta came together to fight against COVID-19.
"I am humbled by everyone coming together. We are stronger than ever," Soubirous said. "I am grateful God provided us the opportunity to care for each patient. I am proud to work amongst heroes."
For more information about Loma Linda University Medical Center – Murrieta, go online or call 951-290-4000.