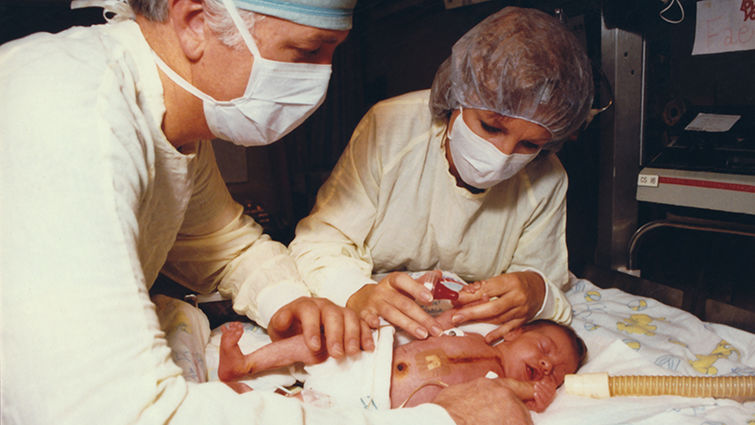 She was just 5 pounds, 9 ounces and 19 inches long when she was born. Stephanie Fae Beauclair—known as Baby Fae to protect family privacy—was born at 6:55 a.m. on October 14, 1984. A baboon heart replaced her own failing heart on October 26. For 21 days, the world watched breathlessly as she fought to live.
The transplantation of a baboon heart into a human infant shocked the world on many levels.
Pediatric cardiothoracic surgeon Leonard Bailey, MD, had shared his research with cross-species heart transplantation at national and international scientific conferences. But prestigious academic and medical research centers around the world seemed surprised that he actually tried it—and perhaps a little envious.
Animal rights advocates paraded around Loma Linda University Medical Center, holding high their placards while wearing their animal-skin accessories—seemingly oblivious to the mixed messages.
National and international media organizations swarmed the tiny city of Loma Linda, capturing every visual, cheering on the little infant, then questioning the motives of Bailey, Loma Linda University Health, and even Baby Fae's parents, as well as the ethics of the historic surgery.
Medical ethicists suddenly found their opinions sought by the news media as the issues of cross-species transplantation were examined from every angle.
The story of Baby Fae thrust Loma Linda University Health into the international spotlight and changed the organization. Since 1984, Bailey and his colleagues have performed hundreds of infant-to-infant heart transplants, and some of his "kids" are now in their 20s with children of their own.
As a medical resident and fellow, Bailey was bothered when infants born with hypoplastic left heart syndrome—a universally fatal condition at the time, where part of the heart fails to fully develop—were simply left to die. What they needed, he reasoned, was a new heart.
Long before organ donation centers were even considering the harvest of infant organs of any kind, Bailey studied the possibility of cross-species heart transplantation to "buy some time" for these ill-fated infants.
Bailey tested the idea of transplanting sheep hearts into goats. The discovery of cyclosporin by a fellow scientist in Switzerland allowed him to successfully perform heart transplants on baby goats, who then grew into adults and had kids of their own.
The documentary, "Stephanie's Heart," completed in 2010 following more than three years of intense research, tells the stories of Bailey, Beauclair, and others intimately involved in the story of Baby Fae.
Hours of never-before-seen footage, sealed in 1984 at Beauclair's request, were obtained with her permission and included in the documentary. Hundreds of photos were scanned—many from her personal collection.
Interviews with principal characters in the story, recorded in 1984 and 1985, were reviewed and captured, and present-day interviews were filmed with the same people.
After exhaustive research, the documentary was created. A portion of it, used for the video program, "Life on the Line," won a regional Emmy Award.
Part of the documentary is devoted to an event that resulted from interviews with Beauclair. She shared that she'd missed being able to visit Stephanie's grave over the years. The infant's remains were originally interred at Montecito Park, located where Waterman Avenue intersects Barton Road, just down the road from the hospital.
Through the generosity of LLU Children's Hospital Foundation, Baby's Fae's remains were relocated to Kansas—about a mile from Beauclair's home. A full graveside service was held, attended by many relatives unable to travel to the funeral in 1984. The original headstone remains in Montecito Park.
The full documentary, 1:04:11 in length, brings together the past and present to give a comprehensive view of the story from multiple perspectives. Watch "Stephanie's Heart" on YouTube.