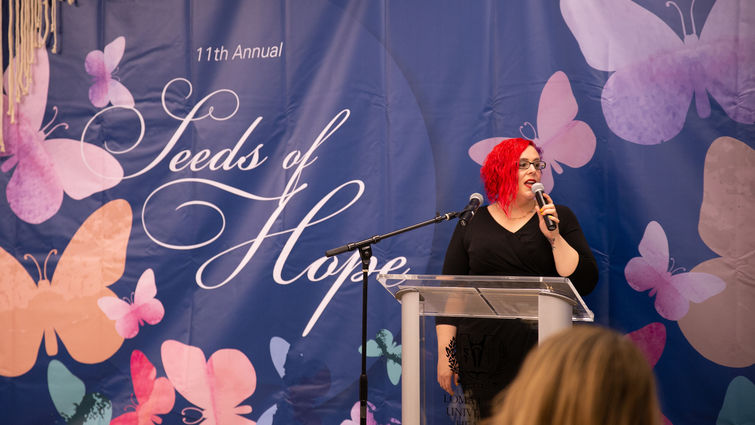 Natasha Tracy, award-winning writer, speaker and consultant, has spent her life working to speak on the emerging topic of mental health, she said during her presentation at the 11th Seeds of Hope celebration, which benefits the Loma Linda University Behavioral Medicine Center.
Held in the Loma Linda University Centennial Complex on October 11, the 2018, the Seeds of Hope event featured success stories of two past patients and the presentation of the second Behavioral Health Champion Award.
Seeds of Hope focuses on the importance of mental health as a key factor in whole person care. Participants in the annual event seek to dispel the stigma surrounding the mental health field.
Tracy opened up about her journey living with bipolar since the age of 20. She also recounted key moments in her personal and professional life, ultimately receiving accolades for her health blog — Bipolar Burble. Her career has focused on providing insightful and trusted information on mental illnesses — specifically bipolar disorder — to the public while engaging with the mental health community.
"My mental health journey has been long, and has been difficult," she told a crowd of over 200. "But it has been a journey that has shown me how powerful healthcare providers can be when they value the lives of their patients."
After trying a variety of medication mixes, Tracy felt hopeless and beyond help until she met a care provider who saw she was struggling and showed her the help she needed, she said.
"When you think of behavioral medication, remember it has the power to give people their lives back," Tracy said. "The reason I am here is because of people who believe all lives are valuable; all lives are worth the time it takes to heal. For this, I will be forever grateful."
Tracy is the author of the 2016 memoir Lost Marbles: Insights into My Life with Depression & Bipolar. The book also serves as a self-help tool while examining the struggles of those who live with depression or bipolar disorder.
Before her evening keynote presentation, Tracy toured the Loma Linda University Behavioral Medicine Center and Loma Linda University Medical Center. Her visit focused on learning how the facility helps patients with specific behavioral issues.
"I'm impressed with the way the facility provides a full spectrum of mental health services," she said. "It's clear the care of the patients, and the education of the people around them, is a top priority." 
The Behavioral Medicine Center strives to heal people and restore hope to those living with mental illness and substance use issues. Edward Field, MBA, vice president and administrator for the Behavioral Medicine Center, shared statistics about the current needs for mental health support:
•    1 in 4 people will have a diagnosable mental illness in their lifetime
•    Approximately 1 in 5 men and 1 in 12 women develop alcohol dependence during their lifetime
•    There is a suicide in the U.S. every 12 minutes
•    Suicide is the second leading cause of death for ages 10-34
"There is hope for all living with mental illness and substance use issues," Field said. "The Behavioral Medicine Center offers an atmosphere of trust and support — a safe place where people are encouraged to address a variety of issues."
Field shared that the funds raised during the previous Seeds of Hope events had provided over 250 scholarships to help the Behavioral Medicine Center provide treatment to those with limited or no access to insurance. "In addition, we've been able to include families in our treatment programs, as they play an essential role in their loved one's healing. We are also able to expand new and needed programs for chronically ill children and adults as well as continue to transform our physical areas," Fields said. Donations toward the construction of playground facilities for the Behavioral Medicine Center's youth patients are a part of Vision 2020 – The Campaign for a Whole Tomorrow.
"Everyone who believes in our mission can be a seed of hope to someone else in need," he added.
The success stories of two former patients demonstrated the benefits of the whole person care approach the BMC offers. 
Zakari Davis, 16, received treatment through the Behavioral Medicine Center's youth partial hospitalization program which played a key role in her recovery.
"The Behavioral Medicine Center helped me in a way that no one else could," Davis said. "It was great not to feel alone anymore. People opened up, and it became a family."
A video of Davis' journey can be viewed here.
Nathan Perez suffers from Parry-Romberg syndrome — a disorder characterized by shrinkage of the skin and soft tissues on half of the face. Perez's physical condition impacted his mental health, causing him  thoughts of self-harm and depression. Perez went through the MEND program, which was designed to support the patient and their families in maintaining or regaining emotional health and balance during the process of a significant medical illness or treatment. 
"The MEND program let me open up and talk about what I was going through," Perez said. "My parents now know more about me and how I'm feeling."
A video of Perez's story can be viewed here.
Ken Ramirez, Secretary for San Manuel Band of Mission Indians, has provided support to the MEND program, allowing many families to benefit from the program through scholarship support. He was awarded the 2018 Behavioral Health Champion Award for his unwavering support of the program.
"We would not have been able to provide help to these families as quickly without his support," said Daniel Tapanes, DMFT, creator of the MEND program.
For more infotmation on the Seeds of Hope event — or ways you can contribute to the cause — email Kemi Adeoye in the Office of Philanthropy at oladeoye@llu.edu, or call (909) 558-3585.