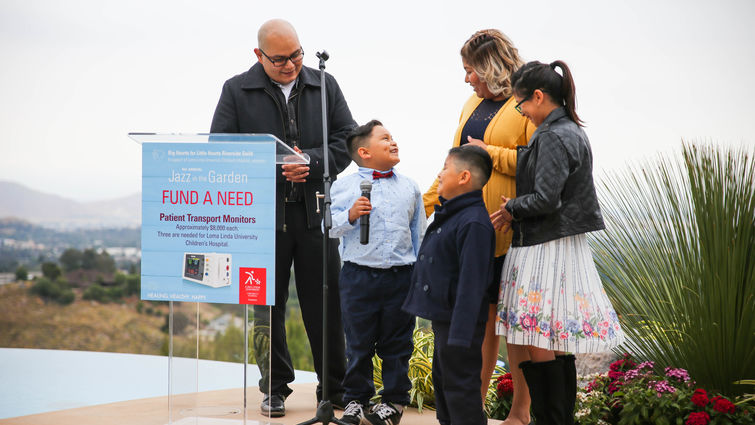 The Big Hearts for Little Hearts Riverside Guild raised more than $50,000 for the patients of Loma Linda University Children's Hospital during the 9th annual Jazz in the Garden event last week. The event, hosted by Phyllis and Walker Evans at their scenic, cliffside home, allowed more than 200 guests the opportunity to socialize, enjoy food and listen to patient testimonials, with all proceeds donated to Children's Hospital. 
Ethan Palacios, 7, a patient at Children's Hospital for the past two years, touched guests with his bubbly personality, big smile and grateful heart. "Thank you, doctors," Palacio said. "Thank you Children's Hospital for making me feel better." 
In addition to purchasing their tickets for the event, guests could sponsor a patient transport monitor or sign their names next to a specific dollar amount on a premade dashboard. The patient transport monitors were approximately $8,000 each, and three were needed for Children's Hospital's pediatric intensive care unit. All monitors were successfully funded during the event. 
True to the event's name, guests were serenaded by saxophonist and Los Angeles native Jay Boykin.  
The Jazz in the Garden event was made possible by Vickie Hawley, Children's Hospital advocate and guild member. The Riverside Guild was founded in 2010 to raise community awareness and funds for Children's Hospital. To date, the guild has raised more than $300,000.
To learn more about the Big Hearts for Little Hearts Riverside Guild, visit online or call Josh Zahid, guild manager, at 909-558-5384.