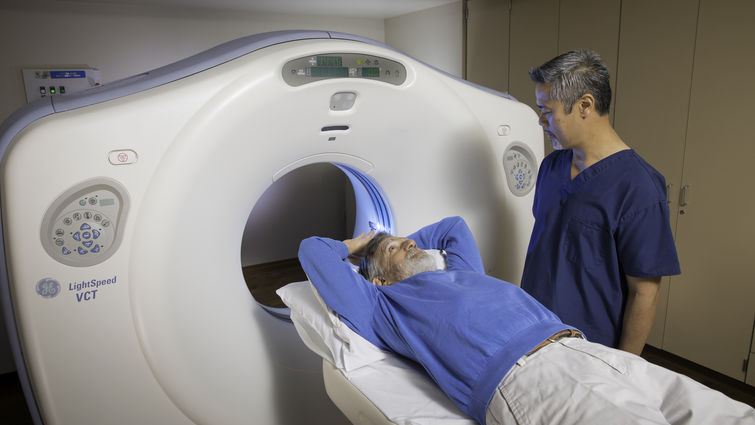 November 15 is the Great American Smokeout, an annual event sponsored by the American Cancer Society that challenges people to quit smoking on that day or develop a plan to quit.​
Quitting smoking and undergoing early screening for lung cancer are the two top ways to reduce the rate of death from lung cancer, say experts at Loma Linda University Cancer Center. Cigarette smoking is the number-one risk factor for lung cancer, according to the American Cancer Society. ​​
Lung cancer is asymptomatic, meaning that a patient has no symptoms, when it is curable. This is why Brian S. Furukawa, MD, a pulmonary specialist at the Loma Linda University Medical Center, encourages people who have an elevated risk of developing lung cancer to receive screening. Research shows 1 in 4 cancer deaths are due to lung cancer. He is hoping that number will decrease as more people get screened sooner as early detection through a low-dose chest Computed Tomography (CT) scan can reduce a patient's chance of dying due to lung cancer by 20 percent.  A low-dose CT (LDCT) scan at the Loma Linda University Cancer Center is painless, easy and quick, allowing patients to catch the disease before it is too late.​
"At Loma Linda University Health, our intent is to change the natural history of lung cancer," Furukawa says. "As physicians, we want to catch cancer earlier to allow people to live longer."
Nurse practitioner Reewa Kejriwal, NP, says she has seen firsthand how knowledge has made the difference in patients. ​
"When we detect it early, a patient connects with a physician for personalized care," Kejriwal says. "That individualized care is what has encouraged many of our patients to share their experience with those they know and get them into our clinic. That word of mouth is changing our community."​
That is why Furukawa and Kejriwal offer four patient take-aways to guide someone interested in turning their life around.​
What is an LDCT scan? Low-dose computer tomography is an imaging procedure that uses X-ray equipment to gain detailed pictures of internal organs, bones, soft tissue and blood vessels. These images provide greater detail than traditional X-ray. The low-dose radiation makes it easy, quick and painless, providing minimal harm to the body.
Risks of LDCT screening? This screening process uses doses of radiation that are so low a patient's risk of developing cancer from the screening is not measurable. Since there is a possibility, low or not, the American College of Radiology advises that the screening should only take place if there is a clear medical benefit.
Who is eligible? To be eligible for the LDCT scan, a patient has to have all three of the of the following identifications: between 55 and 77, has smoked for a minimum of 30 packs a year, and is a current smoker or someone who has quit smoking less than 15 years ago.
Who should not be screened? Screening for lung cancer carries a lot of responsibility. There is a possibility patients who have been screened may test positive or will require additional follow-up. If a patient is unwilling to have the treatment required after a screening shows signs of lung cancer, or they are too sick to tolerate surgery, they should not get screened. Patients should also not undero screening if they are unwilling to continue to receive screenings, even if the results are negative, or have already developed the symptoms, such as coughing up blood, a new cough or unintentional weight loss.
Even if you are not eligible for the LDCT or are looking for resources to stop smoking, the comprehensive Cancer Center is committed to whole-person care. The Cancer Center has educational resources that aid in longevity. For help finding these resources, visit the lung and esophageal cancer care website or call 1-800-782-2623.