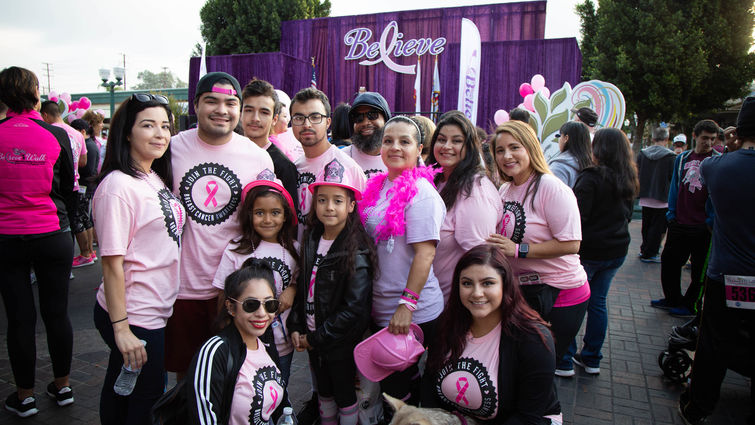 The unmatched compassion and level of expertise leaves breast cancer survivor Patricia Murillo to believe that her breast cancer journey would not have been the same without choosing to be treated at Loma Linda University Cancer Center (LLUCC). ​
Barely out of her thirties, the then 42-year-old Patricia Murillo was in denial that a lump in her right breast was cancerous. When doctors told her there may be a 95 percent chance it was fibrocystic breast disease — noncancerous changes that give breast a lumpy or ropelike texture — she quickly believed him and opted out of getting a biopsy to be sure. It is a decision Murillo says she regrets to this day. ​
"I wanted to kick myself because I felt like I should have done the biopsy three years ago," says Murillo, the mother of seven. "I want women to get checked right away. The faster you can detect it, the treatment may not be as harsh as mine. Do not wait until it gets bad."​
As time went on, her symptoms indeed worsened. Two years later, she could no longer ignore the lump that grew into the size of a softball, making a home in her underarm. She left her health care provider and came to LLUCC to be evaluated. That decision, she says, was the turning point in her journey to battling breast cancer. When physicians at LLUCC told her she was positive for Her2 breast cancer, the care she experienced next left her confident she had a chance at beating this.​
Today she thanks her oncologist, Gayathri Nagaraj, MD, for reviewing with her a plan of treatment and for being a confidant. When she had to go through chemotherapy, target specific radiation, a double mastectomy and then begin reconstruction, she says the staff at LLUCC made the world of difference.​
"I was afraid, and a nurse asked to pray with me and it blew me out of the water," Murillo says. "They asked about my kids, laughed with me and even cried with me. I felt like I had a spot etched in the couch because I belonged. Without that type of care, I do not know where I would be."​
Her oncologist, Nagaraj, says building relationships with every patient is her life purpose. She asks about their families and spends time with patients to be therapeutic in addition to clinical. Her passion to go above and beyond for service stems from losing her mom to the same cancer she advocates for women today.​
"I lost my 52-year-old mother to breast cancer back in India when I was 20 years old," Nagaraj says. "It is that feeling in me that I was not able to help my mother as best I could because I was not a doctor back then. Helping other mothers and women in their cancer journey has helped uncover my life's true calling."​
Nagaraj also believes that she would not be able to successfully fulfill this mission without the amazing team she works with here at Loma Linda University Health. She believes that type of all-star care is because of the values instilled in every staff member that works at Loma Linda University Health.​
"Our cancer center provides a team approach and whole person care," Nagaraj says. "It is not hard for physicians, parking attendants, nurses and every other staff member a patient comes in contact with to seem in unison because we keep whole person care as the most important principal in our service."​
Murillo says Loma Linda University Health has honored that principal as she finishes up her the final stage of her reconstruction. She says she could not have imagined doing this journey without the help of the institution.​
"I trusted God that He would not leave me with this. Being treated at Loma Linda University Health proved that for me," Murillo says.​
About the Loma Linda University's Women's Cancer Center
Our Breast Cancer care team brings together unique expertise, sensitivity and state-of-the-art diagnostic tools to help preserve women's breast health. We offer you a wide range of services in one convenient location including the most advanced diagnostic capabilities in the Inland Empire, the latest screening technology, proton therapy, clinical trials, risk assessments and support resources like pastoral care and nutritional counseling. To learn more, visit our Breast Cancer Care website or call 1-800-782-2623.