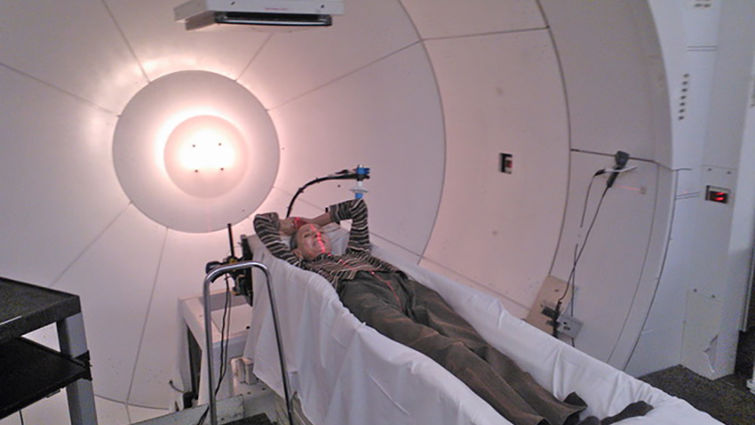 Dianne Radcliffe was given little hope of survival by her doctor after her esophageal cancer diagnosis in 2013. Instead, she left her hometown, traveling over 1,000 miles down the U.S. west coast to reach Loma Linda University Cancer Center.
There, she worked with radiation oncologist Gary Yang, MD, and a care team to complete a treatment combining chemotherapy and proton beam treatment. As a result, she returned home with no detectable traces of cancer in her body. She later safely obtained an esophagectomy to remove the esophagus and reconstruct it using part of the stomach — a final step in securing her long-term survival.
"The Cancer Center team treats you like they will cure you," says 71-year-old Radcliffe, now celebrating eight years of being cancer-free. "You get that sense of optimism from everybody. They saved my life."
This Esophageal Cancer Awareness month, Radcliffe and Yang want to spread the word about the disease and the possibilities available to those who face it.
Esophageal cancer is the sixth leading cause of death from cancer worldwide. An estimated 20,600 people in the U.S. will be diagnosed with esophageal cancer this year, according to The American Cancer Society. But survival rates are getting better, and treatments constantly improve, says Yang.
One such treatment option, proton beam therapy, is the most precise and advanced form of radiation beam treatment available today. Its precision proves especially beneficial for treating cancer that develops in the esophagus, the hollow, muscular tube that connects the throat to the stomach and that sits close to the heart, lungs, and spinal cord.
The results of this approach have been very impressive.Dr. Gary Yang
Before the combination of proton therapy and chemotherapy was available, Yang says conventional radiation therapy and chemotherapy resulted in only about a quarter of esophageal patients having a complete pathological response — meaning they had no detectable trace of cancer in tissue samples removed during surgery.
With proton radiation, the number of esophageal cancer patients that experience a complete response is significantly higher, says Yang. Dose distribution patterns achievable with proton beams not only minimize toxicity and side effects but also preserve a patient's health as much as possible before surgery to secure the best outcomes, he says.
"The results of this approach have been very impressive," Yang says. "Our program can safeguard patients' health and provide them with the best chance of eradicating the cancer before undergoing surgery and have the best long-term outcome and quality of life."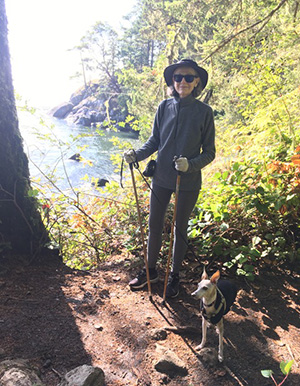 Radcliffe, who experienced a complete response to the proton therapy and chemotherapy, says she was able to experience these benefits firsthand by enrolling in the clinical trial Yang spearheaded at the time. She believes the proton treatment's ability to aim its beam to target her tumor site only and minimize radiation "spray" to her nearby heart and aorta was essential to her survival.
Upon diagnosis, Radcliffe had not heard of esophageal cancer. Now, she hopes to spread some key points everyone should know. For one, she says it is critical to keep up with routine medical appointments and check-ups. For Radcliffe, her dentist recommended she obtain a blood test after seeing red spots in the roof of her mouth.
In the following months, Radcliffe received treatment for what her doctors deemed as heartburn. But the heartburn and chest pain were just part of the symptoms emanating from her growing esophageal cancer. Radcliffe soon began to experience changes in taste, trouble swallowing, and unintentionally lost 30 pounds in a short timeframe. Further follow-ups and biopsies eventually revealed cancer in Radcliffe's esophagus that appeared to have spread to nearby lymph nodes.
After almost a dozen encounters with various doctors, she says she finally found the right care team for her at Loma Linda University Cancer Center and the James M. Slater, MD Proton Treatment and Research Center — the world's first hospital-based proton therapy facility.
"Different doctors will have different takes and approaches to the same condition," she says. "Find the one that works for you. Then, stick up for yourself, surround yourself with good   people, and move forward positively in your cure or at least give it a good try."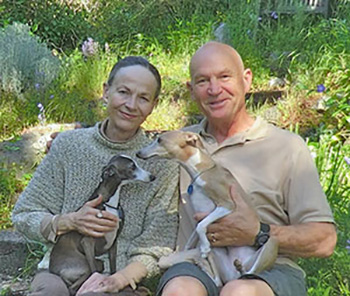 Whether you or a loved one are diagnosed with esophageal cancer, Yang echoes Radcliffe and offers the following advice: remain vigilant of changes in your health, know your family history regarding cancers, keep attending routine medical appointments, and be aware of the symptoms. These steps could help you prevent cancer altogether, or catch cancer early and seek treatment to increase the chances of cure.
"The treatment we offer patients with esophageal cancer like Dianne boosts their chances of achieving a cancer-free status and not just prolong life, but prolong a good life," Yang says.
Throughout her five-week treatment at the Cancer Center, Radcliffe says she and her husband, Michael, were able to place their full trust in Yang and their care team, stay in a Loma Linda townhouse with their two dogs, and explore the region on the weekends. Nowadays, Radcliffe, a retired designer, goldsmith and jewelry-maker, enjoys peaceful days in the company of Michael and their dog, Chili.
Radcliffe's cancer experience forever changed her life, she says, and she is grateful for both the years she has lived since then and the many years to come still.
At Loma Linda University Cancer Center, physicians are committed to providing patients with compassionate, comprehensive care that gives them the best opportunity to face and overcome cancer. To learn more about esophageal cancer care at the Cancer Center, please visit https://lluh.org/cancer-center.