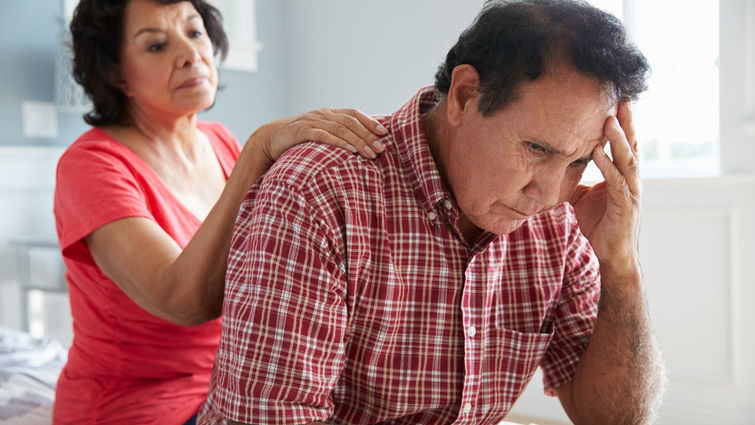 Two Loma Linda University Health neurologists are on a mission to prevent or reverse Alzheimer's disease — which affects more than 5 million people in the United States — by educating their patients and the community to implement protective factors centered around healthy eating, regular exercise, restful sleep and optimal activities to challenge the mind.
Drs. Dean and Ayesha Sherzai, co-directors of the Brain Health and Alzheimer's Prevention Program at Loma Linda University Health, encourage many to take control of their lifestyle choices because they play a significant role in their long-term healthcare.  
"The myth has long been that Alzheimer's cannot be prevented, treated or even slowed down," Dean says. "The truth is it can be prevented, treated and slowed over time." 
Moderate to strenuous activity alone can reduce the risk of Alzheimer's by 40 percent and stroke by 25 percent, Dean says. In addition, the Sherzais say eating a whole-food, plant-based diet can reduce the risk of Alzheimer's by 53 percent. 
According to the Sherzais, your genes don't determine your destiny — they merely give researchers a range of when a disease manifests. Identifying an individual's specific risks can shed light on how to change one's health trajectory, Ayesha says. Many of these risk factors include:
High cholesterol
Stress
Poor sleep
Smoking
Alcohol abuse
Obesity
Poor diet (high sugar and high saturated fats)
Individuals who are prone to these risk factors ultimately may experience inflammation, glucose dysregulation, lipid dysregulation and oxidation, Dean says. The Sherzais say the ultimate goal is to overcome these factors and integrate a healthier, more protective lifestyle rich in:
Regular exercise
Stress management 
Continued learning
Purpose-driven activities
A whole food, plant-based diet
Social engagement
7-8 hours of restorative sleep
Many of these lifestyle changes are integrated with the Sherzais comprehensive NEURO (Nutrition, Exercise, Unwind, Rest, Optimize) program that enables individuals to focus on healthy habits to strengthen the brain. "It may come as a surprise to many, but the brain consumes 25 percent of the body's energy," Dean says. 
Patients are encouraged to stay active in all steps of the NEURO program because each part plays an integral role to one's health, Ayesha says. "Sleep cleanses the brain of bad proteins and other waste," Ayesha says. According to the Sherzais, sleep apnea can increase the risk of Alzheimer's by 70 percent. 
"There's more to just eating healthy and exercising regularly that will help an individual avoid the risk of Alzheimer's," Dean says. "We tell our patients it's important to also identify good versus bad stress, in addition, to participating in challenging, complex activities to stimulate the brain." A lack of mental stimulation increases the risk of Alzheimer's, Dean says. Complex activities include dancing, learning a language or playing an instrument. 
In the U.S., an individual is diagnosed with Alzheimer's disease every 66 seconds. Of those diagnosed, almost two-thirds are women, Ayesha says. By the year 2050, 16 million Americans will be diagnosed with Alzheimer's, Dean says. "Even more alarming is the cost of care for those suffering from Alzheimer's is expected to rise to nearly $3 trillion dollars," Dean says. 
The goal is to prevent any other diagnosis or death from Alzheimer's, with the help of personalized lifestyle programs in the near future.