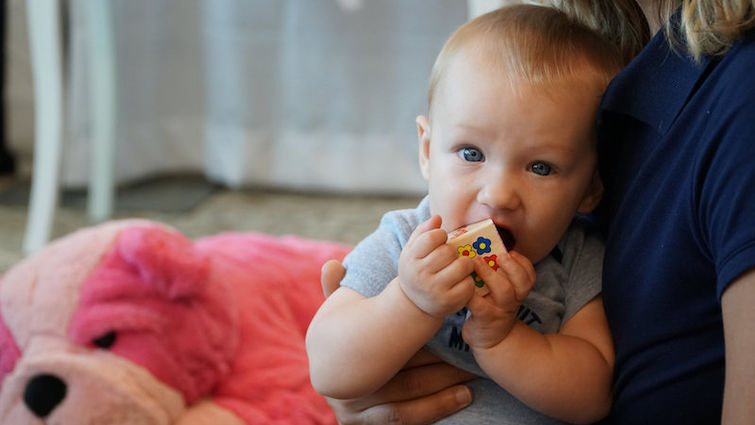 Preparing for a baby is exciting — new furniture, clothes, diapers, gizmos and gadgets, and everything else that comes with a new bundle of joy. However, expectant moms may forget that there is also some emotional and psychological preparation involved in getting ready for the new addition — including the possibility for postpartum depression.
Obstetrician and gynecologist Courtney Martin, DO, medical director of the Total Care Birth Center at Loma Linda University Children's Hospital, advises soon-to-be moms to advocate for themselves and their baby by preparing for the possibility of postpartum depression.
During the 2nd annual Baby Conference on Sunday, August 20, Martin told a group of new and expectant moms (and dads) that she knows firsthand what it feels like to have feelings of loneliness and discouragement after having a baby. Because of this, she makes it a priority to talk to her patients about postpartum depression, including how to prepare for and recognize it.
"Historically, there isn't a lot of conversation about what your days will be like after you leave the hospital," Martin says. "Most of what doctors talk to patients about is what your experience in the hospital will be like, and your antenatal care. We as caregivers need to be better about this."
What is postpartum depression?
Some moms may experience sadness, mood swings and crying within the first two weeks of giving birth — this is called the postpartum blues and is common after having a baby. In fact, 80 percent of new moms experience the blues. However, if the feelings persist or get worse, it might be postpartum depression.
Postpartum depression affects 1 out of 8 women after having a baby, and it occurs two weeks or later after giving birth.
Martin says women who have postpartum depression have difficulty finding joy in anything they do. Many cry a lot and have anxiety, insomnia or irritability.
"Moms who have a hard time breastfeeding are more likely to have anxiety or postpartum depression because they feel like they are failing," Martin adds.
How to survive postpartum depression
Martin advises expecting moms to prepare for postpartum depression before it happens with a few simple steps:
Build your village before you have your baby. Have a safe and open friendship with those close to you, either an individual or group.
Develop a safe word that will tell your friends and family you're struggling.
Identify your risk factors with your doctor. If you have underlying anxiety or if you've been pre-diagnosed with depression you are at high risk for postpartum depression.
Resources available
During her presentation, Martin informed over 200 new and soon-to-be parents of available resources if experiencing postpartum depression, including San Bernardino County's 211. Dialing 2-1-1 is a 24-hour, one-stop connection to thousands of community resources including health care and breastfeeding support.
Martin also recommends reaching out to a physician directly. "You're doctor doesn't forget about you because you delivered your baby."
Martin expresses the heartbreak she feels when she encounters a patient at the six week checkup who was having a hard time.
"We want to know if at two weeks postpartum you're not feeling well. Call us. We want to help you."