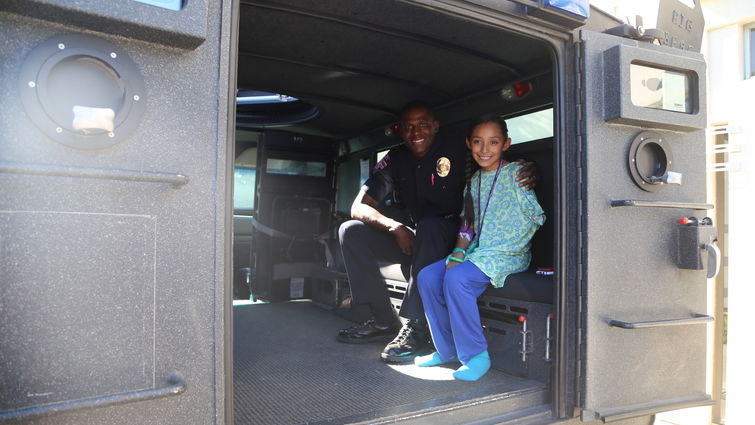 Law enforcement from throughout Southern California invaded the Loma Linda University Children's Hospital campus — and for good reason: to put some smiles on the faces of patients being treated at the hospital.
Five helicopters, a motorcade of police motorcycles, multiple squad cars and three SWAT vans made their way onto the north campus lawn during the 19th annual Cops for Kids Fly-In Tuesday, Oct. 24.
Richard H. Hart, MD, DrPH, Loma Linda University Health president, acknowledged participating law enforcement.
"This is definitely one of my favorite events," Hart said, "and all these squad cars and bikes shows what a great relationship we have with law enforcement. We depend on them."
San Bernardino County Sheriff John McMahon reciprocated Hart's comments saying the sheriff's department is fortunate to have such a relationship with LLUCH.
"You take care of these kids and these guys are all here because they want to be here." McMahon said. "It's not a lot, but it's what we can do to give back."
After the motorcade, patients and their families were invited to meet officers and take photos with the bikes, cars, choppers and vans.
Participating law enforcement and organizations were Riverside Police Department Air Support, Traffic Division and EOD; Corona Police Department; Riverside County Sheriff Air Support and SWAT;  San Bernardino County Sheriff Department Air Support, SWAT, West Valley and Glen Helen Detention Facilities, and Central Station; San Bernardino Police – T­raffic Division; CHP Air Support – Apple Valley; CHP – San Bernardino, Rancho and Riverside; Rialto Redlands, Los Angeles, and Fontana Police Departments; Ontario Police Air support; Pasadena Police Air Support; Patton State Hospital Police; U.S. Marines – 29 Palms; FLIR Systems; Leonardo Helicopters; and the 501st Legionnaires.