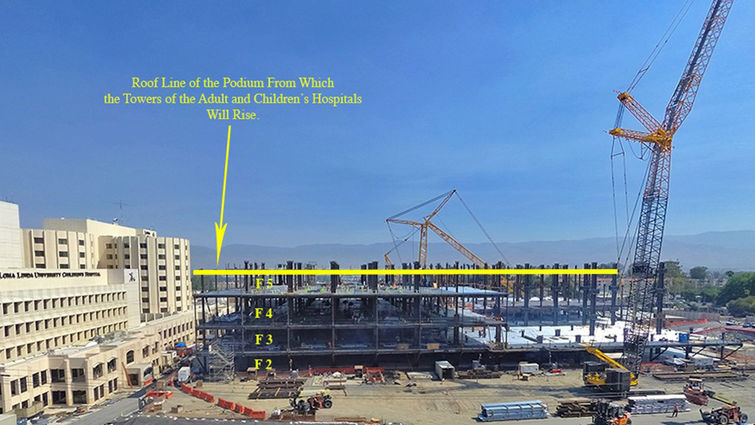 The podium section of the new Loma Linda University Medical Center and Children's Hospital tower is nearing completion, and that's a big deal. 
Work has slowed just a bit recently since the first of June as the number of flatbed semi's trucking in the heavy columns, girders, and beams have slowed dramatically. The economy must be booming as there is a lot of construction going on, which has kept the steel fabricators working around the clock. The good news is that this slowdown has allowed ironworkers to catch up on the south side's construction. Once normal deliveries of steel resume, both cranes will operate full speed ahead. The goal is for the podium to be topped off by the end of June. When it happens, there will be a celebration.
This photo shows the podium as it is reaching the magic fifth floor, the roof of which will top out the podium. The next big change will be the two hospital towers beginning their climb. While the podium creeps toward completion, work continues inside the structure. 
We're sharing photographic updates of the hospital construction work on a periodic basis. Watch for special emphasis on some of the behind-the-scenes-views and untold stories. The new hospital is a key part of Vision 2020 – The Campaign for a Whole Tomorrow.
Dennis Park has photographed and chronicled the tremendous changes that have occurred on campus over the past five decades, and he is continuing to document this important part of the campus renewal effort. You can also follow his work at his construction blog, www.docuvision2020.com.