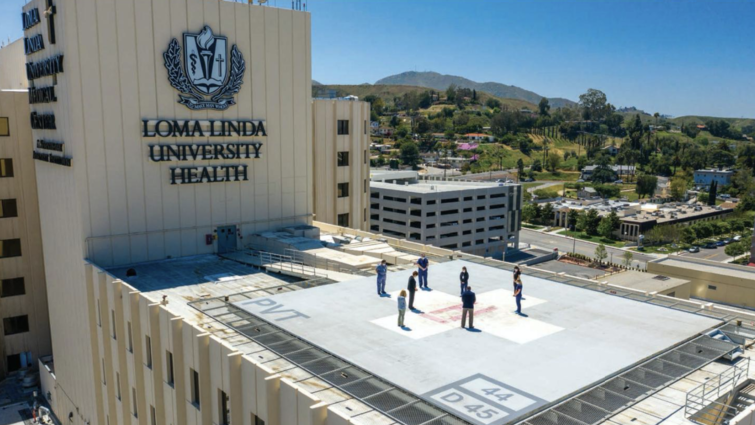 COVID-19 affected nearly the whole world, taking lives, denting economies, and placing numerous communities on lockdown. Loma Linda University Health responded to serve its students and patients in the Inland Empire.
This story first appeared in Scope magazine.
Sara Martinez, a nurse in the Loma Linda University Medical Center Emergency Department, remembers a physician bursting into the room during a trauma and ordering everyone to get out.
A new strain of infectious disease was beginning to make headlines from China, and hospital administration had just implemented new screening protocols. She and other ED staff left the room, scrambling to find enough equipment beyond the typical masks many wore. A core number of staff stayed in the room, working to save a man from dying. No one knew if he had been exposed to the new virus: SARS-CoV2, which causes COVID-19.
Within an hour, more supplies had been sent from Central Supply. "I remember that was a really big deal," Martinez recalls of the early days of the COVID-19 outbreak. "From then on, we as a team had what we needed, and I've felt very taken care of during this time."
It's been an adjustment for Martinez and her team, with harder days and hotter days over the summer in the ED. "I've had to remind myself that we're all going through this together — co-workers, management, leadership… we're all figuring it out."
2020 has been the year of the Pivot.
As the COVID-19 pandemic took hold of the world, Loma Linda University Health administrators quickly braced for major change across campus. Workflows were adjusted in its hospitals on how to screen and care for patients suspected to have the virus. Plans for online learning and telemedicine were dramatically accelerated — within weeks for some systems, within days for others. Frontline healthcare providers geared up with new personal protective equipment, university professors started teaching their classes online, finance executives negotiated reimbursements with insurance companies for new methods of telemedicine and IT executives scrambled to roll out new technology for providers faster than they ever thought possible.
Leaders now look back at what was a scramble to adjust and see collaboration as the key to the organization's success through the pandemic's acceleration back in February and March.
But challenges took a toll. The first wave of patients with COVID-19 took longer to manifest than expected, and government mandates halting elective procedures placed a significant strain on finances, which led to cutbacks of budget and staff in nearly every department. Some employees worked far more hours per month than usual, while others were sent home with no work available. And numerous community members feared to leave their homes and suffered by not seeking care they otherwise would have received. In a few patient rooms, those suffering with COVID-19 often had to do so alone because of visitor restrictions. It was in those instances that a nurse or physician, wearing full protective attire, was the only support person on hand for a critically-ill patient.
The organization has come through the ongoing pandemic and response, even as it and healthcare institutions as a whole continue to adapt with the ongoing struggle of COVID-19. Moving forward, several things to come out of the Pivot are here to stay. New options of telemedicine are offering patients more choices for how they receive care. Students have increased options for how and where they learn. And a renewed appreciation for teamwork that became apparent throughout campus has inspired leaders to know that their teams are ready for whatever challenges and opportunities may lay ahead.
"It was wonderful to see how the team came together to make adjustments during this challenging time," says President Richard Hart, MD, DrPH. "Various infectious diseases have always been around, yet COVID-19 has proven to be challenging. I have confidence that it will be brought under control and that healthcare experts will be able to continue minimizing its impact." 
In January, teams at Loma Linda University Health involving infection control and epidemiology began meeting weekly to be aware of what was happening in China and Italy and how, or even if, Southern California might be affected. Loma Linda University Health leaders coordinated with health officials from two counties to schedule a COVID-19 community dialogue to be held on campus one evening in February. Some wondered if the upcoming event was even necessary — the disease had only spread regionally, and some forum organizers wondered if media attention would by then have moved on to other matters. Hart even touched on this issue when he stood up to introduce the evening's dialogue to the audience in the auditorium and online. But by then, the disease had indeed gone to nearly every part of the globe.
Meetings of top leaders to review COVID-19 procedures and updates transitioned to daily, and a central command center was set up in a room in Children's Hospital before moving to an administration conference room. That command center soon went virtual as many support teams began to work from home in March. More than 250 people were on that daily Zoom meeting for months. Leaders developed a system-wide plan consisting of eight phases or numerous scenarios on how to hold and treat from a few patients to hundreds with a disease of which little was known.
"Once you have a plan, the fear factor drops dramatically," says Adrian Cotton, MD, chief of medical operations. "One of the things I noticed early on is that people here who needed to be involved got involved and all pitched in to develop that plan. It's a 100% team effort here. It's been super cool to see."
In the Medical Center, unit 6100 became the acute care unit for COVID-19 patients, with overflow into 6200, and unit 4700 became the COVID ICU with overflow into 7200. Supply chain leaders knew after the busy 2018 flu season to have extra stock of personal protective equipment and other medical supplies on hand.
"When we started to see cases of COVID-19 increase, we weren't scrambling for supplies like a lot of other healthcare facilities were doing," says Joshua Lund, assistant vice president of supply chain management.
Lund credits his team's resolve to overcome this incredible stress during those long days was due to the relationships the organization has had with its suppliers, and generous donations from around the world. Even as the pandemic unfolded, Loma Linda University Health never ran out of personal protective equipment.
"I think there were a lot of unknowns regarding the virus, and I think we really came together as an organization to take on the challenges," Lund says.
Loma Linda University Health followed the state's requirement of canceling all elective procedures starting March 17, yet the steady stream of patients testing positive for COVID-19 didn't hit until July.
Back in early March, it became clear to Faculty Medical Group physician leaders that seeing 3,000 patients a day in-person was no longer feasible. What had begun months earlier as a gradual transition switching to telemedicine turned into nearly half of the 1,000 providers switching within two weeks. That meant providing technology and training for staff at 35 clinics, as well as rolling out technology in pop-up tents for COVID-19 testing of drive-through patients. At one point, one testing site was swabbing a patient every 50 seconds from their car.
"It was incredible cooperation of our physician teams, nursing teams and billing office teams to be able to pull off this switch," says Anthony Hilliard, MD, chief operations officer of the Faculty Medical Group. "I see this increasing focus on healthcare being delivered through technology as the new paradigm for the future."
Also in early March, university administrators made the decision to shift spring quarter classes to an online format and implement safety measures in the cafeteria and dormitories.
One major challenge included the Licensing Committee for Medical Education mandate that all medical students rotating in a hospital setting be pulled from those rotations for several months, so university officials made other arrangements for students to complete their requirements before graduation.
When the summer started, things were back on track in most cases, albeit with some modifications. The schools of Medicine and Nursing had their students back in rotations. In the School of Dentistry clinic, every other treatment station had been deactivated, and practitioners were wearing full PPE, including face shields.
While some students are still concerned about coming back on campus, most are eager to return, says Hart, the university president.
"We had a few students who were hesitant to return, so we have done what we can to make sure they can get anything they need online."
In Hart's view, it's important for healthcare students to learn how to live and work safely amid infections. "I've been managing infectious diseases all my life, so I have full confidence we'll eventually get COVID-19 under control," he says.
Future options for the university after the pandemic could include remote campuses, allowing Loma Linda University students to earn a degree from an accredited center in another state. Also, telemedicine will continue to develop new and innovative ways of offering care to patients, both here locally and throughout California.
"We'll continue to pivot," Hart says.