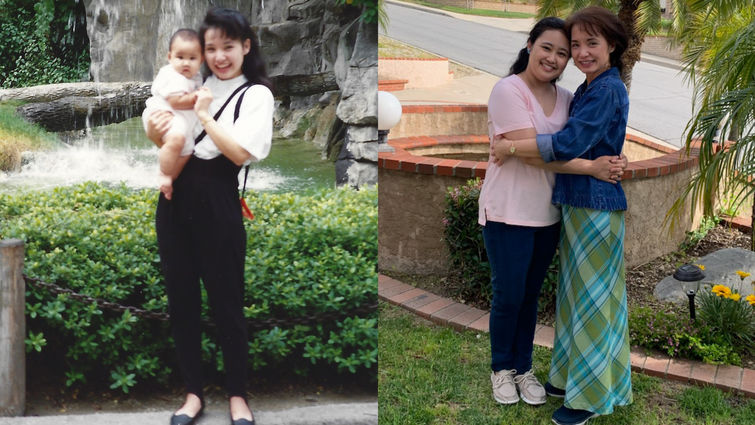 Brittany Chow's mother gave her the gift of life twice: Once when Elizabeth Chow gave birth 33 years ago, and again last month when she donated her kidney to her daughter, who was suffering from IgA nephropathy and otherwise would have waited upwards of 12 years for an available organ.
Privy to helping others, Brittany is a chief pediatric resident at Loma Linda University Health but often neglected her own check-ups. She began feeling tired and had high blood pressure recorded at sporadic physical exams.
"Of course, I'm tired!" Brittany said laughing. "I'm a doctor, so we attributed my high blood pressure to stress and my weight."
One day, Brittany was extremely tired and found it difficult to catch her breath after taking the stairs. With a coworker's guidance, Brittany went to urgent care to discover her blood pressure was 180 over 100. Normal blood pressure is less than 120 over 80. Finally making her way to the emergency department, her blood pressure was now 200 over 140, and the treatment team began running tests.
"At this point, I'm thinking, 'No big deal, I'm going home today. We're just going to get me on some blood pressure medicine,'" Brittany said. "Then some shocking results for my kidney labs came in."
Creatinine is measured to value how well kidneys filter waste from the blood. Brittany's creatinine was eight times the normal level of healthy kidneys. A biopsy showed extreme scarring and concluded Brittany had been living with ten percent kidney function. She was then diagnosed with IgA nephropathy, a kidney disease where antibodies build up in the kidneys, causing inflammation and hindering the ability to filter waste. Though she didn't experience the main symptom of blood in her urine, it was clear she was in the end-stage of the disease and her only treatment option was a transplant. With healthy relatives and no family history of kidney disease, Brittany learned IgA nephropathy is most common among white and Asian individuals in their 30's.
Stunned at the diagnosis, Brittany's mother, father, and brother offered their own kidneys. Mom Elizabeth was the only candidate eligible to donate. Testing, nutrition, and physical health consumed Elizabeth's life from September 2022 to March 2023. But it was never a burden to her.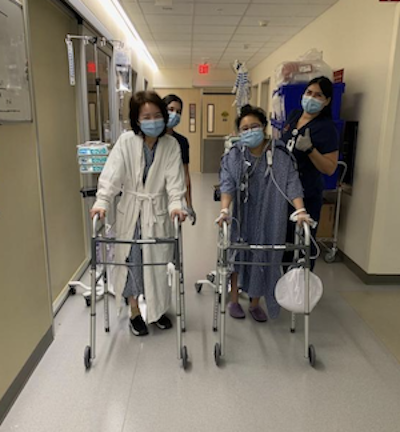 "The last six months have been quite a journey with major life changes," Elizabeth said. "I decided to be a donor. I never gave it a second thought, never had a doubt."
The mother-daughter duo looked to each other and the men in their family for strength upon waiting for the 'OK' to perform the transplant. Elizabeth's early tests showed she may not be an eligible candidate for donation, but she was determined to be the one to save Brittany's life. To get surgery ready Brittany lost 55 pounds through diet and walking, and Elizabeth lost 20 pounds through running and incline training.  
"I ran up hills with my son, whose encouragement kept me going," Elizabeth said. "It never got any easier; I felt sick each time we reached the top, but I was going to show them my body would survive the surgery."
Then they were told Elizabeth could be her daughter's donor.
"It all felt too surreal," Brittany said.
She met with her nephrologist, Sayna Norouzi, MD, who grew highly concerned at her lab results and was shocked to learn Brittany was walking, conscious, and functioning at work. She had to be admitted to the hospital again to receive dialysis. The surgery moved from April to March after Norouzi alerted Brittany's surgeon, Charles Bratton, MD, that she was on dialysis.
"Unfortunately, Brittany could have been on the waitlist for 10 to 12 years and only get sicker while waiting," Bratton said. "Through this difficult time, she was a light to everyone on her care team, and we were excited to get this young woman her life back."
With less than two weeks to mentally prepare for the transplant, the Chow family was still on edge, unsure if the transplant was really going to happen.
"So many things can change leading up to the surgery," Brittany said. "Complications could happen during her harvesting, or either of our labs could have missed the mark."
In just a few hours on March 28, both women woke up with sore bellies; Elizabeth with one less kidney, Brittany with a piece of her mother.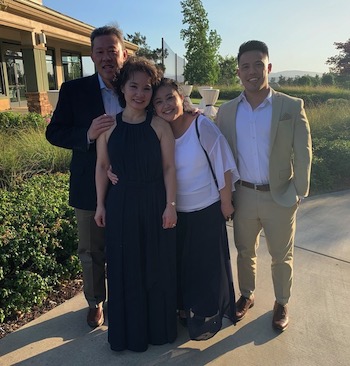 "We got to be on the same floor, just three rooms away from each other," Brittany said. "My dad was there all day, and my brother came as often as he could. I don't know what we would have done without them."
Together they healed for a few days in the hospital and went home to begin their long-term recovery. A difficult first week full of soreness and sensitivities slowly passed. The Chows are now one month out of surgery, walking, doing daily tasks independently, and rebuilding their stamina.
"What started out as giving my daughter a second chance at life had the unexpected reward of finding peace within myself," Elizabeth said. "I didn't lose a kidney, for it dwells in just another more important part of me."
The Loma Linda University Health Transplant Institute is the only comprehensive multi-organ transplant center in the region. Learn more about the Living Kidney Donor Program at Loma Linda University Health.