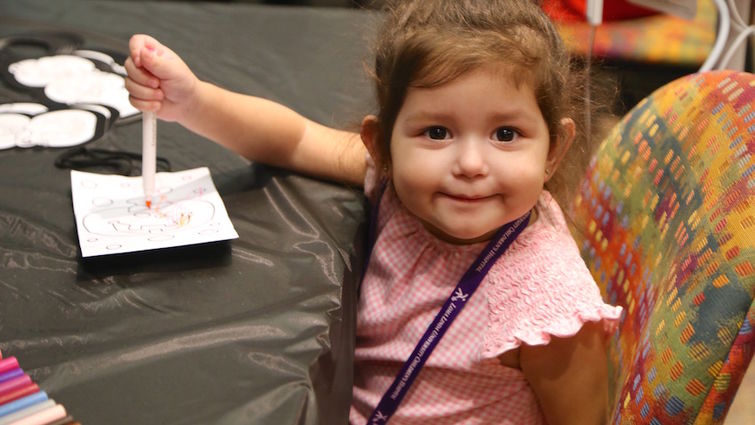 Loma Linda University Children's Hospital (LLUCH) patients were treated to the annual Spirit of Children Fall Festival Thursday, Oct. 13.
As part of their annual Sprit of Children Week, Spirit Stores hosted celebrations in multiple hospitals across the United States and Canada.
LLUCH patients and their family members were treated to an afternoon of games, crafts, costumes and music during the event.
Natalie Rodriguez, 2, was one of those patients who gave a big "Thank you" to the Spirit team who gave her a memorable afternoon.
The mission of the program is to make hospitals less scary for kids and their families by providing fun during the fall season and raising funds year round for child life programs within children's hospitals.
"Spirit of Children is a way to give back to the communities we are a part of each season," said Steven Silverstein, president and CEO, Spirit Stores. "With our parties, we bring the magic of the fall season to kids and their parents who otherwise might not have been able to participate. And with the money raised, Spirit of Children helps year round."
Spirit of Children chooses to partner with and support child life departments whose main function is to provide developmental, educational and therapeutic support for children undergoing medical treatment. Trained child life specialists help children and their families cope with the many stresses involved when a child is in the hospital. These programs are instrumental to the healing process for children and help kids just be kids in times of fear and discomfort.
Spirit of Children has raised more than $242,000 for LLUCH over the last six years through donations made to Spirit stores in the Inland Empire.
"For the Spirit Halloween family, this is the time of year to consider the incredible emotional and life-long impact we can make on pediatric patients and their families," reflects Silverstein. "It's inspiring to see so many people come together to deliver strength and smiles to these young patients on Halloween and year-round, helping kids be kids. We know that every dollar makes a difference."