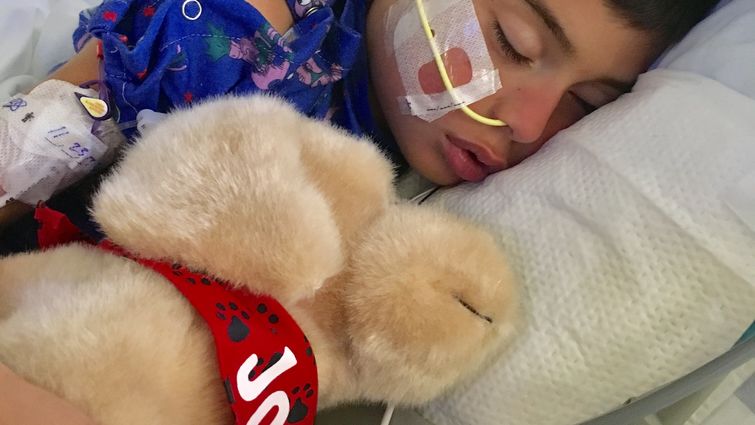 Six-year-old Gavin Bullington went to his mom, Veronica, complaining about stomach pain, headaches and severe vomiting. Veronica quickly took her son to the emergency department, where he was prescribed a medication to help with the vomiting and sent home. After five more days of nearly continuous vomiting, Veronica knew something was very wrong with Gavin.
After returning to the hospital, Gavin went through various tests, including a CT scan.
"Our lives completely changed when the doctor came back with the results," Veronica says. "She told us, 'we've found what's wrong with Gavin — he has a brain tumor.'"
It would be the beginning of a long and trying journey for the Bullington family, but they wouldn't be alone.
"From that point on, Loma Linda University Children's Hospital pediatric neurosurgery team was by our side," Veronica says. "We couldn't have gotten through this anywhere else."
The team wouldn't know if the tumor – located in the posterior fossa or back of his brain – was cancerous or benign until surgery. Pediatric neurosurgeon Tanya Minasian, DO, conducted the first surgery on Gavin.
Minasian and her team were able to successfully remove the entire tumor from Gavin's brain. Doctors discovered that it was a benign tumor, meaning he wouldn't need any chemotherapy or radiation.
"Unfortunately, post-operation, Gavin developed posterior fossa syndrome," Minasian says. "While this syndrome generally resolves with time, it is extremely difficult and even heartbreaking for the patient and the family to live through."
Posterior fossa syndrome, also known as cerebellar mutism, is seen in up to 30% of children with posterior fossa tumors. The individual loses the ability to speak, in addition to having emotional lability — without aggressive rehabilitation, symptoms could persist.
"He was very different and not the Gavin they knew," Minasian says. "It took a significant amount of rehabilitation for him to recover back to his normal self."
Recovery & Support
Today, nearly two years later, 8-year-old Gavin has undergone four surgeries on his brain. Although it hasn't been an easy process, Gavin's family wants to provide support and encouragement for other families fighting through similar diagnoses.
They, together with Minasian, meet with families once a month in a pediatric brain and spine tumor support group, allowing families to share their stories, ask questions and carry the load — good and bad — together.
Minasian began the support group in response to patients and their families who have undergone neurosurgical and oncologic care. Gavin's family was the first family that came to Minasian's mind when she decided to start the group — she knew their story would resonate with others.
The monthly support group is led by doctoral students in Loma Linda University's Department of Psychology, child life specialist graduate students in Loma Linda University's Department of Counseling and Family Sciences, and Minasian. The group offers specific support for children, including encouragement, education, coping mechanisms, emotional support and hands-on activities. These activities educate and empower the children through discussion and play.
For parents, their discussions have included mindfulness, coping with stress and PTSD, and ways to navigate through the education system after their child has been diagnosed with a tumor. 
"In addition to performing surgery and providing pristine outcomes, we must also stand by the mission of Loma Linda University Health: 'To Make Man Whole.'" Minasian says. "That is what prompted me to create the support group – the ability to be able to offer that wholistic care to our patients and their families."
Individual care
While Gavin has come so far, his journey post surgeries and rehabilitation is still ongoing. His mom is thankful that they will continue to have the support of Minasian and Children's Hospital.
"Children's Hospital doesn't treat you like just another patient — they truly care about each individual case," Veronica says. "I'm comforted knowing that Gavin continues to be in the care of Dr. Minasian. She has such high standards for everyone who is treating her patients, and I would never want to go anywhere else. If you want your child to be in good hands, Children's Hospital is the place I would recommend you choose time and time again — they saved my son. I will always come to Children's Hospital for my kids' care."
According to the American Cancer Society, brain and spinal cord tumors are the second most common cancer in children, with more than 4,000 diagnosed each year.
If your family or your child is in need of support from a health issue like this, visit our website to find out more about the Pediatric Brain and Spine Tumor Support Group. You can also visit our pediatric brain surgery page to find out more about our services and our team of specialists.
Meet Our Providers
Tanya Minasian
Pediatric Neurosurgeon