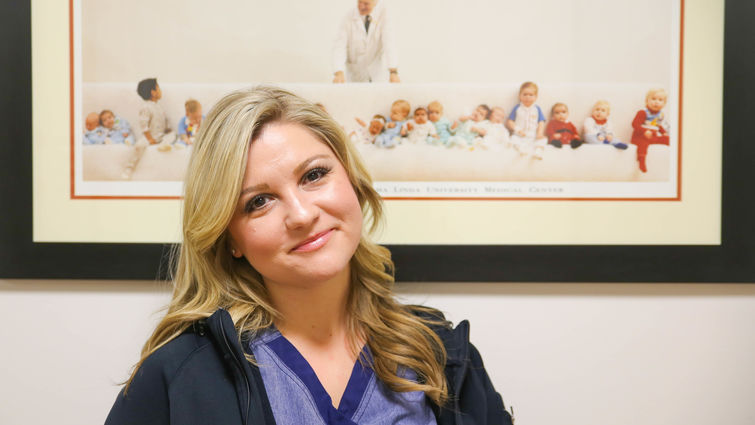 May is National Critical Care Awareness and Recognition Month, a special time to pause and celebrate the dedication of critical care team members at Loma Linda University Children's Hospital and the commitment they exemplify each day to their patients. 
Critical care medicine involves the quick and constant treatment of patients with life-threatening conditions such as organ failure, traumatic wounds, heart attack or stroke. This care is generally administered in an intensive care unit by highly-trained healthcare professionals. 
Taylor Baker, a nurse for nearly seven years at Children's Hospital in the Leonard L. Bailey Cardiac Intensive Care Unit, works in a high-paced environment, striving to provide the best quality care for very sick patients. She is one of many incredible critical care team members at Children's Hospital and below offers a glimpse of her work. 
Q: What's your role in the intensive care unit.
Taylor Baker: My job is a very unique one because I work in a specialty within a specialty within a specialty — not just the ICU but Pediatric Cardiothoracic ICU. I love being able to use keen knowledge, attentive assessment skills, raw intuition and critical thinking to provide the best quality patient care for very sick children. It is a fast-paced job, and patient conditions can change on a dime. I can take care of babies or kids being discharged home one hour and then hooking another patient to a life support machine the next. I love the anatomy of the heart and carrying out all of the critical interventions to protect it.
Q: What motivated you to become an ICU nurse?
A: The late Dr. Bailey was my inspiration. His unwavering passion for this patient population and pioneering vision for pediatric cardiac critical care inspired to me pursue a career in this field. 
Q: What's your favorite part about your job?
A: Being able to serve a patient during the what may be the most vulnerable time of his or her life. 
Q: In your opinion, why is quality critical care so important?
A: Because attention to detail can make all the difference. Recognizing signs and symptoms and picking up on subtle changes allows us to prevent a cardiac arrest or catch a patient before they go into heart failure. Also, there is no other time when patient advocacy is more imperative. In the ICU, we take care of people who are so sick they are unable to speak for themselves or make decisions about their care and treatment. 
Q: What do you want people to know about critical care and your role in it?
A: Often, critical care has a happy outcome, but sometimes it doesn't. Occasionally people tell me, "I just couldn't take care of sick children, my heart is just too big. Working in the ICU opens our hearts to the possibility of being broken every day if it allows us to provide our patients the best quality care. 
Visit our website to learn more about the critical care provided at Loma Linda University Children's Hospital.