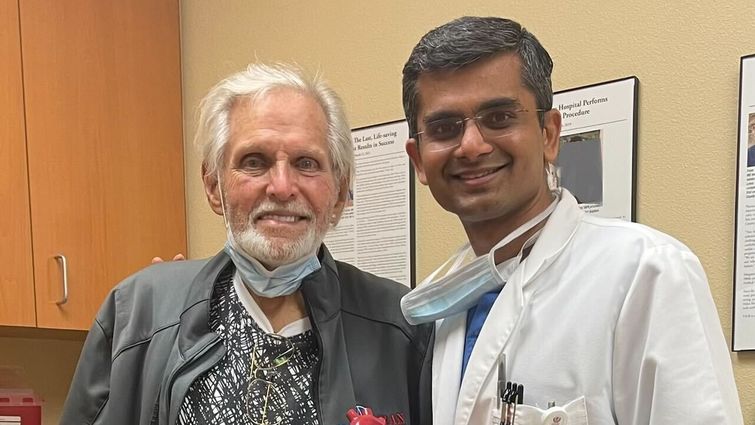 After months of fighting off an infection that damaged his heart valves, Ralph Armstrong checked into Loma Linda University Medical Center – Murrieta. He checked out with a repaired heart valve that restored proper blood flow throughout his body, enabling him to part from an oxygen concentrator. Ralph has since spent more quality time with Nancy Armstrong, his wife, and celebrates his 80th birthday next month.
Ralph says he could have expected that the chain of events leading to a heart valve repair would start at the dentist's office. He underwent a dental procedure in early 2022 while he was on blood thinners; the procedure triggered non-stop bleeding from his mouth hours before stopping.
A couple of days later, Ralph bent over from pain in his abdomen, so Nancy called an ambulance that shuttled him to LLUMC ­– Murrieta. There, tests revealed a blockage in Ralph's intestine from blood the body could not digest and a bacterial infection in this blood.
As Ralph underwent a weeks-long regimen of antibiotics to treat the infection, a multi-disciplinary team of cardiologists, cardiothoracic surgeons, and infectious disease specialists huddled to discuss the next steps.
We were all in for any procedure that would help him.Nancy Armstrong
Ralph had already undergone two open-heart surgeries to replace his aortic valve and also had a pacemaker. He was living with severe pulmonary hypertension and chronic kidney disease. Additionally, Ralph's current infection was causing further damage to his heart valves, including one called the mitral valve. The damaged valve lost its ability to keep blood from flowing backward in Ralph's lungs.
Harit Desai, MD, the associate director for the cardiac catheterization lab and structural heart intervention program at LLUMC – Murrieta, says he and the team waited for the infection to clear completely before offering Ralph the option of a transcatheter mitral valve repair (TMVr) procedure. This minimally invasive procedure involves the insertion of a thin wire through a large vein in the patient's leg to access the heart. Next, cardiologists guide a small MitraClip device through the leg vein that clips together an area of the mitral valve. While the valve opens and closes on either side of the clip, blood continues to flow on both sides, reducing backward flow.
It is gratifying as a physician to be able to use technology to offer this TMVr option to patients.Dr. Harit Desai
Ralph says he understood that undergoing a third open heart surgery would be too risky. Compared to surgery, a TMVr procedure offers reduced surgical risk, less bodily invasion, and shortened recovery time. So he said yes to TMVr.
"We were all in for any procedure that would help him," Nancy says.
Desai says that he and his very experienced structural care team at LLUMC – Murrieta performed a highly technical TMVr on Ralph. They took care to work around Ralph's multiple conditions, Desai says, as well as maneuver around a hole in the membrane between the two halves of Ralph's heart left from a prior surgery. Then, after hours of a complex procedure, Desai and the team successfully positioned two clips to repair Ralph's mitral valve.
"It is gratifying as a physician to be able to use technology to offer this TMVr option to patients and assure our community that we possess the right tools and expertise locally," Desai says. "It allows us to perform highly technical and complex procedures like Ralph's."
They gave me my faith back.Ralph Armstrong
After Ralph's recovery post-op, he was able to come off of his oxygen concentrator and says he feels 80% better. He sees a home nurse and physical therapist weekly and walks around with a cane for longer distances.
"They gave me my faith back," Ralph says. "For a while, I didn't think I would live."
An electrician by trade, Ralph became the handyman for his neighborhood upon retirement and hopes to pick it back up once fully recovered. Together, Nancy and Ralph have returned to weekly gatherings with their friend group, and the couple is planning a road trip to Northern California to see their son for Christmas. In early January, Ralph will celebrate his 80th year of life.
Since offering TMVr in 2019, specialists at LLUMC – Murrieta have served over 200 patients with the procedure.
---
To learn more about TMVr and heart care services at Loma Linda University Medical Center — Murrieta, visit their murrieta.lluh.org/services/heart-vascular or call 951-290-4314.