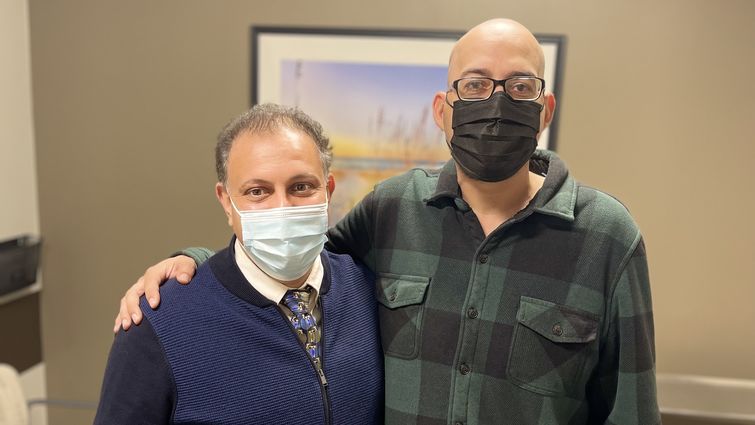 For 46-year-old Aaron Alejos, family is everything. His wife, Ronda, and their two adult daughters light up his life. After living with epilepsy for six years, it's that love for family that helped him make a life-changing decision in 2021.
The Reno Valley, California, resident was diagnosed with epilepsy when he was 40 years old. "There was no trauma; it just happened," Alejos said. "No one knows why."
Alejos suffered from a type of seizure that caused him to lose consciousness then stare into space for a few moments. He was never aware a seizure was coming on. "I just went on pause, like a computer screen that was frozen," Alejos said. "I never realized I'd had one unless someone told me."
Not long after his diagnosis, Alejos' doctor felt he needed a higher level of expertise and referred him to the Loma Linda University Health Comprehensive Epilepsy Center. As a Level 4 epilepsy center, the highest level of complex monitoring and treatment is provided.
Alejos saw neurologist Mohammad Dastjerdi, MD, PhD, who explained that different treatment options are available for epilepsy including medications and surgery. The initial treatment is to try medication first.
Although he did have occasional seizures, some causing him to lose his driver's license after two accidents, Alejos felt like the medication allowed him to live a fairly normal life.
However, over time, he began having more seizures. But because they were brief and didn't seem to impact his life, he wasn't concerned.
But Dastjerdi was.
"He wanted me to understand the seriousness of the condition." Alejos said. Dastjerdi explained that brain function, including memory, would deteriorate if the uncontrolled seizures continued. "I could get to where I didn't know my wife or kids," Alejos said. 
Dastjerdi used simple memory tests to show that seizures had already affected his memory. "I thought, 'Wow, my head isn't right,'" Alejos said. "It was a hard realization." He couldn't imagine losing important brain function. He was "game for whatever needed to be done to be whole again."
The epilepsy investigation started with spending five days in Loma Linda University's Epilepsy Monitoring Unit. The inpatient unit allows specialists to monitor and pinpoint the specific area of the brain causing seizures to determine the most effective treatment.
Alejos had seven seizures while in the unit that allowed specialists to see abnormal electrical activity important to localize the seizure onset area. A multidisciplinary team of epilepsy specialists reviewed the results and discussed treatment options. Surgery was found to be the best treatment option.
"I felt extremely confident about moving forward with surgery," Alejos recalled. "The thing that sealed it was that a panel discussed me. Seeing that Dastjerdi was up for talking with other doctors even though he had years of experience and expertise made me a believer. I told him, 'Whatever you think, doc.'"
Alejos learned his surgeon would be Warren Boling, MD, chair of neurosurgery. Researching Boling boosted his confidence even more. "I was going to have the top-notch guy. My step-sister, a nurse in Louisiana, knew about him and told me how lucky I was to have him. I knew I couldn't be in better hands."
During the four-hour surgery in January 2021, Boling removed a small section of brain tissue that was the seizure generator. This brain region with abnormal connections was not functioning normally and only caused disabling seizures.
After his surgery, Alejos recalled being, "a happy camper," and that hasn't changed. He celebrated being seizure-free by getting his driver's license in November and buying a new car.
Alejos was surprised by how quickly he benefited from epilepsy surgery. "I didn't imagine such immediate results," "I don't have the fear that in 10 years, I won't remember my wife and kids. Every corner I turned the Loma Linda team was the right one. I was blessed to be in their hands."
For Dr. Boling, each patient is an opportunity to serve patients with the pride each staff member has in their ability to offer world-class care.
"We are proud to be certified as one of the few Level 4 Epilepsy Centers for adult and pediatric patients, recognizing our comprehensive team's ability to diagnose and treat the most complex and challenging cases referred to us, including a broad range of surgical procedures."
Learn more about Loma Linda University Health's Epilepsy Center and the conditions treated for adults and children.