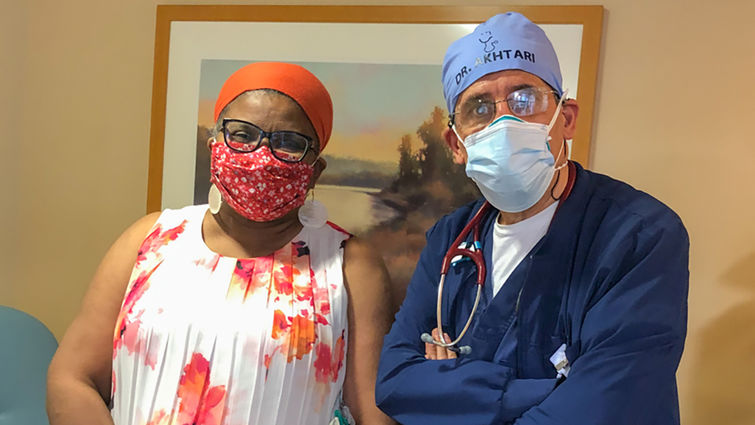 Shilene Blain-Hearns suffered from Waldenstrom macroglobulinemia (WM), a rare blood cancer, for nearly two decades before transitioning her care to Loma Linda University Cancer Center. There, an oncologist and pharmacist collaborated on a treatment to bring 60-year-old Blain-Hearns the long-awaited relief she'd been seeking, and eventually, to remission.
Only 3 out of 1 million people in the United States are diagnosed with WM in a year, according to the American Cancer Society. The disease develops as abnormal white blood cells spawn rapidly, thus crowding out healthy blood cells in the bone marrow and overproducing a type of protein known as immunoglobulin M (IgM). Too much IgM impairs blood circulation and complicates proper functions for bodily organs and tissues.
Since diagnosis in 2003, Blain-Hearns has worked with several physicians and experienced seven iterations of cancer treatments and clinical trials. One past treatment involved Blain-Hearns acquiring an Ommaya reservoir — a synthetic dome surgically placed beneath the scalp — in order to receive chemotherapy injections targeting cancerous cells found in the cerebrospinal fluid surrounding her spine and brain. Another time, Blain-Hearns's son rushed her to a hospital where she stayed for 11 days after experiencing an episode of pleural effusion, or fluid buildup around the lungs, in response to chemotherapy pills.
A Cancer Center oncologist-hematologist, Mojtaba Akhtari, MD, said the rare blood cancer is already difficult to push into remission. Moreover, he said "Shilene has been through a lot already, and all these treatments can make the cancer smarter, in a way." Despite the rare disease and past treatments, Blain-Hearns's cancer symptoms have dissipated since coming to the Cancer Center.
We often talk about 'battling' cancer and how it is a fight, but what I came over the years to realize is that you can actually live with cancer.Shilene Blain-Hearns
The rapport she built with Akhtari stood out from prior past interactions with doctors, she said, because he "actually listened" to each of her symptoms and addressed them one at a time. Once he had remedied her headaches by ordering scans and administering chemotherapy via lumbar puncture, Akhtari focused on the next concern.
"I trusted him, and it really felt like teamwork," said Blain-Hearns, who felt comfortable asking Akhtari for certain adjustments, like reduction in steroid dosage, throughout her treatment. "That was the first time I had ever done that, because I felt like I could."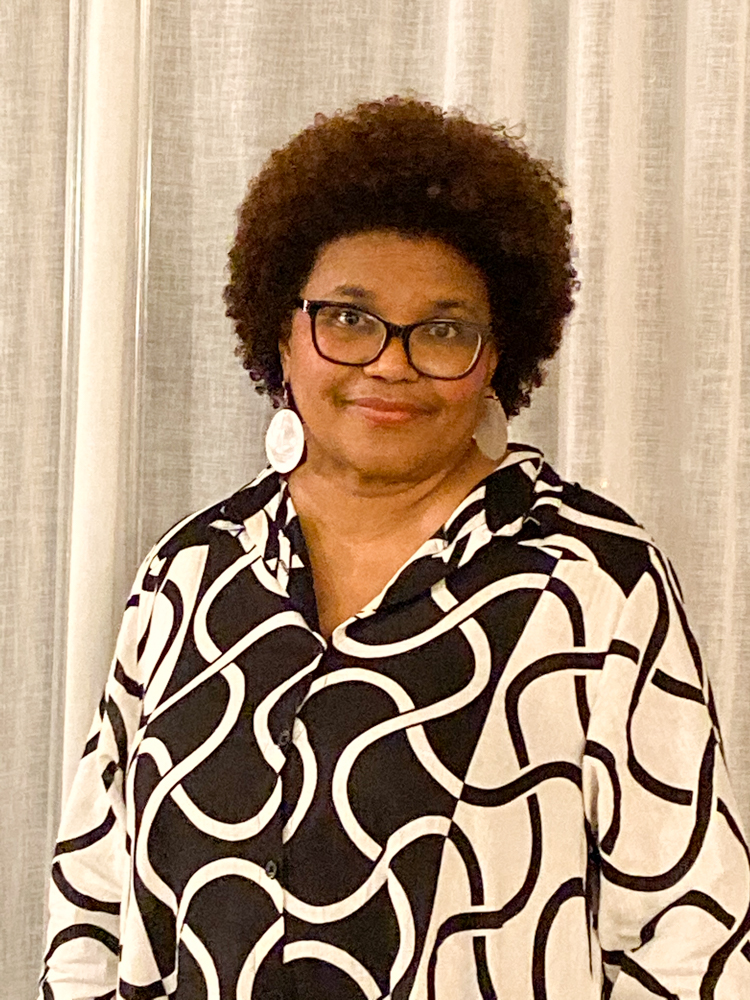 Growing up in New York surrounded by family members, many of which were medical professionals themselves, Blain-Hearns recalls being diagnosed with anemia — the condition which she often referenced to explain her low energy levels as a child. It wasn't until she had moved to California, established a career as a post-partum nurse, and raised three children that she suspected something else was amiss. Intending to donate blood after hearing about a shortage via radio, personnel who drew her blood advised Blain-Hearns to see a doctor about abnormal screening results as soon as possible.
The risk of having WM is heightened by factors such as being male, white, 50 years old or above, and having a hereditary lineage of the disease, making the odds of such a diagnosis for Blain-Hearns quite low. None of the critera applied to her, a Black woman who was 40 years old at the time of diagnosis, except one — her father had lymphoma.
"My dad had died on the eve of his 51st birthday from lymphoma," Blain-Hearns said. "I feel I've been able to outlive him already nine years because others have made a path for us through research and people willing to do clinical trials, which is why I am willing to do those things and help other people."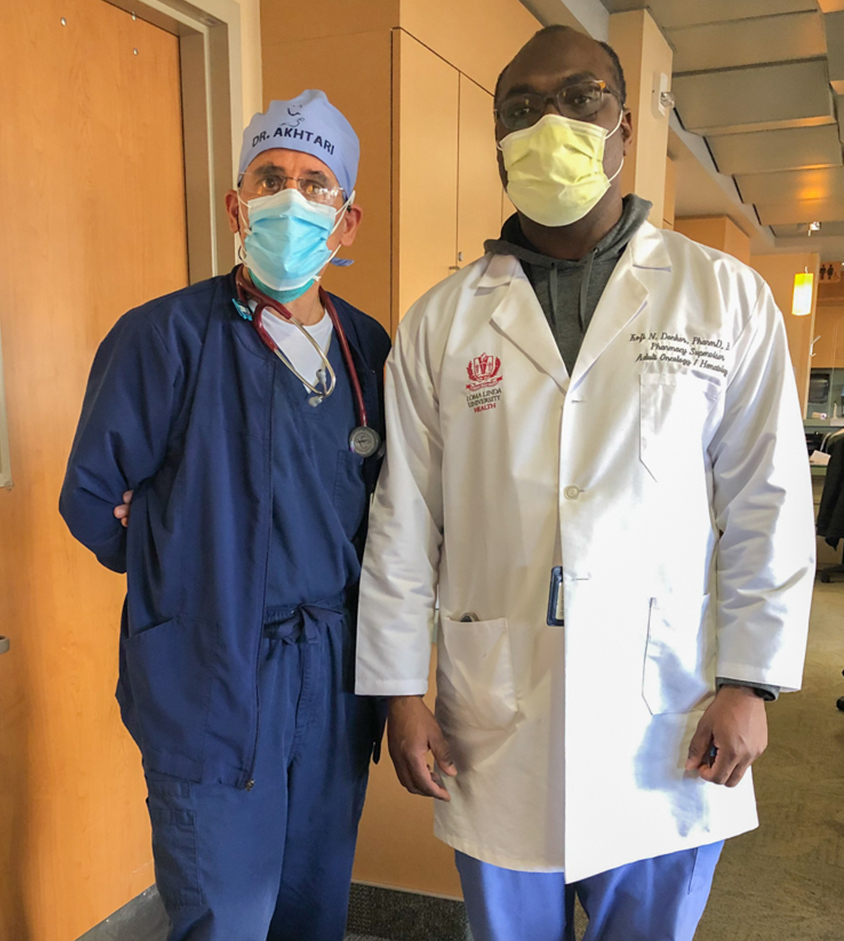 Indeed, research about treatment for WM served as a crucial resource for Akhtari as he worked with Kofi Donkor, PharmD, BCOP, an oncology pharmacist, to strategize a treatment regimen for Blain-Hearns. Donkor first reviewed the treatment outlined in the study and then customized the plan to concisely present specific guidelines in a system called Beacon, which physicians and nurses access in order to properly administer personalized treatments for individual patients.
"Because Shilene is someone who has already been through so many treatments in the past, this treatment, which was considered one of those last-line treatments, was complicated and demanding," said Donkor, who built the plan from scratch in the Beacon system. "Not every patient is the same or will need a standardized treatment. We have to look at the individual patient, listen to them, and treat them for their specific concerns or conditions."
To everyone's delight, Blain-Hearns has responded to the treatment, pushing the cancer into remission. In addition to working as a nurse, she is also tackling new objectives of building up energy through walks outside and limiting sources of stress by approaching life at her own pace.
"We often talk about 'battling' cancer and how it is a fight, but what I came over the years to realize is that you can actually live with cancer," Blain-Hearns said. "That's the term I use for myself."
She said she encourages others to listen to their bodies and to find doctors, like Akhtari and Donkor, who elicit trust and validate patient experiences through active listening and treating conditions accordingly.
---
Loma Linda University Cancer Center offers patients comprehensive care that gives them the best opportunity to face cancer. To learn more about all of the resources offered to patients at the Cancer Center, visit lluh.org/cancer-center or call 1-800-782-2623.