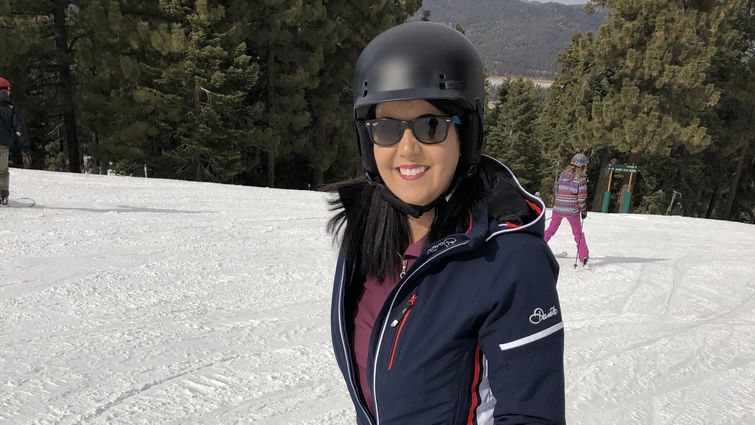 Lisa Cummings never thought she would be alive to see her three children go to college or get married and have children of their own because she battled symptoms of heart disease for nine years without having the diagnosis. Now, more than a year after being cured, she advocates for women to fight for their heart health.
"I want women to never give up and to hold on to hope," Cummings says. "Seek out second and third opinions. If I didn't seek out another answer, I would have never met Dr. Purvi Parwani at Loma Linda University Health and may not be alive today."
Parwani is the cardiovascular disease specialist at Loma Linda University International Heart Institute who treated Cummings and many other women with heart disease who may not be diagnosed or are misdiagnosed due to atypical symptoms and presentation. 
"Women are often ignored and misdiagnosed given their atypical presentation of heart disease," Parwani says. "Here at Loma Linda University Health, we go above and beyond to correctly diagnose and treat patients with best possible tools, technology and treatment options."
Cummings says Parwani was her saving grace when she lost all hope of living past her 40s. Her heart battle started just 10 days after her 40th birthday when she thought she was having a heart attack. She had shortness of breath, felt like someone was standing on her chest and had an intense pain that went up her neck into her jaw and down her left arm. 
She went to an emergency department to be evaluated, but physicians at that hospital discharged her saying she had suffered a panic attack. The usual diagnostic test didn't show any signs of a heart attack.
"At that moment I was frustrated," Cummings says. "I felt like I was making a mountain out of a molehill because of what doctors were telling me that there was nothing wrong with me. I had no idea this was just the beginning of my journey."
Two weeks later her symptoms came back and she made another trip to the emergency department. Unfortunately, she was told the same thing. Frustrated that doctors did not believe she knew something was wrong, she decided to live with the crippling symptoms. It was not until nine years later that she finally wanted to revisit getting help.
This time, upon feeling unwell after a stressful week, she came to Urgent Care at Loma Linda University Health. It just so happened that the day she went to Urgent Care, the attending physician was Parwani, Loma Linda University International Heart Institute women's cardiovascular specialist, who specializes in women's cardiovascular disease issues. After hearing Cummings story, she knew something was amiss.
"She listened to everything I said and ran every test to make sure to get to the root of the problem," Cummings says. "Her ability to both listen to everything I was and was not saying and also take thorough action gave me hope again."
With the correct diagnostic testing, Parwani was able to diagnose the problem. It turns out Cummings suffered from cardiovascular spasms from a condition called Vasospastic Angina. Parwani determined Cummings needed appropriate medication to help her with the symptoms of her heart spasms. Now, Cummings is back with her family living a full life.
Parwani says she brings a passion for cardiovascular-related disease day in and day out when visiting with patients. She also advises that if you sense something doesn't feel right regarding your heart and particularly if you have risk factors, do not question that gut feeling — get checked as soon as possible. Loma Linda University International Heart Institute is dedicated to making sure you are whole. If you are interested in all the Institute has to offer, visit their website or call 1-800-468-5432.