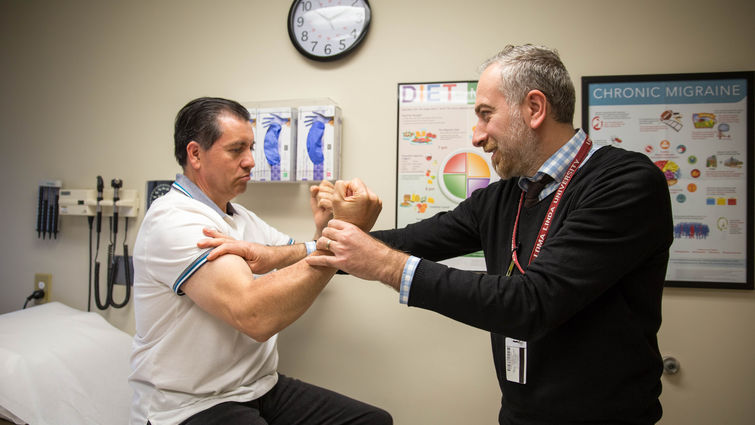 Loma Linda University Health is offering a personalized treatment option to patients with drug-resistant epilepsy, who are not candidates for resective epilepsy surgery, by implanting an adjustable device to the brain to actively monitor, detect and respond to seizures.  
Firas Bannout, MD, an epilepsy specialist at Loma Linda University Health, worked alongside Warren Boling, MD, professor and chair of neurosurgery at Loma Linda University Health. Dr. Bannout implanted the first Responsive Neuro Stimulation (RNS) in the Inland Empire last year on patient Eduardo Trujillo, who has lived with intractable epilepsy for the past four years.
RNS is a medical device — approved by the FDA in 2013 — that is implanted into the skull and attached to deep wires targeting the part of the brain causing the seizure. Its thin wires are designed to penetrate the surface of the brain and collect EEG data while detecting when and how a seizure is occurring. The electrical stimulation therapy to the brain is never felt or even heard by the patient, but operates similarly to a pacemaker in which it only responds to when it's needed. 
"The battery-pack device helps patients manage their seizures without them ever really knowing," Bannout says.
Bannout met Trujillo in 2015, who experienced 30 to 40 seizures a month while also enduring significant memory dysfunction. According to Bannout, the patient's seizures originated from both the left and right regions of his temporal lobe. 
"Eduardo was a perfect candidate for RNS because he had become resistant to all medications and based on his tests, the option for removal surgery would do more harm than good in terms of his memory function," Bannout says. 
Bannout monitored the patient's seizure activity for the first two months after the implantation, while the stimulation remained turned off. RNS detected 56 seizures in 31 days. With each new visit, the stimulation was adjusted, enabling the patient to benefit from the device. 
By February 2018, Trujillo experienced a 66-percent reduction in seizures and by March a 75-percent reduction. He also experienced no side effects commonly associated with medications. According to Trujillo, he is now working out at the gym up to an hour and half and feels more positive in his everyday life. 
With the RNS device, Bannout is able to monitor daily seizure activity in Trujillo and analyze the data over time for improved treatment. The device comes with a personal computer and hand-held wand which the patient holds up to their head and is able to upload the information.
"The battery can last on average about four years, depending on the frequency of stimulation used per patient," Bannout says.
To learn more about RNS, visit Loma Linda University Medical Center Comprehensive Epilepsy Center online or call 909-558-9415.