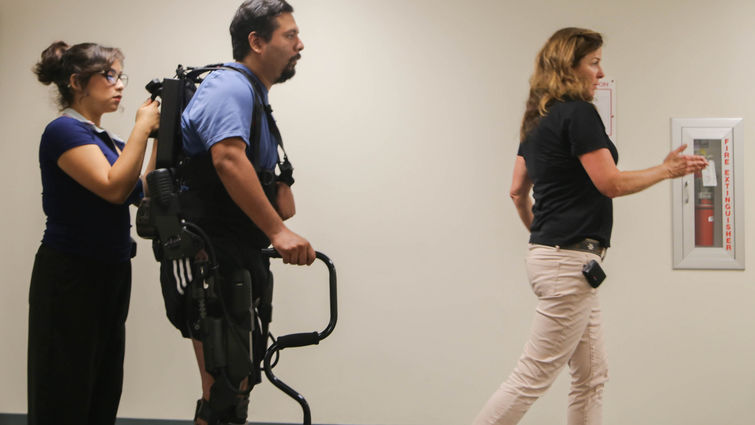 Loma Linda University Health's Advanced Neuro Recovery Center is easing the recovery process for patients who have suffered a neurological injury with the help of advanced robotics designed to move, turn and shift their bodies one step at a time.
The Advanced Neuro Recovery Center is one of the few facilities in the Inland Empire utilizing robotics to help a variety of patients who have experienced limb loss following a stroke or spinal injury regain motion and cognitive function. Its outpatient programs enable patients to retrain the brain to think and act on the motion of walking, picking up a glass or standing on their own thanks to technologies like the InMotion ARM or Ekso GT. 
These technologies are designed to help patients like John Avila, 30, retrain their bodies through active, specific task repetition. Avila who underwent a tumor removal surgery in 2011 suffered two strokes during his procedure and found himself in a coma for six months. Once he came to, he had no recollection of what happened or why he was in the hospital.
"My ability to walk and eat on my own became obsolete," Avila says. "Even my vocal chords were paralyzed." 
It was a shock at first to learn that his ability to walk or stand on his own was impaired. He never imagined the possibility of walking down a hallway again until his mother learned of the Ekso GT, available at Loma Linda University Health. The Ekso GT is a wearable exoskeleton that supports Avila's body and muscles as he begins to move on his own. 
"It's designed to train the brain to take over the motion of walking or standing on one's own," says Lisa Zidek, MPT, a senior physical therapist at the Advanced Neuro Recovery Center. 
According to Zidek, the suit is operated by four motors and is customized to each patient's build and body weight. The Ekso supports the patient to walk and coordinate themselves, says Zidek. 
"It was a challenge at first, but I've noticed my legs are getting stronger and I have better stability," Avila says. "Lisa's tough, but she is helping me to stay active in my therapy." 
Zidek says Avila has made exceptional strides in his robotic therapy since transitioning over from conventional therapy. He is able to sit at the edge of the bed with little to no assistance. Additionally, his posture has gone from leaning backwards to being more profoundly straight, as well as he is now able to self-position his right leg to begin his sequence of steps. On any given day, Avila can complete 300-400 steps and when really inspired, he has completed 600 steps in a session. 
Both his confidence and endurance have improved drastically.
Avila attends therapy three times a week for a total of 18 sessions. He is just one of 30 patients who have embraced advanced robotics over the last year at Loma Linda University Health. According to Zidek, many of these patients have experienced a 20 percent increase in their walking speed and distance. For those using the InMotion ARM, the ability to hold a glass or move the hand in a smooth swift motion has become easier. 
Robotic therapy has been approved by the American Heart Association, National Stroke Association and by the FDA in 2016.  
"It is a vital asset to comprehensive therapy," Zidek says. 
As for Avila, he has no plans of slowing down. The goal is to take one step at a time and aim for a giant leap tomorrow. 
Interested patients are encouraged to call Loma Linda University Outpatient Rehabilitation Center at 909-558-6144 to schedule a screen test. Certified robotic therapists will determine if a patient is well-suited for robotic therapy. If selected, patients are welcome to take advantage of the Center's promotional discount, including 50 percent off services through the end of the year.