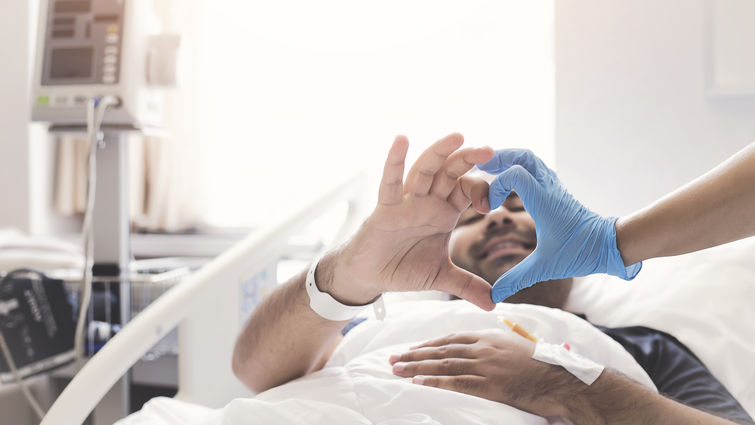 Loma Linda University International Heart Institute launched a new comprehensive program called CHIP — complex, high-risk, indicated procedure — that provides alternative procedures that use the latest cardiovascular technology to help save lives of a high-risk population.
It is common for the elderly population or those with multiple comorbid conditions to be ineligible for open-heart surgery when they present with severe artery blockages. Thanks to new technology in heart pumps and stenting techniques, physicians at LLU International Heart Institute are able to service this population within the CHIP program. 
Loma Linda University Interventional Cardiologist, Aditya Bharadwaj, MD, FACC, says physicians 10 years ago were unable to do many of these complex procedures. He is thankful that Loma Linda University values staying up to date with advanced technology and care.
"Many patients come to Loma Linda University Medical Center because the procedures they need are not found at other facilities," Bharadwaj says. "It is very fulfilling to know that at this institution we can solve patient's health problems and restore them back to life."
Bharadwaj says one patient in particular resonates with him when he reflects on the benefits of the CHIP program. He says 89-year-old Gordon Stiegler was remarkably sharp and lived independently but had significant artery blockage. He was at a different facility that recognized he had 95% blockage in two main arteries after conducting an angiogram. However, that facility could not perform the procedure that required the use of a heart pump to support him, so his physician referred him to Loma Linda University Medical Center.
Bharadwaj and his team performed a procedure called atherectomy, where a diamond tipped drill bit is placed inside the artery to shave off all the calcium, and physicians then place stents inside the patient's artery. As they performed this very complicated procedure, Stiegler's heart was supported by a heart pump, which pumped nearly 3.5 liters of blood per minute. 
Stiegler says he is indebted to the technology developments that are helping to keep him alive without the need to do open heart surgery. He says he comes from a family where heart disease and artery blockages are inherited. Stiegler says members of his family have died in similar ways: either by a heart attack or congestive heart failure.
"I think the technology is impressive in how it is keeping my heart pumping and alive," Stiegler says. "To survive what two generations could not leaves me forever grateful."
Loma Linda University International Heart Institute is dedicated to cutting-edge healthcare that provides whole person care and promotes longevity. To learn more about all the institute has to offer in cardiovascular health, visit their website.