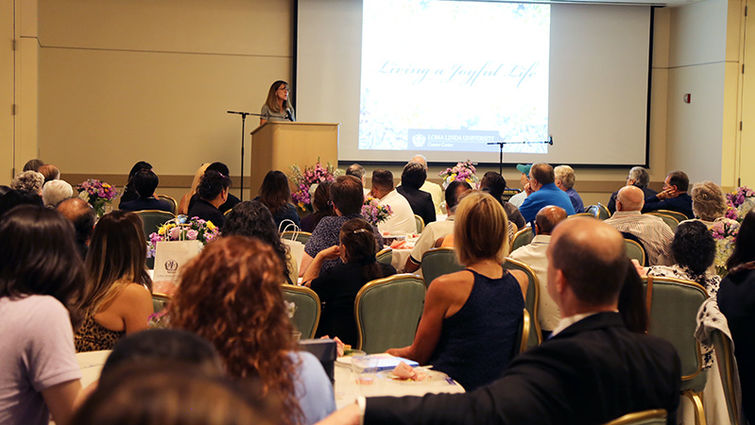 New treatments offer expanded possibilities for cancer treatment, the director of Loma Linda University Cancer Center told a gathering of cancer survivors, their families and members of the community earlier this month.
The center's director, Mark Reeves, MD, PhD, said that for the first time a drug to treat cancer has been approved not based on where in the body the cancer started, but based on what mutations the cancer has.
The new drug Pembrolizumab, which was approved by the FDA last month, targets certain mutations, Reeves said.
He also revealed that the Loma Linda University Cancer Center is performing research with the National Cancer Institute to dramatically expand this paradigm to multiple mutations and many drugs to target those mutations through the institute's ongoing MATCH trial. The center is also participating in approximately 75 other clinical trials, he said.
Reeves made his remarks during the 26th annual Celebration of Life, which is an annual event that takes place in June. Judy Chatigny, MSN, Executive Director, Loma Linda University Cancer Center, served as emcee for the June 4 program, which was held in the Wong Kerlee International Conference Center.
Services and treatment
During the celebration, Reeves shared news about new programs in the Loma Linda University Cancer Center.
The first adds radiosurgery capabilities to those already offered, increasing the ability of cancer specialists at Loma Linda University Health to treat brain tumors.
"We're adding to those capabilities so we can treat a wider variety of patients with brain tumors," he said.
Reeves also announced that the adult bone marrow transplant unit at the Cancer Center is open. The unit complements ongoing transplant treatment for pediatric patients.
The final program Reeves highlighted was the creation of a comprehensive low-dose CT scanning lung cancer screening program. The process includes screening with low-dose CT, providing counseling focusing on smoking cessation and treatments available at the Loma Linda University Cancer Center, a multidisciplinary treatment center.
In the first few weeks of the program, nearly 40 patients have completed the screening process.
"This means that of the people who completed the screening process, one fifth of those patients at risk of dying who complete the program are not going to die," Reeves said.
Living with resiliency and hope
Following Reeves' presentation, Chatigny, MSN, introduced Vickie and Jeffrey Manz, a couple who both have received cancer treatment at Loma Linda University Cancer Center.
The Manzes explained why they chose to travel to Loma Linda from Florida for treatment — Jeffrey Manz for proton therapy after being diagnosed with prostate cancer 15 years ago, and more recently Vickie Manz for breast cancer treatment.
While the Manzes could have chosen other top cancer centers, "The treatment at Loma Linda is different," she said. "The treatment across the board takes into consideration the whole person. Loma Linda has been wonderful; it is a place where the staff celebrate life."
Participants also learned how to create resilience in their lives as Barbara Hernandez, PhD, LMFT, RN, director of physician vitality at Loma Linda University Health, spoke about living a joyful life. "We can actually nurture joy in our own lives by dedicated efforts that foster gratitude, optimism, practicing spiritual disciplines such as prayer, and by intentionally adding value to other peoples' lives," said Hernandez.
Two nurses at Loma Linda University Health—Kimberly Watson and Deanne Sparrow—were honored with the Don Kroetz Courage to Care Leadership Award, highlighting their whole person care for oncology patients.
Jan Kroetz, MN, RN, NE-BC, chief nursing officer at Loma Linda University Medical Center, established the award 20 years ago to honor exceptional oncology nurses after her son Don's passing.