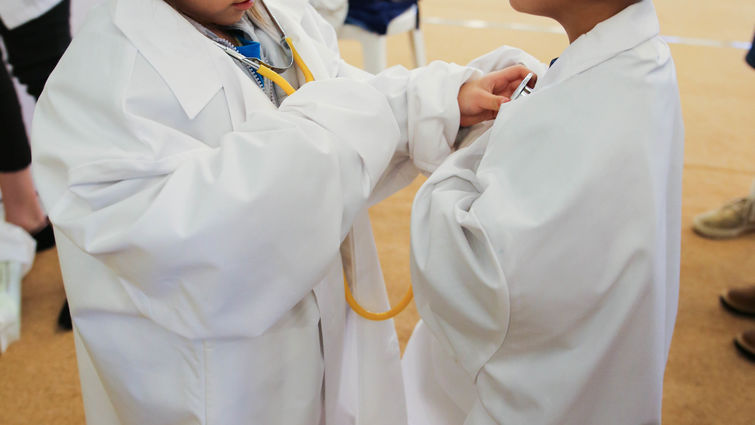 Loma Linda University Children's Hospital hosted hundreds of children, teachers and parents at the 34th annual Children's Day, presented by Farmer Boys, on Wednesday, March 6. Guests weren't deterred by the heavy rain as all activities and booths were set-up under a large, tent-covered area on the Drayson Center's Superfield.
The free event, designed for children ages three to eight, was attended by families, schools and day cares across the Inland Empire. Children's Day has offered young children the opportunity to experience various healthcare procedures and hospital settings in a fun, interactive and non-threatening way since 1985.
Organized by the Child Life Services department at Children's Hospital, the event offered many opportunities for children to learn — some of the activities included:
Stitch station: children learned about having stitches through visuals and storytelling.
Teddy bear clinic: children were encouraged to bring their own doll, stuffed animal or teddy bear for a "check-up."
Finger casting: children were able to learn about casts and create one out of plaster for their own fingers.
Dr. Hayes' venomous creatures: Dr. Bill Hayes taught children about his many creatures, including rattlesnakes, lizards and more.
Stroke awareness
Nutrition
Dental health and care
For more of the activities experienced and fun had by children from the community, check out the photos below.