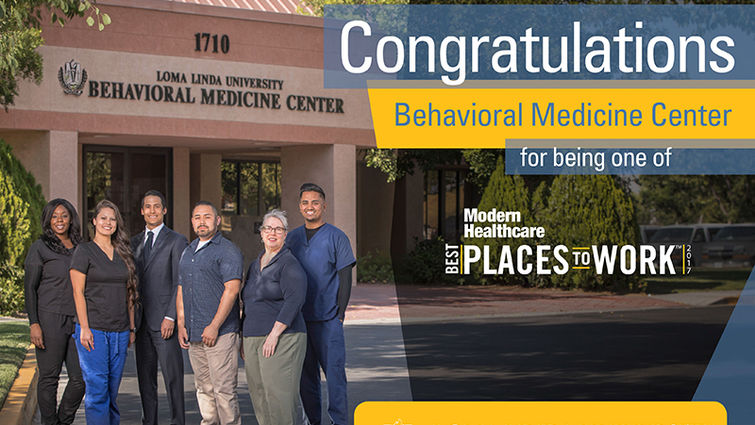 Loma Linda University Behavioral Medicine Center (BMC) has been identified as one of the top workplaces in the healthcare industry, according to Modern Healthcare magazine.
Recognized as the leader in healthcare business news, research and data, Modern Healthcare revealed the 150 companies and organizations on its 2017 Best Places to Work in Healthcare list. This recognition program is now in its 10th year. The annual survey allows Modern Healthcare to honor workplaces throughout the healthcare industry for empowering their employees to provide patients and customers with the best possible care, products and services.
Organizations are selected based on an assessment process the magazine operates in partnership with the Best Companies Group. Nearly 350 randomly-selected BMC employees completed an extensive employee survey.
Kerry Heinrich, JD, CEO of Loma Linda University Medical Center, said the recognition from Modern Health Care validates the sense of purpose Loma Linda University Health employees demonstrate at work every day.
"Our commitment to whole person care at Loma Linda University Health applies not only to our patients, but to our employees as well," Heinrich said. "The Behavioral Medicine Center team serves with dedication and compassion as they support patients facing critical moments in their lives. This survey reveals our employees value their respectful, team-focused workplace. We are grateful that Modern Health Care has identified our team for this singular honor."
Edward Field, MBA, vice president for the Behavioral Medicine Center, said the award from Modern Health Care is an affirmation for the integrated treatment approach the BMC staff uses in addressing mental health issues.
"Each day our leadership team is focused on engaging our staff," he said. "We believe our work to create an environment where they can learn, grow and thrive together as a team demonstrates the value we place in them. This award validates those efforts."  
Kristyne Armenta, a clinical therapist who works in the social services department on the adult unit, confirms the BMC offers employees a positive workplace.
"Anytime I need to speak to a director or my direct supervisor, they always offer abundant support," Armenta said. "I never feel afraid to come to them with something. They have your back no matter what."
Armenta joined the BMC staff in September 2016 after working as a San Bernardino County social worker.
"I've had an amazing experience," Armenta said. "Here you really feel like teamwork makes the dream work. Each person who works on a case—whether psychiatrist, dietician, occupational therapist, nurse, even the chaplains—we all come together to provide the best possible care."
Jane Pasuhuk, a registered nurse who has worked at the BMC for nearly 20 years, agrees that the team-based approach to patient care is an essential value to the employees there.
"The BMC is a great place to work because of the people," Pasuhuk said. "By practicing living our values—compassion, integrity, excellence, teamwork, and wholeness—we become a great team.
"Management is very supportive," Pasuhuk added. "They are very caring, and always take time to listen regarding concerns and suggestions."
Pasuhuk also points to the BMC's faith-based perspective as significant.
"Reflecting God's love through caring, respect and empathy is very important to our work environment and for our patients' healing," she said.
The BMC will be honored at the 2017 Best Places to Work Awards Dinner on Thursday, September 28, in Las Vegas, Nevada.