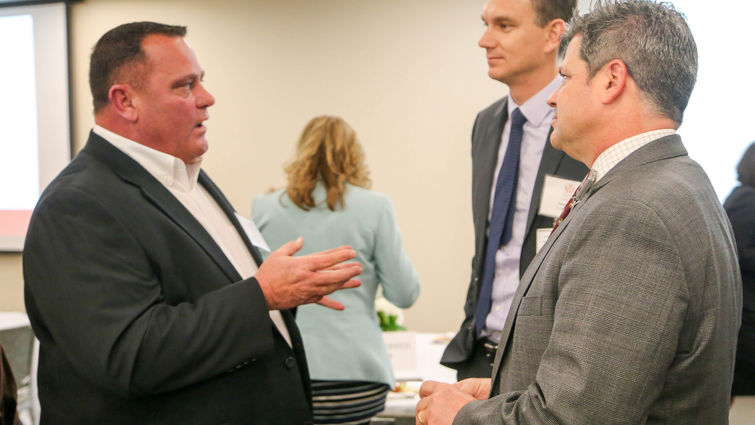 Loma Linda University Behavioral Medicine Center (LLUBMC) celebrated the five-year anniversary of their program in Murrieta on Feb. 21 with a reception that was attended by Loma Linda University Behavioral Medicine Center (LLUBMC) staff and their families, former patients and community officials, including the guest of honor — Jonathan Ingram, mayor of Murrieta.
Edward Field, VP/Administrator of LLUBMC, kicked off the evening's event by recognizing the center's team of psychiatrists, therapists, psychologists, nurses, chaplains and counselors who have served the community with quality patient care.  
"We're so blessed to be here in the Murrieta community," Field said. The LLUBMC in Murrieta provides intensive outpatient and partial hospitalization programs for both adolescents and adults experiencing grief, depression, anxiety or any emotional distress. In addition, the center helps patients struggling with addictive behaviors, including alcohol and drug abuse.
According to Field, the center has provided approximately 45,000 individual visits of treatment, roughly 9,000 visits a year. For many patients, therapy is five days a week for five hours a day.
Marsha Mathews, program manager at Loma Linda University Behavioral Medicine Center – Murrieta, reaffirmed that the center offers comprehensive service or "mental health boot camp." It originally opened in April 2012 and has supported individuals overcoming various chronic mental health issues and those faced with sudden trauma.
Husband and wife, Carlos and Teresa Meras, were former patients of the Behavioral Medicine Center following their horrific experience during the Las Vegas shooting. They shared their incredible struggle to find normalcy and return to their children and work.
"We found ourselves in a state where we couldn't function," Teresa said. Following a visit to the urgent care, Carlos was recommended to Loma Linda University Behavioral Medicine Center and encouraged his wife to join him.
They were able to focus on themselves and learn the techniques to overcome anxiety. "I'm happy to say that I got through the program and I'm back at work," Teresa said. She no longer has nightmares, and her fear of having post-traumatic stress disorder did not become a reality thanks to the counseling and group therapy she experienced at the center.
Steven Silva, another former patient, expressed his gratitude to LLUBMC for helping him overcome his childhood hardships, and he told the audience it literally saved his life.
Silva survived a rare form of cancer and had been given a life expectancy of six to eight months. Though he survived, Silva hit a wall and became very depressed and didn't know why. "I didn't feel worthy of being a survivor," Silva said.
With the help of LLUBMC, Silva learned that the wall he had hit was due to his childhood struggles. According to his therapist, he was "given a set of rules to a game he didn't know how to play." Silva learned how to reopen the doors to a time in his life he had closed off and received support and tools to save his life.
"I have a lot more work to do on myself, but I feel better today than I have in a long, long time," Silva told the audience.
Mayor of Murrieta Jonathan Ingram — elected to office in December 2017 — expressed his vision to see Murrieta become a medical corridor that would provide quality health care throughout the region and offer access to mental health services.
Ingram shared statistics regarding mental health and reported that "depression is one of the leading causes of disability worldwide" according to the World Health Organization. He encouraged attendees to help eliminate the stigma of "mental health" and recognize the value in providing services to both children and adults.
"We have to get rid of the stigma; it's important," Ingram said. The evening's topic hit close to home for the mayor as he shared the loss of his 34-year-old nephew to suicide. "The best cure for any illness is love and compassion, and I think that's been left out of the equation," Ingram said.
Ingram presented Loma Linda University Behavioral Medicine Center – Murrieta with a certificate of excellence for their five years of quality patient care.
In honor of the five-year anniversary, Chuck Washington, Riverside County District 3 supervisor, and Darrell Connerton, Senator Stone's 28th Senate District Representative, also presented certificates to the Behavioral Medicine Center. Each certificate represented the excellence and dedication the staff has contributed to helping patients receive the quality care they deserve in support of mental health.
Other dignitaries included Russ Utz, mayor pro tem of San Jacinto; James Stewart, council member for the city of Temecula; Dennis Hollingsworth, retired state senator; Veronica Kelley, director of behavioral health for San Bernardino County; Michael Knight, assistant director of behavioral health for San Bernardino County; Dean Lesicko, City of Murrieta School District; Patrick Ellis, president of Murrieta Chamber of Commerce; and Peter Baker, administrator for LLUMC – Murrieta.