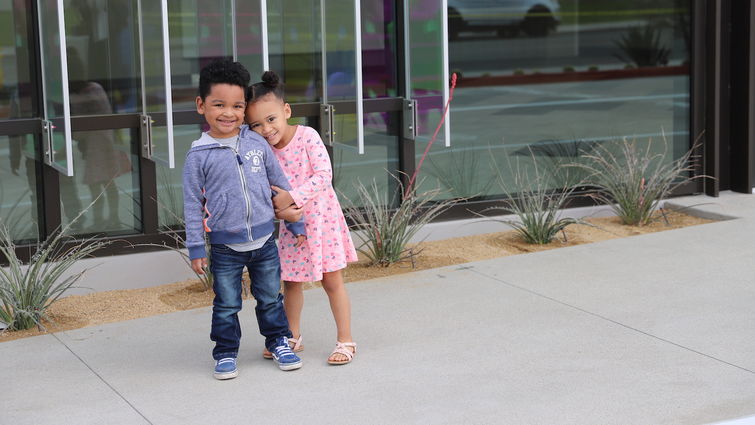 Angelina Castleberry and her husband, Matthew Sr., were elated upon learning they would soon be welcoming twins — a boy and a girl — in 2014.
At the second trimester of her pregnancy, the couple learned their little boy, Matthew, had a condition called posterior urethral valves, which causes bladder and kidney damage.
Referred to Loma Linda University Children's Hospital, the couple was given the bad news that baby Matthew was unlikely to survive the pregnancy, and in utero treatment to improve his odds could threaten his sister's life, too.
Despite the discouraging news, Angelina felt an instant and obstinate faith in God that both her children would make it.
Children's Hospital physicians were able to perform prenatal bladder procedures on Matthew that improved his chances. His sister, Callia, helped, too, by sharing her amniotic fluid via small slits doctors cut in their sacs to connect them.
The twins were born at 31 weeks of gestation on July 1, 2014, via emergency C-section. Callia spent nine weeks in the neonatal ICU and has grown into a beautiful, healthy 4-year-old.
Matthew was in the NICU for the first five months of his life, and he had to be on dialysis indefinitely therafter. But that burden was lifted in summer 2017.
He received a kidney transplant on July 31, 2017, thanks to living donor Deputy Alicia Lopez, a former coworker of Mathew's mother from the Palm Desert station of Riverside County Sheriff's Department. Lopez secretly underwent approximately five months of compatibility testing to see if she was a match for Matthew. When the answer came back "yes," she called Angelina, who collapsed to the floor at the good news.
Angelina returned the good news when she came to Lopez's post-op recovery room and shared that the new kidney was already working beautifully in Matthew.
Now, at 4-and-a-half-years-old, Matthew is thriving. He loves pizza, the Dodgers and dancing to Mickey Mouse Clubhouse. According to Mom, Loma Linda University Children's Hospital will forever be a part of his family.