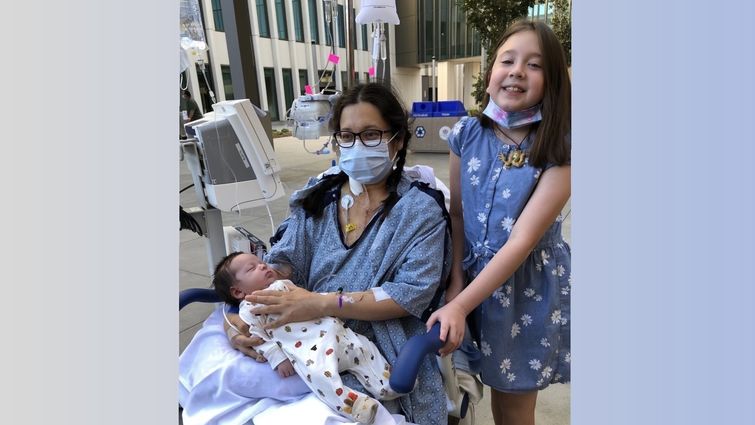 Four days after giving birth to her son, Andrea Johnson found herself hospitalized for a heart attack. A flurry of various tests and procedures at local hospitals revealed the 35-year-old mother's serious condition after a spontaneous coronary artery dissection (SCAD). Local physicians eventually transferred Johnson to a higher level of care at Loma Linda University Health, where a cardiothoracic care team replaced her weakened heart with a new one.
Eight months into recovery since her heart transplant, Johnson says she now approaches life more openly and less restrictively than before the experience. She says she has become more intentional about pursuing activities that bring her joy and has expanded that philosophy to her children. For instance, she recently negotiated a deal with her eight-year-old daughter: "Yes, you can dye your hair pink if you really want to, but just the tips."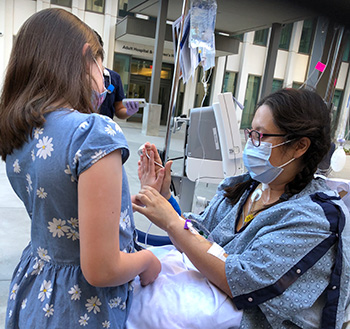 "I've already come close to dying once, and it makes me question, 'why live life sheltered?'" says Johnson, who has been enjoying quality time with her children since surgery.
Johnson's heart was in dire condition by the time she transferred to LLU, says Joshua Chung, MD, FACS, director of Adult Cardiac Transplantation and Mechanical Circulatory Support at Loma Linda University International Heart Institute. Luckily, Chung says Johnson could reach the right level of care, technology, and specialized care teams at LLU, the only heart transplant center in the Inland Empire region.
"Our care team's ability to have pulled Mrs. Johnson out of this rocky course is a testament to the power of combined expertise among our skilled physicians, nurses, technicians, respiratory therapists, and staff," says Chung, the cardiothoracic surgeon who performed Johnson's transplant.
At the onset of her first heart attack, Johnson says she could not have foreseen the rocky course ahead. One night just days after giving birth, Johnson experienced symptoms of nausea, sharp upper chest pain, hot flashes, and shortness of breath. Hospital tests confirmed a major heart attack, and eventually, physicians identified its cause: a spontaneous coronary artery dissection (SCAD).
SCAD occurs when the innermost lining of the coronary artery supplying blood to the heart tears open, Chung says. The tearing compromises blood flow to the heart muscle, which can induce a massive heart attack such as the one Johnson suffered.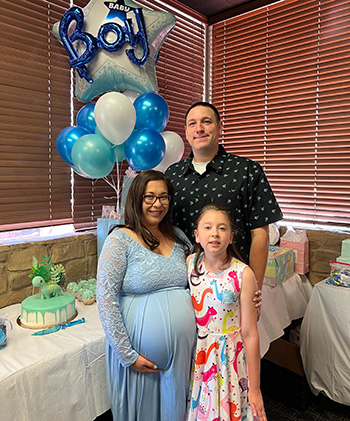 The timing of Johnson's heart attack so soon after giving birth is likely no coincidence, Chung says, since one-third of all SCAD cases occur during pregnancy or soon after giving birth. Even though SCAD is the leading cause of pregnancy-associated heart attacks, Johnson says she was not aware of the condition until she received a proper diagnosis for it. She says she wishes she had been exposed to education about SCAD beforehand and is now sharing her experience to raise awareness about SCAD.
Though the severity of SCAD can vary and typically isn't life-threatening, Chung says Johnson's heart had sustained substantial damage that significantly harmed her well-being.
A couple of additional minor heart attacks followed Johnson's initial major heart attack. After being misdiagnosed at the first hospital and discharged with blood thinners, Johnson says she still sensed "something wasn't right" and checked into another hospital, where physicians performed an emergency coronary artery bypass graft (CABG). Unfortunately, Johnson's health deteriorated after the procedure, so she was airlifted to LLU Medical Center as an advanced therapy inpatient.
Chung and a care team replaced an Impella device in Johnson's heart with a newer model  that allowed her to walk and rehabilitate; the machine behaves like a support pump when a patient's heart function is weak or requires support during complex procedures. Although Johnson stabilized with the aid, Chung said each attempt to minimize the amount of support she received from the device did not bode well. Thus, physicians determined Johnson's need for a new heart. By late November 2021, less than two months after giving birth, Johnson awoke with a new, life-saving heart.
She has a lot to live for. That's why we do what we do.Dr. Joshua Chung
Chung performed the transplant — a tedious, delicate eight-hour procedure. Because open-heart surgery strains the body, Johnson spent over a week in the hospital resting and working toward rehabilitation.
Her husband, Daniel Johnson, describes a memorable glimmer of hope in his wife's early recovery period that indicated an air bubble in the brain during surgery hadn't done neurological damage: "I'd heard Andrea was asking for me, so I ran to the room and said 'I'm here honey, I'm here.' Andrea's face was turned in the other direction towards the window, but when she heard my voice, she fully turned her head to look at me. She 'followed the command,' as the nurses said. It was a promising step in the right direction."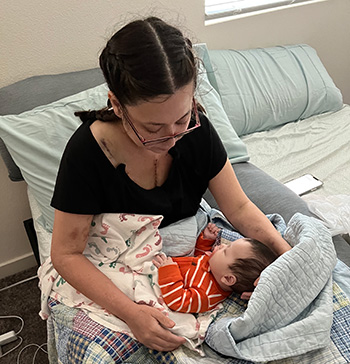 Though Johnson remembers her 45-day stay at LLU as long and challenging, she also says she cherishes the reassurance, kindness, and support provided by physicians, nurses, technicians, and staff. She remembers nearly every nurse and technician and says she enjoys running into them when she returns for checkups.
Lately, for Johnson, embracing life more freely has entailed spontaneous beach trips with her husband and two children — a special privilege after two years of navigating a pandemic as a newly immunocompromised person.
"Every patient is special," Chung says, "and there is something especially meaningful and rewarding about renewing the life of a young lady who has just become a mom again. She has a lot to live for. That's why we do what we do."
---
If you or your family are facing what may seem like a complex heart diagnosis, schedule an appointment with one of our experts at the International Heart Institute by calling 1-800-468-5432. Learn more about heart transplants at the International Heart Institute online.