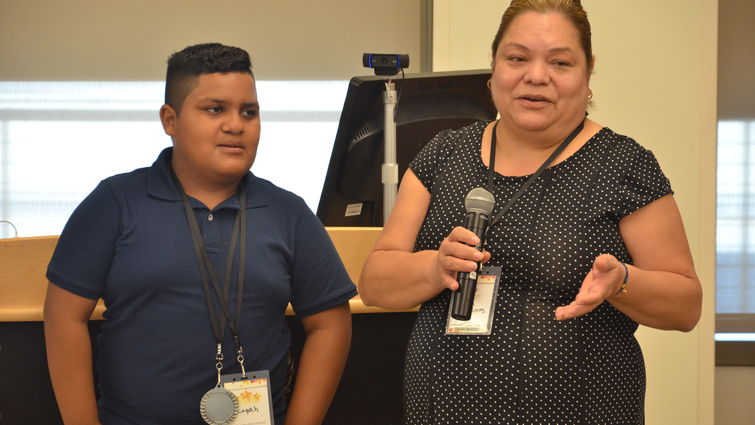 Martha Contrera-Flores stands back smiling while she watches her 9-year-old son, Logan, run around with other kids at a cleft lip and palate patient reunion celebration hosted at Loma Linda University Health. She can hardly believe her healthy boy will be 10 years old in less than three weeks.
"I love my son. He is a beautiful kid, and I would not change him for anything," Contrera-Flores says, beaming.
She and her son attended an October 27 reunion celebration for Loma Linda University School of Dentistry's PNAM program — Pre-surgical Nasal Alveolar Molding for cleft lip and palate. Although Logan has little sign of the cleft lip and palate birth defect, he is a former patient who was treated the same year the School of Dentistry began offering PNAM.
Ten years ago, at age 43, Contreras-Flores found out she was pregnant with her third son. He was a surprise because she already had two sons, ages 17 and 22.
Six months into the pregnancy, she was excited to have a 3D ultrasound so she could get a better look at her son. She noticed that there was a shadow around his face. She says she knew something was wrong.
The next day she went in for a scheduled maternity visit with her physician who conducted another ultrasound and confirmed not only that the baby had a bilateral cleft but might also have a heart defect. Mom and physician were shocked because the birth defect test she took earlier in the pregnancy revealed no signs of deformities.
"I was devastated," Contreras-Flores remembers. "I knew I would have some challenges because of my age, but I would have never imagined cleft lip or heart defects."
Because of the risks, the mom-to-be came to Loma Linda University Medical Center for prenatal care. Now, 10 years later, there is minimal evidence her son ever had a cleft lip thanks to the care he received from the School of Dentistry and Loma Linda University Children's hospital.
Patients like Contreras-Flores are exactly who Loma Linda University School of Dentistry pediatric dentistry program director Jung-Wei Chen, DDS, MS, PhD,  had in mind when she petitioned Medi-Cal to provide coverage for this service to Denti-Cal patients.
Chen brought the PNAM program to Loma Linda University Health in 2009. When the cleft palate baby is five to six weeks of age, the PNAM appliance — an orthodontic-retainer-like device — begins gently molding the affected soft tissues that need to be aligned and brought together before surgery. The PNAM appliance also improves compromised feeding, swallowing and breathing by providing support that molds the infant's collapsed nostrils.
When in three to five months the PNAM appliance has done its work, it requires only one surgical procedure to complete a cosmetically satisfying correction of the baby's cleft palate.
This molding saves patients several surgeries across their lifetimes, and the results show no evidence of defect.
"I want to change their entire life because these babies are innocent and deserve the best shot," Chen says. "Without this procedure, these children would have a tough time."
"Loma Linda University Health has been great to me and has helped me every step of the way," Contreras-Flores says. "That alone makes it easier to navigate this defect. It's comforting to have a hospital that is with you every step of the way."
To learn more about the PNAM program for you and your family or someone you know, visit the website.