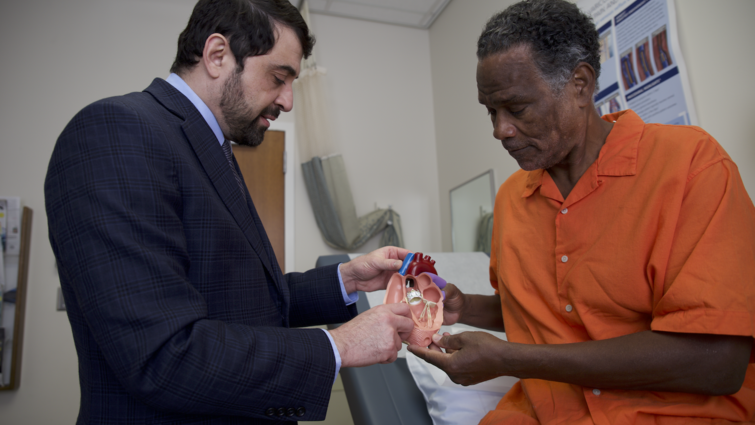 The Loma Linda University International Heart Institute has expanded its eligibility for trans-catheter aortic valve replacement — or TAVR— from high-risk patients to now include intermediate-risk patients — which has opened the door for more people to undergo the procedure who would have otherwise needed open-heart surgery or had no other options.
Intermediate-risk patients can now undergo the TAVR procedure, which is conducted at LLU primarily with conscious sedation instead of general anesthesia. This allows most patients to go home the day after the procedure. The procedure is also considerably less stressful on a patient's body and presents lower risks of complications. 
To perform the procedure, an interventional cardiologist and a cardiothoracic surgeon punctures a large artery in the leg called the femoral artery. This minimally invasive method allows the team to implant the valve in less than an hour. The new valve is crimped on a balloon so it is slender enough to fit in the artery. The cardiologist then advances this valve through a sheath to deploy it inside the old diseased valve. It pushes the calcified valve aside and acts as a new valve.
The new eligibility that now includes intermediate-risk, which was approved by the FDA in 2016, has changed lives for patients such as 60-year-old Troy Wilcher, who received the treatment in May at Loma Linda University Medical Center. Wilcher had been diagnosed with heart valve disease due to calcified aortic stenosis, which causes a reduced blood flow through the aortic valve. His symptoms included dizziness, shortness of breath and fatigue. Wilcher said his condition kept him from being able to perform daily tasks such getting out of his car and walking to the front door of his home because simple movements left him breathless.
"I felt defeated and was getting depressed," Wilcher recalls.
Compounding his fears, he soon found out from cardiology specialists he would have to have the valve replaced by open-heart surgery and was classified as intermediate-risk for death or complications associated with open-heart surgery.  
Fortunately for him, with the TAVR procedure's new broader eligibility, Loma Linda University Health interventional cardiologists said he qualified for the minimally invasive procedure — an option that was less frightening for Wilcher.
"The idea of going under anesthesia, plus the fear of complications, I wasn't too keen on open heart surgery," Wilcher said. "When I found out that TAVR was an option where I could be awake and there was no pain, I was all for it."
Now that his heart is functioning well, he can be placed on the kidney donor list in hopes at being back at 100 percent.
Denise Mao, RN Clinical Coordinator for the TAVR Program, says that patients are usually up and moving again the same evening.
"It is so amazing how immediate the relief of symptoms can be," Mao says. "When I see patients the next day it is incredible to see some of them have already walked around the unit because they have newfound energy and are able to breathe more easily. To be able to see them have some relief from suffering is extremely rewarding."
The TAVR program began in 2013, and it has had a high rate of success while maintaining low complication rates — well below most other programs, says Structural Interventional Cardiology specialist Islam Abudayyeh, MD. Abudayyeh also says the team has incorporated the latest valve technology to emphasize Loma Linda University Health's belief in only offering the best therapy to patients.
"There is no question that our success is due to our collaborative approach," Abudayyeh says. "We always work as a team, including our referral partners, support staff, cardiologists and surgeons in the interest of patients. Each patient is carefully evaluated by the team to achieve the best care."
Wilcher thanks Abudayyeh and the team that treated him at Loma Linda University Health for giving him what he says is another chance at a full life. 
"I feel like I am back in the game fighting again," Wilcher says. "I no longer feel defeated and feel like I can continue on my road to health. I feel like I have a chance for more time." 
For more information about heart and vascular services, visit the International Heart Institute's website or call 1-800-INTL-HEART(468-5432).