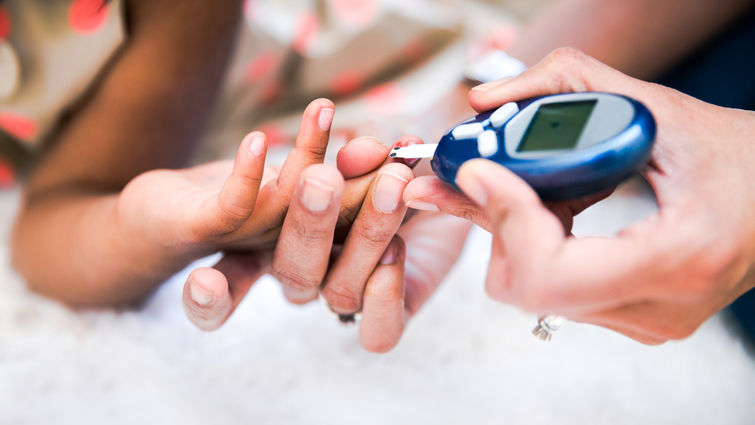 Like most working moms, Maile Kaulukukui was handling the day-to-day grind, raising two daughters alongside her husband, managing the household and everything that comes with raising a family. But life got even more challenging when their oldest daughter, 4 years old, was diagnosed with type 1 diabetes (T1D) in 2014.
"The first two weeks were really hard," Kaulukukui says. "Between the needles, monitoring, and dietary concerns, we had to learn a new normal."
Then, one year later, another curveball: their youngest daughter, who was 2 years old, was also diagnosed with T1D. Both daughters were initially treated at Loma Linda University Children's Hospital and now receive their routine care at Loma Linda University Children's Health Pediatric Diabetes Center.
Kaulukukui says there is a lot of information thrown your way in the beginning, but you have to figure out what works best for you. "We have a strong support system between family, friends and our care team," Kaulukukui says.
Amidst all the available information, and the stress of learning to cope with this new normal, Kaulukukui wants to encourage parents who are also learning how to deal with their child's diabetes diagnosis that things will get better, offering these four tips:
Have a good partnership with your care facility. Parents should feel comfortable reaching out for support and taking the advice of doctors and nurses overseeing your child's care. "Loma Linda gave us a lot of skills on how to evaluate meals and gauge carbohydrates, but we as parents really need to have a baseline of knowing what you're going to try and that, in the end, your kids are going to be OK."
Stay away from the internet. The world wide web can be scary for parents for any new diagnosis. If you have questions, talk to your doctor. "Diabetes doesn't define our kids — neither should the internet."
Empower your kids to learn about their bodies. Kaulukukui encourages parents to learn with their child, but give them the space to learn about their own bodies. Let them feel what it's like to have high or low blood sugar, let them try new foods and see how it affects them, and let them do their own injections (after practicing with an adult, of course). "After all, in the long run, this will be their burden," Kaulukukui says.
Work as a team and communicate. It's a lot for a child to learn to manage their diabetes. There will be a lot of questions and a lot of unknowns. Nobody has all the answers, so you'll have to find out what works best for your child.
Now, 8 and 6, the girls are managing their type 1 diabetes, but Kaulukukui says she still calls the clinic with questions, and they always call back with feedback.
Eba H. Hathout, MD, FAAP, professor of pediatric diabetes and endocrinology, and medical director of the Pediatric Diabetes Center says that their goal is  to make sure the families are supported and empowered in their child's diabetes journey.
For more information on the Pediatric Diabetes Center call 909-558-5138.