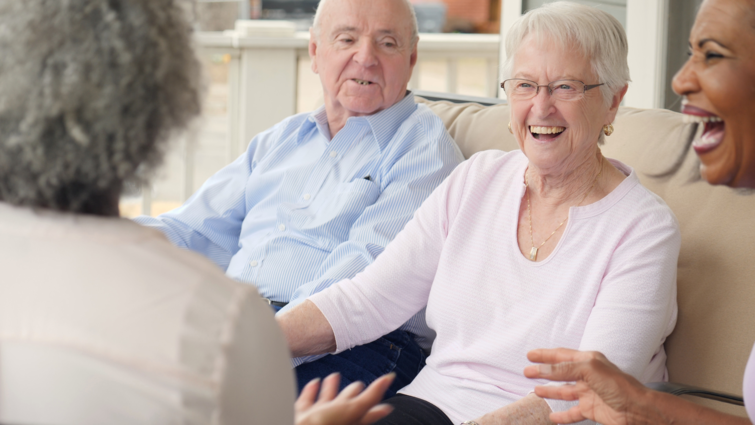 The first of the baby boomers reached retirement age of age 65 in 2011, with the rest of the wave set to reach retirement in the next 10 years. This generation makes up roughly a quarter of the United States population, making it the largest single American generation.
This generation deals with the same mental health issues and needs the same services as others do, but people in this group are statistically more likely to stigmatize the use of mental health services, according to research from The American Journal of Geriatric Psychiatry.
I noticed these problems and worked to create a program designed to help the local aging population in a way that makes them feel comfortable. Part of this program includes three types of therapy shown to work best for senior patients.
As people age, their health can decline and their needs increase. They're more likely to experience the loss of a spouse or friends due to aging. Loma Linda's region in particular as the only designated blue zone in the United States has been working to address the desperate need of older adult mental health services.
When I was a resident physician, I noticed that in mixed-age groups, older adults sometimes didn't get the treatment that they needed. A general outpatient partial program wasn't benefiting them and was even found to worsen their mental health issues. The older adults ended up taking care of their younger counterparts — taking on a parental role — preventing them from getting the individualized help they needed.
As attending physicians, we started building a program to help the elderly in the way that they needed to be helped — through diet, exercise, medication management, stress reduction, and specific proven therapies to help her more mature patients. Much of what we teach patients is universal, such as maintaining a healthy diet and getting plenty of exercise, but we found that some therapies not only didn't work but were actually damaging.
Our programs have shown that having a geriatric therapist, group therapy session or a geriatric mental health program can keep them happier, healthier and independent for longer. There are many forms of therapy available that can help the elderly experience a fuller life, deal with trauma safely, manage their depression and anxiety and even stay mentally sharper for longer.
Problem-solving therapy
Problem-solving therapy is a way of teaching senior patients how to find ways to solve the particular problems that are unique to them. These problems cause anxiety and depression, so teaching them how to think through them can provide a sense of autonomy and control. Sometimes in therapy, you cannot solve the actual problem, per se, but the process of working through it together gives them different options they can utilize if their anxiety starts to spike when they are alone.
Reminiscence therapy
In reminiscence therapy, the patient focuses on reminiscing about good things. For example, I may bring our older adult patients a picture of a turkey and ask them what it reminds them of. Everyone starts talking about Thanksgiving with their families. They discuss memories, smells, and they walk through the senses of what it was like for them at a happy time. This alone starts to fire up positive emotions in their brains and can change their moods instantly.
The cool thing about reminiscence therapy is that it even works with patients who have dementia because their long-term memory is pretty solid. They can dip into their past and they immediately start brightening up. Their whole countenance changes.
It is a simple therapy to use, and it can be very helpful when dealing with depressed patients. They often feel alone, but when they begin to talk about the good times and share memories, it connects them to others in their group and helps them make positive social connections.
Cognitive behavioral therapy
There are also behavioral activations we can implement to help older adult patients, who often have a hard time with scheduling routines. As a therapist, it can be helpful to have them plan a solid routine they can stick with that can work to break the cycle of depression and anxiety. For example, if you're depressed and this is causing you to want to be in bed, you may stay in bed, causing you to get more depressed.
This is damaging to an older adult patient because it is much harder to get them to start scheduling and moving around again once they slow down. Activating their schedule can be a first step in keeping them independent for longer.
For older adults, we educate them on the process of cognitive behavioral therapy and then help them find ways to break that lethargic routine. We want to help them choose an activity they want to do so it's easier to break that cycle. Maybe that means going every Sunday to visit their grandkids. Maybe they can join a card game club, join a church, a quilting group, a storytelling group or take a community education class. That one simple thing can break their cycle of depression, ease loneliness, and keep them engaged longer.  
If you have an older adult patient, friend or family member who struggles with mental health issues such as anxiety and depression, consider suggesting an outpatient group therapy for the elderly. It can be extremely helpful when paired with nutrition, exercise, and a cohesive plan with their primary care physician.
Contact our senior mental health program today to find out more about the treatments we offer. Visit our behavioral health services website to learn more about the geriatric-focused treatments offered at the Loma Linda University Health. Request information on a specific area, and one of our intake coordinators will contact you.
—Carolina Osorio, MD, is a geriatric psychiatrist at the Loma Linda Behavioral Health Institute.