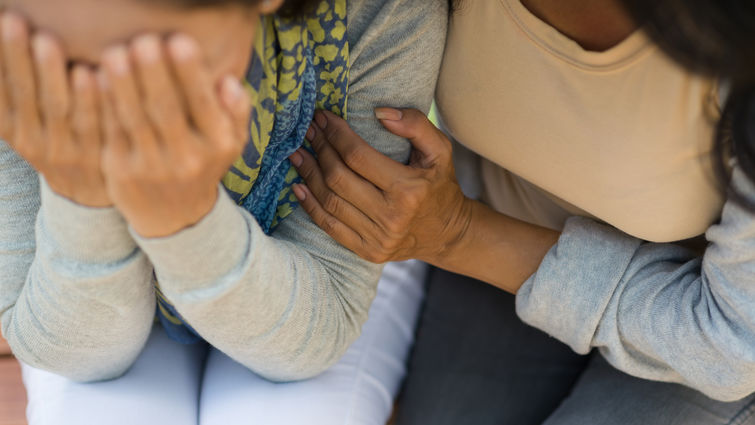 Learning first aid can prepare an individual to deal with a variety of medical situations as they come up. Whether it be bandaging a wound, or knowing the best way to assess the situation, first aid is care provided to preserve life and prevent dangerous situations from worsening until professional help arrives.
While first aid knowledge is widespread, it often lacks an essential component of the whole person care: mental health. According to the National Council for Behavioral Health, one in five Americans has a mental illness and may be reluctant to seek help. Knowing strategies to assess and deal with people in a mental health crisis can provide people with the knowledge they need to deliver aid.
The symptoms associated with a mental illness aren't always easy to detect. Even for those closest to the person suffering, there can be confusion on how to best help, often resulting in no action at all. When this happens, the person in need of mental health services may not get the help they need until it is too late.
"Picking up on signs enable people to recognize dangerous changes in behavior and know the best way to approach the situation," says Jennifer Weniger, PhD, a licensed psychologist and marriage and family therapist at Loma Linda University Behavioral Medicine Center. "With a first-aid-like attitude, you can confidently offer aid when you're the first person on the scene."
Recognize the symptoms.
In adults, Weniger says common symptoms include social withdrawal, sustained irritability, extreme emotions, noticeable changes in eating or sleeping habits, difficulty coping with daily problems, suicidal thoughts or substance use. "Pay close attention to these changes in behavior, and keep in mind that the appearance of many of the symptoms at once may be a good cause for concern," Weniger says.
In teens, symptoms may also include disobeying authority, acts of theft or vandalism, outbursts of rage or sadness, or a consistently negative mood, Weniger says. "Watch for the appearance of many of these symptoms combined," she says. "Don't be afraid to address your concerns and start a dialogue in a safe space."
In children, Weniger says there could be hyperactive behavior, a change in school performance, aggression or tantrum outbursts, or ongoing nightmares. "Watching for these signs can help parents find the proper care and treatment early on," she says.
Provide initial help.
"First and foremost, don't leave someone alone when you feel they might be at risk for harming themselves," Weniger says. "If you're afraid someone is having suicidal thoughts or feelings, tell a member of their family what's going on and seek professional help immediately."
When someone is in a mental health crisis, Weniger says it's important to stay calm and be understanding. "Your behavior influences their behavior, so don't just let them know they're safe — model it for them with a calm demeanor and a relaxed voice," she says.
Guide toward treatment.
Once the situation at hand is under control, encourage your loved one to seek professional help. "A mental health professional can help a person learn how to deal with negative feelings and use different ways of thinking," Weniger says. She also recommends speaking with your primary care doctor about your mental health. "They can provide recommendations for a mental health professional to contact," she says.
By learning to understand and respond to signs of mental illness, you can help the people in your life who may be struggling with their mental health. "After you've identified the symptoms and provided initial help, it's crucial to continue to show support," Weniger says. She recommends encouraging someone to go to therapy. "Seeking help takes great courage. If someone you love could benefit from therapy, share your advice while also reinforcing that your suggestions are coming from a place of love."
If a mental health condition is causing suffering in your life, or the life of someone you care about, visit our behavioral health services website and learn more about how Loma Linda University Behavioral Medicine Center can help. Request information on a diagnosis or treatment, or any behavioral health concerns, and one of our intake coordinators will contact you.
If you or someone you know is in crisis now, seek help immediately. Call 1-800-273-TALK (8255) to reach a 24-hour crisis center or dial 911 for immediate assistance.