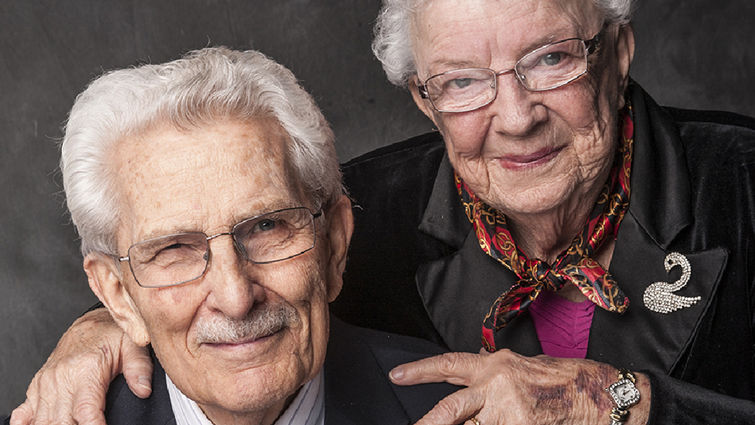 Roy V. Jutzy, MD, cardiologist, philanthropist, professor and international medical ambassador for Loma Linda University Health, passed away Thursday, Jan. 4 at the age of 93.
Jutzy cut a wide swath during his 65-year career, serving as chief of cardiology and chair of medicine at Loma Linda University Medical Center and as a member of the acclaimed overseas heart surgery team. Altogether, he participated in nine trips with the team that performed open-heart surgeries in China, Greece, Mongolia, Saudi Arabia and Vietnam. He was an emeritus professor of medicine at the university at the time he died.  
Known for exemplifying compassion, generosity, humor and selfless service to others, Jutzy graduated from LLU School of Medicine (LLUSM) in 1952. He then practiced medicine in Cle Elum, Washington, until 1955 when he accepted a call to serve as a missionary physician in the Philippines.
In 1959, Jutzy entered an internal medicine residency at Los Angeles County General Hospital. He also enrolled in a cardiology fellowship at White Memorial Hospital, which he completed in 1963. Despite intending to form a partnership with a classmate, Jutzy instead accepted a call from David B. Hinshaw, Sr., at that time dean of LLUSM, to direct a group of 12 student physicians at Riverside General Hospital. The program proved to be one of the first alliances the School formed in the Inland Empire when it moved all clinical operations from Los Angeles to Loma Linda.
The 1960s proved to be a pivotal time in Jutzy's career. In addition to directing the student education program, he also served as chief of medicine at Riverside General Hospital from 1963 to 1965. Simultaneously, he served as a staff cardiologist at Loma Linda University Medical Center and, in 1965, was appointed to the LLUSM cardiology faculty. For the better part of the next four decades, Jutzy continued to serve the Medical Center and School in a variety of faculty and administrative capacities, retiring from administrative duties in 1994, but continuing to practice medicine part-time until 1999, when he finally retired.
Jutzy's longtime collaborator and friend, cardiothoracic surgeon Ellsworth E. Wareham, MD, remembers Jutzy as a man who made a difference.
"He was a prominent member of the heart team," Wareham said, adding that Jutzy was sent ahead to appraise the needs and resources in a given country or community before the other members of the team arrived. "There are all kinds of doctors. Some get into it and really appropriate the fine points. He was a specialist's specialist who understood difficult diagnoses."
Born May 4, 1924, in Saskatoon, Saskatchewan, Jutzy did not remain in Canada for long. Six months after his birth, his father moved the family to Oregon and became the treasurer of the Oregon Conference of Seventh-day Adventists.
Jutzy attended Auburn Academy in Auburn, Washington, where he met Rose Ilene Sargeant, also known as Betty or Betty-Rose. After graduating in 1941, he enrolled in Walla Walla College with plans to become a business major. Two years later, he was drafted into the United States Army, serving as a dental technician in the Medical Corps. After he and Betty married in Seattle in 1944, Jutzy decided to pursue a career in medicine instead of business.
In addition to his long and distinguished career at the various entities of Loma Linda University Health, Jutzy served as chief of cardiology at the Jerry L. Pettis Memorial VA Medical Center in Loma Linda and as a consultant for the U.S. Department of Health, Education and Welfare in Washington, D.C., the Ministry of Defense in Jeddah, Saudi Arabia, the All Union Cardiac Center in Moscow, Russia, and the Ministry of Health in Kabul, Afghanistan.
Other credits include stints as president for both the Board of Councilors for Loma Linda University Adventist Health Care Systems and for the Alumni Association, School of Medicine of Loma Linda University. He held the same office for the Riverside County Chapter of the American Heart Association, the Inland Society of Internal Medicine, and the Walter E. Macpherson Society at the Alumni Association.
Jutzy won many awards throughout his career. In 1976, he was named Alumnus of the Year by Walla Walla College. That same year, the Walter E. Macpherson Society named him Clinical Investigator of the Year. In 1993, the Alumni Association, School of Medicine of Loma Linda University named him an Honored Alumnus. In 1998, he won the University Distinguished Service Award from Loma Linda University. In 2001, Auburn Academy bestowed it Distinguished Alumnus Award on him, and in 2001, Loma Linda University School of Medicine named him Alumnus of the Year.
Jutzy and Betty had five children — Ronald, Carol, Kenneth, James and Thomas — 14 grandchildren and 21 great-grandchildren. Betty preceded him in death in 2013.
A memorial service will be held at 6 p.m. on Saturday, Jan. 27, in the sanctuary of Loma Linda University Church, 11125 Campus Street in Loma Linda.