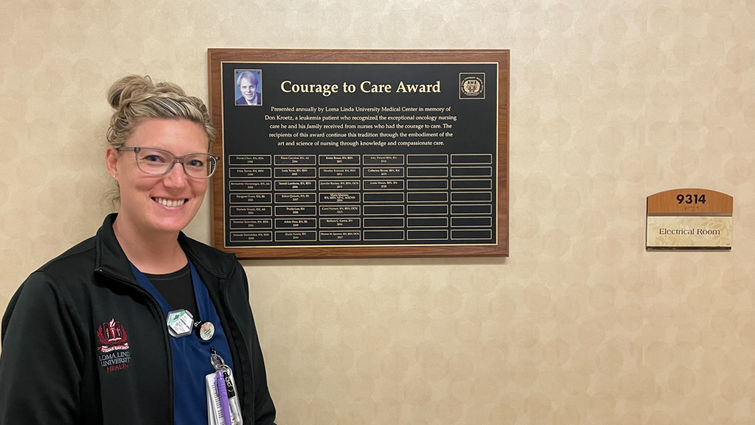 Emily Ensley, RN, received the Courage to Care award during the annual Celebration of Life for cancer survivors and loved ones on June 6 in recognition of the compassionate and courageous care she delivers to oncology patients.
Finding this life calling was rather straightforward for Ensley, who says she knew she wanted to become a nurse for as long as she can remember. She recalls an early memory in which she helped her distressed peer in elementary school apply a Band-Aid to his knee wound after a fall.
"Once I understood it was about caring for others, I knew I wanted to be a nurse," Ensley says.
As an oncology nurse, Ensley says she has the opportunity to forge strong, long-lasting connections with cancer patients whose hospital stays are generally lengthier. The bond between nurse and patient enhances a nurse's ability to provide emotional and moral support for patients in difficult times, she says.
Acknowledging this special bond, Jan Kroetz, a former chief nursing officer at LLU, and her family established the Courage to Care award to commemorate her son's life and the difference nursing care made during his battle with leukemia. Ensley's nursing colleagues at LLU nominated her for the award.
"Often as nurses we are caring for patients' physical needs, but we also care for psychological and spiritual needs as well," she says. "In oncology, I feel an emphasis on the latter two especially, so it is beneficial for a patient to have a personal connection while they are here."
COVID-19 and safety policies like visitor restrictions in hospitals made the bond between nurse and patient all the more crucial, Ensley says, because the patients' support systems of loved ones were no longer able to stay with them throughout their stay. The absence of family and personal connections can be detrimental to patients' well-being, so Ensley and her colleagues stepped in to ensure patients felt cared for and supported on a deeper level.
"We have had to change our focus during COVID and be more hyper-focused on that human connection that people normally get from their support systems," she says. "In the absence of that, you see a difference in a patient's attitude and the way it affects their treatment and recovery process. We [nurses] recognize this and give the patients a little extra love to make them feel more special, comfortable, and get them to talk about their life outside of the hospital."
At the same time that Ensley supports cancer patients throughout their time in the hospital, she says patients inspire her with their perseverance in the face of daunting diagnoses, treatments, and procedures.
"As an oncology nurse I get to witness people as they learn their strengths and how to conquer something they probably never thought they could conquer. I am in awe of the resilience of humans and what we can do."
Ensley credits those she learned from for her recent recognition. "This award is really a reflection of the nurses that came before me and shaped me into the nurse that I am today."
Ensley joins other nurses and care teams at the Loma Linda University Cancer Center in providing patients with compassionate, comprehensive care that gives them the best opportunity to face cancer.
---
To learn more about all of the resources offered to patients at the Cancer Center, visit lluh.org/cancer-center or call 1-800-782-2623.