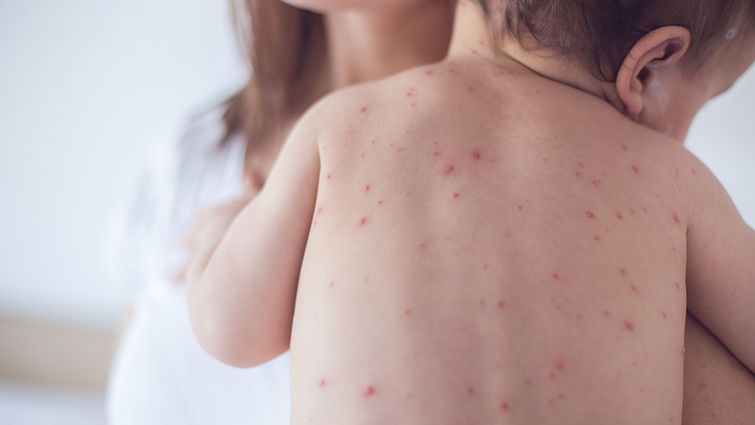 The New York Times reported Monday that 90 new cases of measles have been recorded in the United States. The outbreak continues at a record pace bringing the total number to 555 in 2019, according to the most recent report from the Centers for Disease Control and Prevention.
This disease is shrouded with confusion and can be deadly. Adrian Cotton, MD, chief of medical operations at Loma Linda University Health, brings some clarity to the question of why measles is a threat again.
Measles is gaining traction due to many factors, including the fact that as fewer people are being vaccinated, the herd immunity of the past is being lost, Cotton says. "While measles has largely been suppressed in the United States, that hasn't been the case in other countries, and those who may contract the illness abroad may bring it back to their home country," he says.
When a disease has been suppressed or dormant, people can start to forget the severity and seriousness it brings. When this happens, people may not seek out the information they need to make an informed decision, Cotton says. This could be a decision about where they travel and how they interact physically with the people around them. "Bringing measles back from traveling abroad seems to be the biggest cause right now," he says.
For those who are unvaccinated, Cotton highly recommends they get the vaccine, especially if they are going to travel outside the United States. "Measles is highly contagious, meaning it can rapidly spread via air, contact or fluids," Cotton says. High immunization rates within a community can protect members who are too young to be vaccinated.
While measles is a current concern, Cotton says any of the diseases that have vaccinations could spread like this in unvaccinated individuals, but it is highly unlikely these diseases will spread in vaccinated individuals. However, measles is more contagious than many other diseases, and it has the potential to rapidly pass from person to person — moving quickly.
The important thing is to protect yourself and your family from the spread of measles and other diseases. Symptoms associated with the measles include a runny nose, high fever, cough, and a reddish rash. If you see these symptoms in someone who has not been vaccinated, call your doctor.
If you suspect you have measles, doctors urge you to stay away from emergency rooms or urgent care facilities. Call your primary doctor's office and let them know you are concerned about measles so arrangements can be made to keep you away from as many other patients as possible.
If you are worried about measles or other health concerns, visit our appointment page to get quick access to the care you need. Schedule an appointment online or through MyChart for you or your child. You can also schedule an appointment or request more information by calling 909-558-6600.