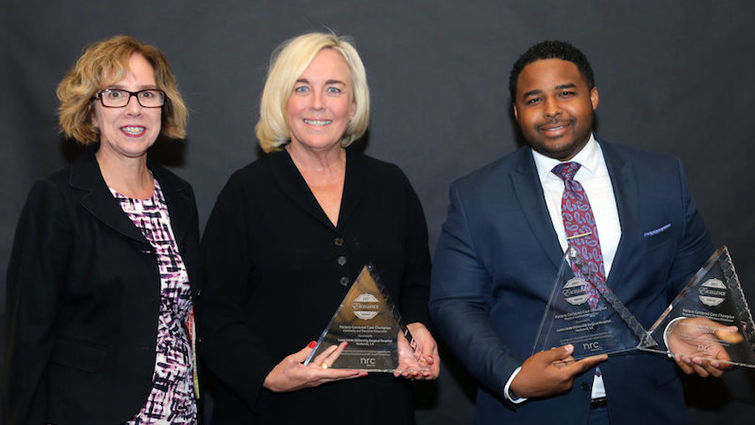 Loma Linda University Surgical Hospital received three 2017 Excellence and Improvement Best Practice Awards during a ceremony at the 23rd Annual NRC Health Symposium for Patient-Centered Care, Sunday, August 6, in Boston.
The awards are given to healthcare organizations for dedication to improving the patient experience. Surgical Hospital received Patient-Centered Care Dimension Awards in three categories: continuity and transition, physical comfort, and respect for patient preferences.
NRC Health recognizes hospitals and health systems that have exhibited an exceptional commitment to understanding individuals' complete care journey. It calls award winners "elite organizations that have received the highest ratings of overall satisfaction by patients and their families."
Jonathan Jean-Marie, MHA, vice president/administrator of LLU Surgical Hospital, said that although 426 hospitals were eligible, only 30 hospitals from the United States and Canada received awards at the symposium. A top performer, LLU Surgical Hospital was the only organization to receive more than one award, earning recognition in three out of eight patient-centered care categories.
"It is a tremendous honor to be recognized for the amazing care we provide to our patients and their families," Jean-Marie said. "It highlights our team's incredible work and commitment to patient-centered care."
Jennifer McDonald, executive director of patient experience for Loma Linda University Health, said the awards reflect the staff's efforts to provide the highest quality of care in the safest, most compassionate environment. "Receiving these awards demonstrates how much talent and commitment exists within our walls and our hearts," McDonald said.
Two former patients, Andrew Rybak and Chris Carney, were so impressed with the quality of care and service they received at Surgical Hospital that they wrote letters to the staff.
In his letter, Rybak noted that Mark T. Dickinson, MD, and his entire staff were not only professional, but also caring and concerned. "From the receptionist to all the nurses and doctors, their concern and calm, professional and genuine care for me was truly overwhelming and humbling," Rybak said, noting that the hospital seemed more like a great resort than a hospital to him.
In his letter, Carney, mentioned the entire care team, including the "Vampire friend" who drew his blood every day during his May 2017 stay. He was especially grateful to Herbert Ruckle, MD, chair of urology, for saving 80 percent of his kidney, after a physician at another facility had told Carney that he would lose the entire organ. "My family and I want to thank all of your staff for taking care of me," Carney said. "There was not one bad apple in your group. Your staff is very special to us, and again we thank you very, very much for all of your caring and support."
Natalya Virkh, RN, a nurse on unit 2100, said there are two reasons for the high level of patient satisfaction at Surgical Hospital: open lines of communication and educating every member of the staff in the organization's high standard of care.
Virkh said she encourages patients to express their needs, advocates for them, and urges them to advocate for themselves. She had high praise for the hospital's standard of care which, she said, is reinforced every day by doctors, charge nurses and directors of the Hospital. "I am happy to work here!" Virkh said. "I've worked in a lot of other places and it's like I just won the lottery getting to work here. When we feel supported as the nursing staff, we feel great happiness about our working environment as a whole."
Loma Linda University Surgical Hospital offers a high degree of expertise and specialization by restricting its focus to metabolic and bariatric surgery and robotic surgery for urologic and gynecologic concerns
Recognized as a top market-research firm, NRC Health offers analytics and insights that help healthcare organizations measure patient satisfaction and engagement and customer loyalty.