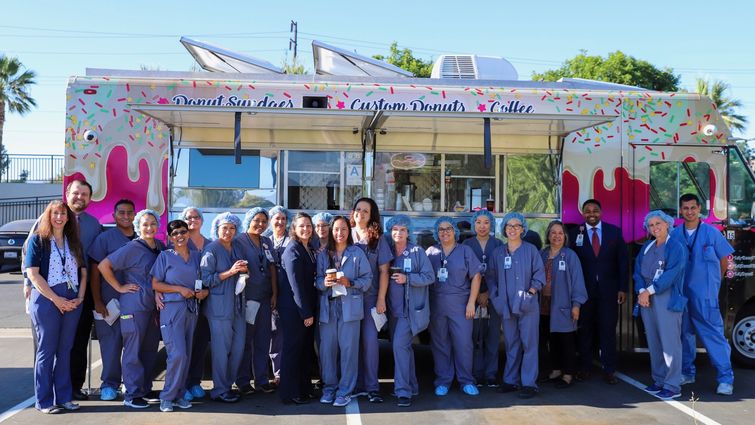 Loma Linda University Surgical Hospital has been named a top workplace in healthcare by Modern Healthcare, a leading source of healthcare business news, data and research. ​
Organizations on the Best Places to Work in Healthcare list are distinguished for their efforts in creating an empowered, engaged and satisfied workforce. Loma Linda University Surgical Hospital ranked 20 out of 75 organizations. ​
Surgical Hospital was honored at the 2019 Best Places to Work Gala on Thursday, September 26, in Dallas, Texas. The recognition program, now in its 12th year, honors workplaces throughout the healthcare industry that empower employees to provide patients with the best possible care, service and products.​
"Loma Linda University Health's commitment to whole-person care applies not only to our patients, but to our employees as well," said Kerry Henrich, JD, CEO of Loma Linda University Medical Center. "Patients at our Surgical Hospital receive care from a team that serves with dedication and compassion. Modern Healthcare's research confirms that our employees value the respectful, team-focused work environment that supports their vital patient-care activities."​
Modern Healthcare partners with the Best Companies Group on the assessment process, which includes an extensive employee survey completed by a random selection of the approximately 450 employees at Surgical Hospital.​
Jonathan Jean-Marie, vice president and administrator for Loma Linda University Medical Center – East Campus and Surgical Hospital, attributes this recognition to the medical professionals who are dedicated to creating a compassionate and patient-centered care workplace. ​
"We're committed to creating an environment where employees are at the forefront of everything we do," said Jean-Marie. "Receiving this recognition for a second consecutive year validates our commitment to our employees who continue to be leaders in patient-centered care."​
For more information, visit Loma Linda University Surgical Hospital online or to begin a career with Loma Linda University Health, search Find a Job.