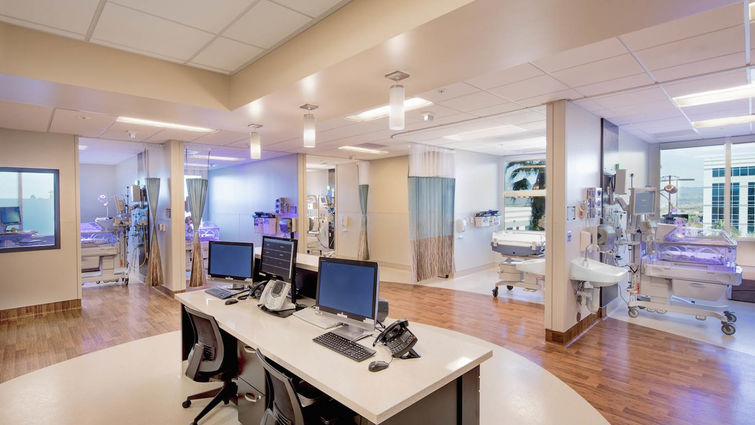 Loma Linda University Medical Center – Murrieta has opened its new neonatal intensive care unit (NICU) as part of a comprehensive plan to provide families and their newborns the care and comfort they need throughout the post-delivery process.
The six-bed facility is a Level II NICU, enabling hospital staff to take care of the most common problems that can occur with premature infants born at or after 32 weeks gestation. This care can include short-term mechanical ventilation, treatment for jaundice, help with feeding, or treatment with antibiotics. The unit accepts readmits up to 28 days old for certain diagnoses, including sepsis infection.
LLUMC – Murrieta delivers over 800 babies each year, with 8-10 percent of those newborns in need of additional special care.
The new NICU offers six private rooms designed to allow parents to stay overnight in the same room as their baby, a unique feature that isn't currently offered by providers in the area. The rooms mirror an open bay concept with three walls and a curtain track in each. In addition, the state-of-the-art unit offers:
Lactation support to help ensure high exclusive breastfeeding rates
Top perinatal department per patient satisfaction scores
Direct access to Loma Linda University Children's Hospital (LLUCH) and highest levels of expertise
Family-centered care
"No mother, father or family should have to spend a minute away from their child," said Peter Baker, JD, MBA, administrator of Loma Linda University Medical Center – Murrieta. "Our new NICU will restore the connection between a newborn and their family during a critical time when support is needed the most." 
The hospital currently offers labor and delivery support, a skin-to-skin bonding program following delivery, 24/7 family visits, classes and support groups, and nursery care. The new NICU will be staffed by neonatal experts from LLUCH.
LLUMC – Murrieta and LLUCH are part of Loma Linda University Health, a faith-based health system, providing education, training, research and care to the Inland Empire community.
A ribbon-cutting ceremony was celebrated on Oct. 30, 2017 in honor of the new unit. The ceremony was attended by numerous public officials, with special remarks from Jeff Stone, California State Senator, Rick Gibbs, mayor of the city of Murrieta, and Neil Winter, mayor of the city of Menifee.
Kerry Heinrich, JD, CEO of Loma Linda University Medical Center addressed the audience with great excitement as the community of Murrieta welcomed its first NICU.  
"Our goal, our vision and our dream was to bring Loma Linda University Health physicians and our pediatric expertise with the talented individuals we have in our Children's Hospital to this community," said Heinrich.
Guests were also introduced to the Ridley family, who shared their incredible journey to have their beautiful daughter, Emree. Their daughter was in need of critical care following her birth and experienced the difficulties of traveling back and forth to LLUCH.
"Having to travel a significant distance to the hospital increases stress and financial obligations," said Ryan Ridley, Emree's father. "The availability of the new and local NICU in Murrieta is very exciting and will be very beneficial to families in the community in the event where these medical services are needed."
Families in the Murrieta community will also have the opportunity to experience expanded outpatient children's services — coming in the next few months — that will offer specialty care in pediatric cardiology, urology, neurology and other services.
For more information about the new NICU or other services at Loma Linda University Medical Center – Murrieta, visit murrieta.lomalindahealth.org. Tours of the NICU are available by calling 951-290-4070.