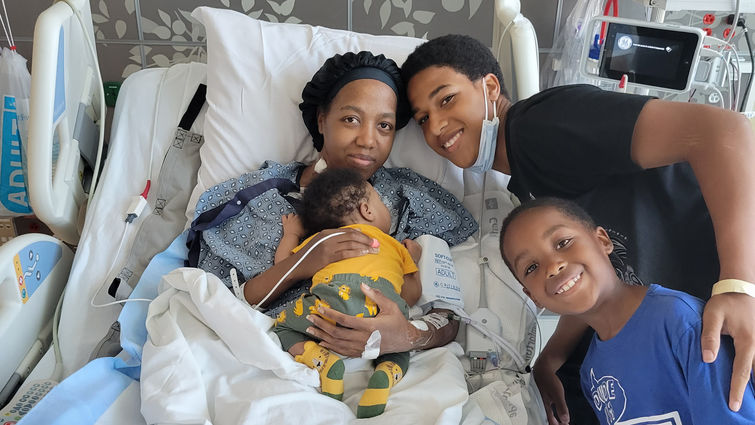 Care teams at Loma Linda University International Heart Institute have fine-tuned various aspects of its cardiogenic shock program, making the program the first in the Inland Empire and one of the few on the West Coast to offer such comprehensive services to cardiogenic shock patients.
Aditya Bharadwaj, MD, an interventional cardiologist at LLU International Heart Institute, says the cardiogenic program has expanded to include interventional cardiologists, heart failure cardiologists, and cardiothoracic surgeons.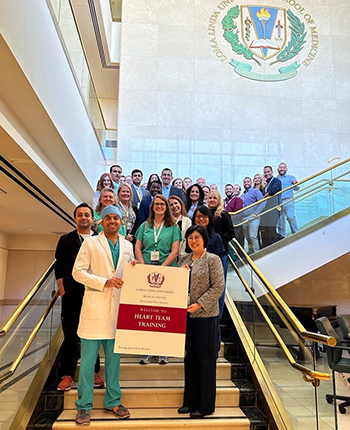 "More than one specialty needs to be involved in the care of cardiogenic shock patients," says Bharadwaj. "Multiple disciplines must come together right from the beginning to treat these patients. Other leading centers across the country and the world are beginning to recognize this."
Cardiogenic shock, also known as cardiac shock, is a life-threatening emergency that occurs when the heart cannot pump enough blood and oxygen to the brain and other vital organs. The condition can be fatal or lead to organ failure or brain injury if not treated quickly, according to the National Heart, Lung, and Blood Institute.
"Timely treatment is of the essence when facing this critical condition where the heart is unable to keep up with the demands of the body," Bharadwaj says.
For this reason, Bharadwaj and his colleagues have worked to streamline the transfer process for patients incoming from nearby hospitals, reducing delays in their care. Once a patient is transferred to or arrives at Loma Linda University Medical Center (LLUMC), Bharadwaj says highly skilled care teams work to identify signs and symptoms indicating cardiogenic shock. Bharadwaj says these new approaches prioritize the timely delivery of care to patients experiencing cardiogenic shock.
Those doctors fought for my life.LaCresha Bell
Causes of cardiogenic shock include heart attacks, infections, blood clots, and heart failure. In addition, the condition can be caused by a distinctive form of heart failure called peripartum cardiomyopathy that can occur during the last few months of pregnancy or up to five months after giving birth.
Such was the case for 31-year-old LaCresha Bell, who was transferred from a nearby hospital to LLUMC for a higher level of care when she went into cardiogenic shock after having given birth to her second son.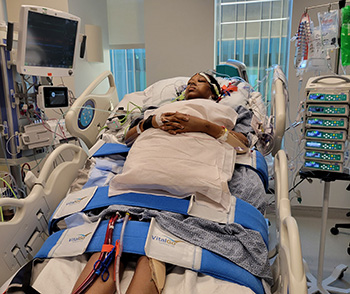 "Those doctors fought for my life," says Bell, who has since reunited with her two sons. "I didn't believe in miracles before, but being alive seven months later, I do now."
When Bell reached LLUMC last March, Bharadwaj says she was in dire condition — she underwent shock activation and needed a breathing tube. Her heart was pumping out only 5% of the blood it should be able to pump with each beat.
Experts from three key cardiac subspecialties rallied to save Bell's life. First, a cardiothoracic surgeon immediately placed Bell on ECMO — extracorporeal membrane oxygenation — a device that takes over the function of a person's lungs, oxygenating the blood in the body. Joshua Chung, MD, FACS, director of Adult Cardiac Transplantation and Mechanical Circulatory Support at the International Heart Institute, says ECMO is most often used when other medical options have been exhausted.
Our cardiogenic shock program ensures patients like Bell access the care they need at this critical time.Dr. Joshua Chung
Bell also traveled to a cardiac catheterization laboratory where an interventional cardiologist inserted an Impella. This machine behaves like a support pump when a person's heart function is weak or requires support during complex procedures.
"Our cardiogenic shock program ensures patients like Bell access the care they need at this critical time," Chung says. "We assemble all the key players from the beginning to assess the case, develop a plan, and reevaluate patients every six to eight hours. Our process allows us to tailor the care plan depending on the course the patient takes."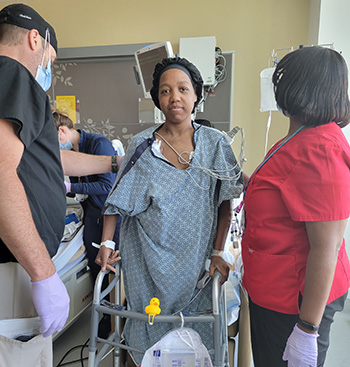 At the same time, Bell experienced multi-organ failure and needed continuous renal replacement therapy (CRRT) to support her kidneys. Nurses and heart failure specialists, including Antoine Sakr, MD, medical director of heart failure and transplant the International Heart Institute, assisted Bell before, throughout, and after procedures, monitoring her closely at the bedside in the cardiac care unit in case escalation of therapy was needed.
Care teams thought Bell would need heart and kidney transplants. But Sakr says she amazed doctors by recovering within three months of hospitalization. By May, Bell's health had improved enough that she could come off of many supportive devices — breathing tube, ECMO, Impella, and CRRT — a significant relief and accomplishment for all parties involved.
Bell has retained her native heart; native heart recovery is one of the cardiogenic shock program's main goals, program leaders say. If patients cannot recover their native heart, cardiac surgeons perform transplants at LLUMC, the only heart transplant center in the Inland Empire region.
Bharadwaj, Chung, Sakr, who have played integral roles in the cardiogenic shock program since its inception, joined other members of the International Heart Institute last week at LLU's Wong Kerlee International Conference Center to offer training to cardiac teams across the country seeking to enhance their cardiogenic shock programs. The two-day event introduced cardiac teams of physicians, nurses, and administrators from four health centers based in Arkansas, Missouri, Mississipi, and New Mexico to how the different components of LLU's cardiogenic shock program enable high-quality care.
"We are honored and grateful for this opportunity to share knowledge that will improve patient care beyond our institution's physical bounds," Bharadwaj says.
---
At Loma Linda University International Heart Institute, physicians are committed to providing patients with compassionate, comprehensive, and personalized cardiovascular care. To learn more, please visit lluh.org/heart-vascular or call 1-800-468-5432 to make an appointment.