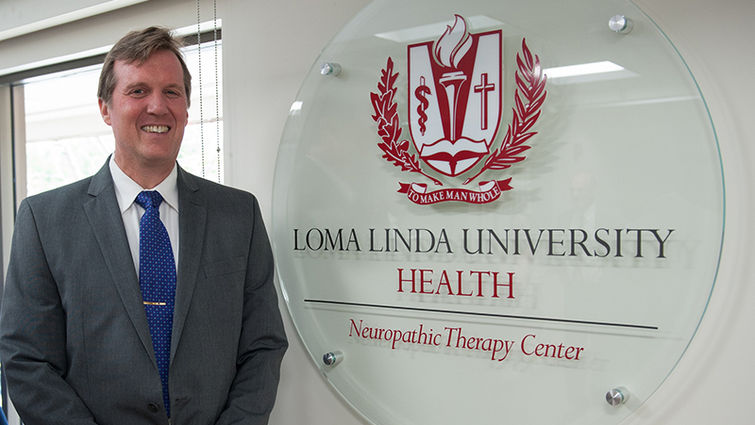 Loma Linda University Health has opened a new Neuropathic Therapy Center, home to an innovative, drug-free, surgery-free treatment program for people suffering from peripheral neuropathy (nerve damage) caused by chemotherapy, diabetes or other conditions. The Center is a collaboration between the School of Allied Health Professions and Loma Linda University Medical Center's East Campus.
Neuropathy is a debilitating condition, with symptoms like weakness, pain and numbness, typically in the feet or hands. The condition is strongly impacted by reduced blood flow from arteries through connector vessels into the nerve.
Neuropathic Therapy Center patients will be seen by Mark Bussell, DPT, clinic director, and a team of trained specialists. The Center's treatment features a technique Bussell developed called intraneural facilitation™. This evidence-based approach utilizes physical-therapy-based holds to stretch nerve areas and deliver blood supply to damaged nerves. Many people report lessening of their neuropathy symptoms after the first treatment.
Loma Linda University Health is the only place where this type of therapy is available.
 "Nerves have been termed 'blood hungry.' Arteries close to each nerve provide the vital blood supply through small connector vessels," Bussell said. "When a condition interrupts a nerve's blood supply, the lack of oxygen causes that nerve to begin to lose function, ultimately causing the pain, tingling, numbness and other symptoms associated with neuropathy."
"You probably take it for granted that your fingers feel when they touch. But it suddenly it hits you, when they don't, just how important the work of Mark and his team really is," said Kerry Heinrich, chief executive officer of the Medical Center, during a May 30, 2017, center opening ceremony "One of the wonderful aspects of Loma Linda University Health is breadth and scope of services that happen on this campus. Each program is a tangible way of continuing the teaching and healing ministry of Jesus Christ."
Four of Bussell's patients shared how their treatments have improved their lives during the opening event.
Genesis Crafton was diagnosed with Stage IV acute T-cell lymphoma when she was 13 year old. She spent two and a half years undergoing chemotherapy, which eventually led to avascular necrosis in her legs. Physicians told her she would never walk again. Bussell began treating Crafton, now age 17, four years ago. She slowly began regaining feeling in her legs. Eventually she began standing on her own, walking, running and eventually returning to her beloved sport of cheerleading.
"Mark brought new hope back into my life. He believed in me and gave me back a normal life," Crafton said.
Valarie Weber was a survivor of the December 2, 2015, terrorist attack in San Bernardino. Shot twice during the attack, doctors considered amputating her left arm in the immediate aftermath of the shooting. Eventually treatments by Loma Linda University Medical Center's occupational therapy staff got some movement back into her arm.
"I began treatments with Mark and over time have developed increased motion and ability to use my arm and hand," Weber said. "Mark's treatments literally push life into this limb that might never have been used again."
Nancy Hernandez, a pediatric trauma manager at Loma Linda University Medical Center for 18 years, related the story of her 15-year-old daughter. Suffering migraine headaches since a young child, Hernandez's daughter suffered a concussion while playing soccer on a national youth team. Conventional treatments did not improve the daughter's condition, so Hernandez approached Bussell about providing this treatment. Hernandez's child has been migraine free, her vertigo has improved and she is playing soccer at the national level again. 
"I think about the potential that this treatment has for kids who get injured from a variety of things; the other layer of hope that it offers," Hernandez said. "I've been such a proud employee of Loma Linda, We have pushed harder looking to find the next things to deliver people the care that Jesus would give us. I pray for God's blessing on this project every day."
Jeannine Mendes is director of the physical therapy assistant program in the School of Allied Health Professions. She was diagnosed with colon cancer that required chemotherapy follow-up. The chemotherapy caused Mendes to develop numbness in hands and feet. She was told it would heal, but it continued worsening until it became painful.
"Mark's treatments have reduced swelling in my feet and hands. I'm now walking much farther," Mendes said. "I've also noticed an improvement in the location of the numbness in my body. I have lots of hope for continued recovery. With continued treatments and time, there will be continued improvement."
With four years of planning and development concluded, the Neuropathic Therapy Center offers the latest technology for advanced, on-site diagnostic testing and evaluation. With separate, designated areas for patient treatment, research and provider collaboration, this new clinical space will be offer patients an outstanding treatment environment. This new clinic includes:
Seven private patient treatment areas

Dedicated space for diagnostic evaluation and testing

Widescreen monitors to review results alongside the care team

Special seating for family or friends

Conference room where patients and therapists can develop and review personal treatment plans
 "My desire to research alternative manual therapies comes from my deep commitment to help my family, particularly my son who was not responding to traditional treatment," Bussell said. "Through research and with God's help I was able to develop intraneural facilitation. I have a vision of being able to treat many conditions using this technique, and the research that will be done in this center is key to bringing this therapy to many more patients."
The center is located at 25333 Barton Rd. in Loma Linda. Much more information about treatments offered at the Neuropathic Therapy Center is available on its website or by calling 909-825-8601.